9:51 pm - 08/22/2013
First you see me, then you don't: Graceland 1x10 - King's Castle Promo Stills & Interviews
Preview Clip: Charlie confronts Bello
Graceland Q&A: Vanessa Ferlito On Charlie's Dangerous Association
LOS ANGELES, CALIF. -- Vanessa Ferlito's Agent Charlie DeMarco is on a serious quest to take down Odin, and it appears to be leading her into a dance with the devil on "Graceland."
Charlie has been forced to team up with Federale Rafael Cortes (Vincent Laresca) tocontinue her investigation into the mysterious Odin (who she thinks will get her Jangles) heading into this week's all new episode of the USA drama. Secretly pairing up with Rafael might not be to her benefit as last week's episode revealed that he is actually Jangles in disguise.
It's another tough twist headed the way of Vanessa's character, who has seen more than her fair share of troubles in Season 1. She lost an informant she cared for (Whistler), and jumped on the heroin train twice.
To play the role of the tough FBI agent, Vanessa, a vet of "CSI: NY" and "24," spoke with people who do the job for real, and she has a lot of respect for those who have to go undercover.
"In my opinion it's one of the hardest professions," she told AccessHollywood.com in a new interview. "You have to be really crazy, or really love what you do because you put your life on the line like that."
In this week's episode, Charlie again puts her life on the line – unknowingly – thanks to her association with Rafael/Jangles. Vanessa hinted at what's ahead.
AccessHollywood.com
: So, Rafael– the audience knows he's a bad guy, but Charlie doesn't know. Should we be concerned for your character?
Vanessa Ferlito
: Absolutely! … It gets pretty bad. … I was actually really shocked. You know? I mean, I know it's cable, but still.
Access
: I'm surprised you're shocked considering that when the show started to get really dark, your character was one of the first to take that dark twist with the heroin.
Vanessa
: But that was like self-sabotage. That was hurting myself… I guess every episode I was just like 'Wow, wow, wow, really? OK.'
Access
: Why do you think Charlie trusts Rafael?
Vanessa
: I don't think she trusts him. Trust is a very big word. I think he's a Federale, she's FBI. He wants Jangles as badly as she does, or so he pretends that he wants Jangles as bad as she does, so she teams up with him. Nobody else is showing an interest. Mike is doing his own thing with Bello, Briggs keeps shutting her down, Johnny's telling her she's crazy… So she just kind of jumps head first with this guy and takes a chance. That's how desperate she is… She's like, he's Federale. Let me use this guy to my advantage and use what he knows about it… I mean, nobody else would bite.
Access
: The cast handles a lot of weapons on the show. Was learning how to shoot fun for you?
Vanessa
: Yeah! I don't love guns. I have to be honest, I don't love guns. [Some people say they] get a thrill, they get a rush when they shoot them. I'm just like, 'It's really loud.' … You pull the trigger, it's loud. It made me a little nervous sometimes because you don't know if it could backfire or whatever. I have the best shot out of the boys, FYI.
Access
: Wow!
Vanessa
: I broke my metal stand. I shot the metal. Mine broke in half.
Access
: Aaron Tveit, who plays Mike Warren, is supposed to be the best shooter on the show because his character was undercover, training Bello's men in previous episodes.
Vanessa
: Acting wise! Really, life wise, I'm the better shot.
Access
: What did the guys think of that?
Vanessa
: They laugh. They think I'm crazy. I was gonna say before that, anything that I had to do with them was fun. We all just get along so well. I love them dearly and we're all really tight and anything we had to do together, we had a blast, whether it was gun training, or we went to the, what's the other kind of training? Like house [clearing]… [It's] when you clean a house of drug dealers and stuff. It was me and the boys… When things pop out and you have to shoot it. Manny [Montana, who plays Johnny] and I were killing everything – anything that popped out, we were just like lighting the place up.
Access
: Beyond the weapons training, was there a 'Graceland' gym on set?
Vanessa
: Absolutely not. Why because everybody's ripped?
Access
: Everyone looks pretty good.
Vanessa
: I do Yoga, but they're pretty ripped. They're all like on, 'Who doesn't eat carbs? Who doesn't eat gluten? Who doesn't eat meat?' I'm like, 'Yeah, OK. I'm hungry.' Although I'm trying really hard. I want to be really ripped for [a] second season, but no, there's not a 'Graceland' gym. No, we just kind of all do our own different kind of workouts. Who boxes? Who goes to Crossfit? I do Yoga, I'm pretty dedicated.
"Graceland" continues Thursday at 10/9c on USA. Catch old episodes of the show through On Demand.
BUZZWORTHY: MANNY MONTANA
Manny Montana is ready for his close up. And the time is now for this seasoned artist, star of the much buzzed about USA drama GRACELAND. Playing fun-loving prankster and FBI Agent Johnny Turturro, Montana stretches himself, crafting a layered character that will have you hooked.
THE MONTANA FILESHOMEGROWN OR FOREIGN LADIES
: Hmmm, tough one [laughs]… if I have to choose… I always root for the home team!
AN OLD FASHIONED OR A GOOD 'OL BEER
: Old fashioned for sure!! Honestly, I have never finished a beer, don't really like them. But my true drink of choice is a 'Honey Jack Daniel's & Coke' or a 'Hennessey & Coke.'
THE GREAT ESCAPE
: Costa Rica!!! Love that place with a passion! Great surf, great food and great people. All I need to be happy!
I NEVER LEAVE HOME WITHOUT
: My student I.D. from SCHOOL! I still try and get bargains everywhere I go [laughs]! Movies, Yoga, Rock climbing, etc. Sorry, ghetto upbringing [laughs]!
ACTOR THAT MOST INFLUENCED YOU
: Heath Ledger. That dude was THE actor to me. Everything he did was gold. I borrow so much of how he was and how he approached acting. I PRAY to be as good as he was someday. God rest his soul.
LAST TWEET
: "Sunday night fish fry with my brother and Breaking Bad_AMC viewing party. Good day. Thanks for frying up the fish @iceman_so_cold."
GUILTY PLEASURE
: I love musicals. People always think I'm joking when I say that, but my grandma used to make me watch a VHS recording of 'GREASE' with her every day after elementary school [laughs]! I would sit there with a 'Cup o' Noodles' and drift away into this pretend world where for some weird reason people would break into songs out of nowhere [laughs]! To this day, I know that movie word for word and I have songs from musicals on my IPOD!
FRIDAY NIGHT I'D FIND YOU…
On the sidelines of a football field trying to help my kids. I'm the receiver's COACH at my old high school of Long Beach Jordan.
YOU – IN 3 WORDS
: Tough. Sensitive. Giving.
HYDROGEN MAGAZINE: What were your early years like?
MANNY MONTANA: Amazing! I loved my childhood. I always had people around – my brothers, my aunts, cousins, mom and dad. I'm Latino so of course my family is HUGE! All I did was play football and go to school. That was my life. Was it always great? Of course not, but the good far outweighs the bad.
HM: When did acting consume you, where you knew this was the path you would take?
MM: I was at football practice at school and my shoulder had just dislocated for the 8th time. I knew I had to make a change. I made the 6 hour drive from Sacramento back home to Long Beach, and decided that if I was ever going to chase this dream I'd put off and been so scared of for so long, now was the time. I took a chance, and the rest is history.
HM: You got your break with the award winning short, El Primo. Tell me about that role and what it meant to you?
MM: I almost blew off the audition [laughs]! In the beginning, I did a lot of STUDENT FILMS so I could gain experience. But many of those never amount to anything and it becomes discouraging. But EL PRIMO was that 1 in 10,000. A great script, passionate director, crew, and cast! I will forever be grateful for that experience. It launched my career.
HM: You've found success in a tough industry with shows from E.R., Cold Case, and Lie to Me to CSI: NY, and Cybergeddon. Not a bad resume. Give us a couple of memorable experiences from these shows.
MM: Honestly, the people… There's a lot of competition in this game which I think breeds a lot of insecurities, which in turn makes it hard to meet true friends. But I've been EXTREMELY lucky!!! I've met some of my closest friends on sets such as THE CHICAGO CODE, CYBERGEDDON, and of course GRACELAND. I talk to these people on the regular. They know my family, they've been to my house, we've played basketball together! That, more than anything is what I take away from my experiences.
HM: Let's talk about Graceland. What's the premise of the show?
MM: GRACELAND is about an elite group of undercover FBI agents who are all living in an amazing government seized beach front mansion trying to deal with the craziness of their job and the craziness
of living with 6 people in one house
HM: You play FBI Agent Johnny Turturro who is quite the cheeky character. Tell us about him. What makes him tick?
MM: Johnny is just a really fun character to play. He's always in a good mood and very upbeat, but he's also extremely sensitive, so it makes for a lot of great layers to play. My cast mates and the writers are so amazing! No character stays the same. Everyone is always evolving and you never know who to trust! I'm a genuine fan of the show and think we can go far!
HM: There's a lot of testosterone on set with all you guys! Any scuffles so far or is it all happy families?
MM: HA!! Not even close. This is one of the tightest groups I've ever been a part of. Ask anyone in the cast, we're a family! We're always around each other on and off set. No lie, it's just a fun set to be on!
HM: Funniest moment behind the scenes…
MM: Too many to choose from [laughs]! Literally, all we do is joke around every day! Just try and get us to do a scene after lunch, its impossible! We're like kids going to class after lunch break!
HM: What goes down on a typical day off?
MM: Well, we shoot in Florida, so that means I'm 3,000 miles away from my family and friends back
home in Long Beach. So, if I'm not hanging out with one of my cast mates, I'm either working out, at the beach, or just at home reading getting ready for the next day. It's a great life!
HM: What does your family make of all your success?
MM: I think they're really proud. They saw me start from square one, making no money on sub-par projects, having successes and failures, but always pushing forward. I don't think they knew what to make of this crazy dream, because nobody in my family had ever done something like this before. I'm part of the first generation in the country so a lot of things seem very far-fetched to a poor little kid from Long Beach. But my family is the s**t! They never made me feel like it wasn't possible. They're my biggest supporters and my biggest critics. They keep me humble and sane when things gets crazy.
HM: What's the long game?
MM: Honestly, just more of the same. I want to be working on GRACELAND for several seasons! I want to work on great movies while on hiatus and have my career reach places I've never dreamed of. I want to grow and get better every day. And, I want to coach football at my old high school. That's it. That's what I want for my career. There are a lot of things I want out of this life. I want to give all of me, everything I've got. Even if sometimes it wears me thin, at least someone will walk away with a piece of me that will live on forever.
Graceland's Aaron Tveit: Mike's Confession to Paige "Changes Everything"
Aug 21, 2013 09:11 PM ET
by Kate Stanhope
The first rule of Fight Club is that you don't talk about Fight Club. And the same can likely be said for pretty much any undercover investigation at the FBI.
So when Mike blabbed to Paige about his investigation into Briggs on last week's episode of Graceland, it's safe to say he broke a few rules. "That is a very, very big thing and that changes everything," star Aaron Tveit tells TVGuide.com. "That was the first moment we see weakness in Mike."
After getting stabbed by the notorious Jangles — aka the key man — and waking up in a hospital bed, a morphine-induced Mike told Paige (Serinda Swan) that he was placed in the house to look into fellow FBI agent and house leader Briggs (Daniel Sunjata). "He really feels like he's a man without a country in that moment," Tveit says. "Mike didn't just want to say, 'I'm here to investigate Briggs.' In my head, he was trying to say, 'I'm here to investigate Briggs, but this has happened and I need all your help. I don't know what to do.'"
Unfortunately, Mike got no such guidance from Paige, who quickly left Mike's hospital room. In Thursday's episode (10/9c, USA), Mike will have to deal with the fallout of his bedside confession. "The beginning of this next episode, Mike walks into the house and he has no idea who she's told what, if she said anything, if everyone knows, if no one knows," Tveit says. "He has no idea what he's walking into."
However, after checking himself out of the hospital against doctor's advice, Mike won't be home on disability for long. In addition to going undercover in prison to keep close to Bello (Gbenga Akinnagbe), Mike's investigation into Briggs will take a dramatic turn. In the wake of the murder of his controlling officer, Juan (Pedro Pascal), Mike will have to answer to a much higher power — the Regional Director of the Southern California FBI. "Juan, in a way, was misleading Mike and had his own vendetta. Mike's reports weren't being shared with the FBI — they've only seen some of it. So Mike now has to reassert himself with this person, who is actually one of his big bosses," Tveit says. "Now Mike is really getting an assignment so it gets even more intense and more official."
That assignment will also get decidedly tougher as the clues begin to come together about Juan's murder. As viewers saw last week, Juan dressed as Jangles to try to elicit a confession from Briggs, whom Juan believed had previously killed several FBI agents. However, a drunken Briggs murdered Jangles to protect himself. "That is definitely going to come up and really put a wrench into things," Tveit says. "The FBI is going to come to Mike with their theory about what happened to Juan, and that's going to blow this thing wide open."
So what will Mike do if, or when, suspicions turn to the man who has now saved his life twice? "I never thought that Briggs was a bad guy, as Aaron reading it, and as Mike. I just made the decision that I never thought Briggs was an evil person. He just got into these circumstances and he was basically trying to get through it and overcome these other agents being killed," Tveit says. "From my perspective, no matter what happens with Briggs — if Mike needs to bring him in, if the evidence is there — Mike is trying to get this guy help because he is his friend and he does respect him and he does care about him."
But how far is Mike willing to go to save his friend? Tveit admits that Mike's idea of right and wrong has changed dramatically since he was first placed in Graceland. "He's also learned a lot from Briggs that, to be a good undercover agent, it can't be all by the book," Tveit says. "As we get to the end of the season and hopefully move forward, I'm hoping that Mike has learned that sometimes you do have to bend the rules and work in that grey area and be OK with it."
Although Tveit jokes that Mike will need "to go to therapy about five years from now" to deal with some of the brutal things he's seen as an undercover agent, such as Eddie's suicide, Graceland may now be more than just a temporary assignment for Mike. "At the end of the season, certain things are going to happen, and I think he's going to have to reevaluate what he really wants and what he really sees for himself," he says. "He's discovered that he's actually good at this and that he can hack it as a field agent and has a certain skill set that really lends itself to this undercover game."
Maybe even, Tveit hopes, as Briggs' full-time partner. "Not to make it like some buddy thing, but I think he and Briggs are a great team," he says. "If Mike does end up at Graceland for a long time, hopefully Briggs is there too. Mike probably knows that, once they figure all this stuff out, they can probably do a lot of good together."
Graceland airs Thursdays at 10/9c on USA.
Aaron Tveit Goes Undercover On "Graceland" — But He's Not Leaving Broadway Behind
On USA Network's Graceland, Aaron Tveit has found his first starring role on television, but Broadway audiences have known about him for years from his work in musicals like Next to Normal and Catch Me If You Can. Tveit talks about making the transition from theater to TV, and why he's not turning his back on Broadway.
posted on August 22, 2013 at 12:07pm EDT
Louis Peitzman
BuzzFeed Staff
TV audiences are just getting to know Aaron Tveit on Graceland, USA Network's freshman series about a team of undercover law enforcement officers living together in a beach house. But Tveit's name recognition has been rising for the past few years, especially among theatergoers who were wowed by his roles as Gabe inNext to Normal and Frank Abagnale, Jr. in Catch Me If You Can. His crossover to film and TV began with guest spots on Gossip Girl and The Good Wife, and last year, he played Enjolas in the big-screen adaptation of Les Misérables.
I spoke to Tveit about making the move from live theater to a TV series, whyGraceland spoke to him, and how he's adjusting to life off the stage.
I want to start off with a very basic question, which is, what first drew you to Graceland and the role of Mike?
Aaron Tveit: You know, I'd just finished doing Catch Me If You Can on Broadway, and it was the first time in a few years that I wasn't attached to another Broadway show. So I knew that I was completely available for the first time, and I didn't really have a plan that television would be the next thing, but I basically said, whatever I read that I like, I'm just gonna go for that.
I had read the script. The script was sent early, I think in October, so pilot season hadn't even started yet, but I read it and I absolutely loved it. A lot of the guest star work that I'd done on television before, I kind of had always played some not-so-nice guys. I kind of came in and acted like an asshole and whatever, which was great for what it was, but I really liked how I thought Mike was a nice guy with a really great set of morals and right and wrong. He saw things as black and white. And then knowing what I knew about undercover work, there was a lot of room there for potential conflict later on. Since he had a sound moral structure, that he would definitely be pushed throughout the work, and there was room for him to either change or not based on what was gonna happen in the season. And also, I thought right away all the relationships in the pilot were very clearly defined, which is hard sometimes. And I was a fan of White Collar. I read a lot of stuff that's not great, so to read something that's good was really exciting, especially really one of the first things that I'd read.
And also, I was like, listen, if the thing goes to series, it's gonna shoot by a beach somewhere, so that's not a bad job to have.
No, that's a great perk. In terms of doing a weekly series, did you have any reservations about taking on a TV show, which is obviously a different time commitment?
AT: No, I didn't! I was really excited for it. I mean, I was intrigued and excited for the challenge. When you work on a movie or when you work on a play, you have one script and you do all this work on it and you do it for a long time, but this is like, you get to go through that process every week. Every week you get a new script, you get a new story to tell. And also, I think because of what I was just saying, what I was immediately drawn to about the character, I saw there was room for growth and room for change, and I was excited to hopefully go on that journey with this guy and these people to see how it could change. And, you know, I'm a huge fan of television myself. I watch a lot of TV, so I was excited to be a part of that from the other side; you really get to learn who these people are and how their stories evolve much more on television.
OK, as a fan of your musical theater work, I have to ask — have there been any discussions about how to get Mike to do a full musical theater number on Graceland? Past the script, what conversations did you have with the writers about the character of Mike before you began filming?
AT: That's the other great thing about this show — and about Jeff Eastin and the other writers — they really encourage collaboration, encourage us to bring our own ideas to these people, which is not always the case. A lot of stuff you go on, they want you to be exactly word perfect on what's written, and they really encourage us to kind of ad-lib dialogue and really bring ourselves to it.
So we had a lot of conversations about Mike's backstory for me. I remember Jeff and I had a conversation before we shot the pilot, and I said, I want to talk to you — I wanted to pick his brain about what he thought Mike's life was before this, where he came from. Because you hear all these things like number-one in your class, but I was doing a lot of research about what that really means to be number- one in your class at the FBI Academy, because nowadays, the people who go to the FBI Academy already have college degrees, already have master's degrees. These are really, really smart people. So I kind of was trying to build up where Mike came from, and I had this idea that he wasn't from some upper-crust rich family, that maybe he had to work his whole life to get where he got. So we basically bounced a lot of ideas off of each other, and it was interesting. There was a lot of overlap of what we had thought. Some of that has bled out in the story about where Mike has come from, but I wanted to hold a lot of that back and not tell a lot, so hopefully more will come out later. But he was really super-encouraging about that, and then also, really every script to ask questions and give my ideas about what I thought changes could be. And that's a really rewarding experience because you feel like you're being heard and affecting the story, too.
You talked a little bit about being able to show Mike's development throughout the season. I was curious how you distinguish playing him in his off hours versus playing him when he's undercover, when he does have to be a lot darker.
AT: I was constantly thinking of ways instead of telling — because they say all these things about how smart Mike is and how good of a potential agent he is, so I was constantly looking for ways for that to come through. And I thought one way would be that basically — it's really great in the show that I get to have scenes with everyone. I have this really interesting relationship with Juan, who's kind of my point person at the FBI. The relationship with Bello develops. It's a really interesting relationship, and a really close relationship. And I have this relationship with Briggs. I basically wanted to have Mike deal with everyone differently. I thought that that would be a way to tell that story, and yeah, it's interesting. The thing with Briggs is really complicated obviously, but with Bello, it's like, yeah, I know this guy's a bad guy, but I really like the guy. I kind of have compromised a lot of my beliefs to stick around and keep the investigation going with him. So, yeah, I tried to just really deal with everyone completely differently, and I thought that would be a way to show how Mike is different in every circumstance that he steps into. That's kind of the way that I looked at it, or tried to look at it.
As you said, the relationship with Briggs is very complicated. At this point, do you think that Mike's loyalties have shifted, or is he still doing the job he's supposed to be doing?
AT: I think it goes back and forth. The most recent episode is when I walked out of Juan's office and said I'm not gonna do this, when I found out he had these ulterior motives of why he was going after Briggs. And I thought about this while we were shooting — and the next couple episodes, you'll see this more and more — I don't think that Mike ever thinks that Briggs is a bad guy. I don't think that Mike thought [Briggs] was out to hurt anyone. He got caught up in this, and he got thrown into this situation where they made him this drug user, so I think he was painted into a corner and trying to get out. All these things happen and there was collateral damage, but I never thought he was a bad guy. So from that, ultimately I'm trying to help him. That's how the investigation shifts a little bit. I think once I find out what's really going on, I'm not trying to nail him to the wall. I'm trying to get the guy help. At least that's what I told myself. So I think that it kind of changes that I start to then seek out how to help him, how to get him out of the situation, which ultimately may be turning him in but in the guise of him finally getting some help.
OK, as a fan of your musical theater work, I have to ask — have there been any discussions about how to get Mike to do a full musical theater number on Graceland?
AT: [laughs] A lot of people have asked me that, but no, we haven't talked about it. I think it's a funny idea. I really don't know…
Tonally, it might not work.
AT: That's the thing. It would be funny, but I can't see how they would fit it in, just with the rest of it.
I mean, do you miss that? Or do you just view Graceland as a different kind of job?
AT: It's just different, yeah. I definitely miss singing when I'm not singing. But we finished shooting the show in March, and I did six concerts in New York in May, so that was a time where I was like, I miss singing, I'm just gonna do this myself, I have an opportunity, I'm gonna put a show together. That was a tremendous success, and I was so fulfilled by that. I have an album that's coming out because of that — we made a live album of that. So yeah, I definitely miss it when I'm not doing it, but something like that, I've found other ways to do it myself when I'm not.
That's great. You see so many Broadway actors on TV, and it's always a mixed blessing, because you want to see more of them but you also want to see them performing on stage.
AT: I definitely miss being on stage. One nice thing about Graceland, too, is — hopefully we run a few years, but it's a cable schedule, so it's only half a year. I have half a year feasibly to do other things and be on stage or do a movie or sing. It keeps me able to do a lot of different stuff, which is great for me.
Since we're talking about theater, I have to ask about Next to Normal, which is one of my favorite musicals. I'm sure you get asked about it all the time.
AT: It's tremendous to look back on it now. We opened on Broadway four years at this time, which is insane to think about, because it doesn't seem like it was that long ago. It was great, because it was one of those things where we started off-Broadway; the show needed a little work but we all knew there was something there, something really special about it. It was received well off-Broadway, but not exactly in the way we thought it would be received. Then the fact that we all stuck with it and went out of town and then brought it back, and then when it opened on Broadway and people finally embraced it — granted, after we did the work that needed to be done on it — it was amazing. It was such a powerful show. So many people while we were doing it would come up to us and say, "Thank you, I have a family member who has a mental illness." Mental illness in our country is something that people don't like to talk about, so it was fascinating to be a part of that and see how many people were touched by that for that reason. And also that it was the first show that I had been in the original cast of and got to really work on that role for a few years beforehand, it was tremendously rewarding.
What I love about the character of Gabe is that different actors have very different approaches to him. Obviously you originated the role, but can you talk about what you were trying to accomplish there?
AT: I guess my main goal was just to get my dad to say hello to me, you know what I mean? I just wanted some kind of acknowledgment from my dad. That's kind of what I made it about. Because ultimately that's what happens at the end, so I guess it was a set-up for myself to get there.
But also, when I'm on stage, I end up always constructing five-act plays for myself… like, I had so many silent moments in that show, so many moments where I was just sending energy to Alice [Ripley] across the stage. But also the nature of how I was so physically everywhere on that set, I had created all these things where, in my head, Gabe was basically the puppet master making all these fucked-up things happen to this family. And I kind of just set that up for myself, like when I would literally physically touch a pole or touch the set that something else would happen because of it, almost like the set was like this organism, too, that this whole family was being revolved around and messed with. So I kind of built a lot of stuff like that around it, which just constantly kept me engaged and busy for myself, especially when I had so many moments when I wasn't busy and just had to be there. So that's kind of the way that I went for it.
And ultimately, there's kind of a darkness to him, but I tried to approach it from the point of, I just want — yes, my dad to acknowledge me — but I wanted to be with my mom. I wanted her to not turn her back on me. I wanted to help her, even if that ultimately meant for her to commit suicide and be with me, but I thought that that was helping.
It's a heavy show! I guess on a lighter note, you did Catch Me If You Can after that. That was a role people knew already, both from the real-life person and the movie. How did you go about making it your own?
AT: Yeah, I think because of the framework that we did that — it starts at the end, the show started at the end of the play — because of Frank [Abagnale] the real person and the character's imagination, he has this idea. [Director] Jack O'Brien said something that always stuck with me: "It's as if you were telling someone a story about your life, and you got to a point in the story that was really hard for you or painful, and then you just decided, you know what, I'm not gonna tell that part of the story. I'm gonna change it, or I'm gonna create something that's not painful." And that was kind of this image that always stuck in my head. Frank's about to get caught at the end of the show, and he just says, "You know what, I'm just gonna try this," and he kind of blows everything open, and then we go on this story but he tells it his way, until finally he can't run away from his own story anymore, and it catches up to him in the end.
Because ultimately, I was dealing with the fact that it was this broken family and my father was dead, and I didn't want to believe that my father was dead, so I just didn't want to deal with it. So I just approached it that way, that I just wanted to try to get everyone to buy into my fantasy. I just wanted to everyone to believe in the story I was creating in my mind, and then ultimately in the end, I couldn't run away from it anymore.
Obviously, there's a major difference between going up on stage for three hours six nights a week and working long TV hours five days a week. How has your day-to-day life changed in transitioning from Broadway to Graceland?
AT: It's interesting, because, yeah, when you're doing a show on stage, you only work 27 hours a week or 30 hours a week, but it's so physically and emotionally demanding in a way. And also, because literally, when I'm doing a show, every morning when I wake up I have to check and make sure my voice is there. Especially a show like Next to Normal or Catch Me If You Can, where I was singing the whole show and you kind of have to keep your voice there. Everything is like getting ready for the show and then recovering from the show to get ready for the next day. You only have one day off. Most people get two days off, which is like, one day you do everything you need to do, and then the second day you rest. But when you're doing a show, you only have one day to do that.
But on the other hand, doing five months of a television shoot where you're working 12, 14 hours a day — again, it's five days a week so you do kind of have two days off, which is nice. But I approached it knowing, I knew how to keep my stamina up from doing theater work. So I kind of said, OK. I tried to treat it the same way. This is how I need to keep myself healthy and keep myself physically ready to work every day. It is a little different and working on set is a little easier than working on stage, but still, because I was used to working on stage, I was able to transition to those kind of long hours a little more easily.
When you're acting in Graceland or a film, how do you get what you would otherwise get from a live audience?
AT: Yeah, you can't. That's the thing. You really can't. A television show, you might see it a couple months later. Movie, you see it a year later from when you shot it, and it's like, "Oh, yeah, I remember when we did that." But on set, if it's a funny moment, no one can laugh, because everyone has to be quiet, and things like that. But that's the thing about stage: It's something you can't find anywhere else. It's a two-and-a-half, three hour experience, and it's a real relationship. You're sending out energy from the stage, but the audience is giving you back so much also, so that's also lifting you and pushing you forward as you're performing and giving you so much energy. You can't find it anywhere else, and that's why people get addicted to being on stage, and when they're not on stage are kind of looking for that and constantly searching for it.
So you're not turning your back on Broadway.
AT: Absolutely not. No.
Do you feel like TV and film is a goal for most Broadway actors, or is it just a matter of wanting to try different things?
AT: Yeah, I don't know. For some people it may be, but it never was — I said before, I didn't know what was going to be my next thing after Catch Me If You Can. I've been really, really fortunate in the last five years or so that I've gotten to work on stage, on television, and on film, which I think up until recently, you kind of got pigeonholed into one thing, so I've been really grateful that I've been able to do all three. And that's really just my goal. I just wanted to have a career doing this, and I want to be able to just do that for the rest of my career, to go back and forth. I can't wait to get back on stage. I don't know what it's going to be. I've said it before, but I'm excited 'cause I know one day I'm going to walk into the rehearsals room for a new show and have to learn new music and learn the script, and that's going to be really, really thrilling.
Now that you're doing Graceland and you did the film adaptation of Les Miz, have you noticed a difference in terms of how often you're getting recognized?
AT: A little bit, yeah. A little bit. Doing a lot of Broadway shows in New York and living in New York, there's a lot of fans of Broadway shows, and I've had that experience of getting recognized on the street in New York, especially in the theater district. That's something that has happened before, and now it seems to be in more places than it was before. Before, if I was walking to a show, walking to my show, of course people were going to see shows. But now it's randomly on the subway or people who might not be theater fans. So it's a little more frequent but similar to what it was before.
Broadway fans are a special breed. Is there a difference in how they treat you as opposed to TV fans?
AT: No, I mean, everyone's really great and really gracious. It's a weird thing to get used to, at first, when people say that, but at the end of the day, it's people who are just complimenting you on your work and happy with the work you've done, so it's such a flattering thing. It's really, really nice whenever it happens or has happened. So no, I haven't noticed a big difference. Everyone's really nice! [laughs] And I'm very happy for that, that it's not the alternative.
You're not on Twitter, though. There must be a reason for that.
AT: I kind of missed it when it started. I used to be on Facebook years and years ago. I was in college when Facebook started, so I had Facebook when it was just my college, and then it became, you can join the New York City network. But it was interesting. The whole thing with Facebook and social media — I started to be friends with directors and casting directors on Facebook that I knew in New York. And I kind of said to myself, wait a minute, I need to audition for these people, and they need to suspend some disbelief to who I am. So I just felt like them knowing anything about me or seeing pictures of me and my friends, well then, how do I walk into a room and convince them I'm someone else if they see me as this?
So that's kind of why I went off Facebook originally. And then right as I was going off Facebook is when Twitter was starting, and I was like, why would I jump on something else right away? But now it's like, I'm happy not to be on it. I know it's great for information, the way that stuff happens there before it's on CNN — it's just instant information. But it's also, I think there is something to still, that I would like to keep certain things private, and that if I'm not in the forefront and people aren't seeing things about me, that hopefully they'll be able to believe the work that I do more. I do believe that that's true. And I think that that's something that's worked for me. And also, I'm not a comedian, I'm not a writer. Because of that, I don't have things to say on a daily basis. It's just a personal choice for me.
I mean, that's kind of refreshing. I think a lot of actors feel pressured into doing it, and then they don't have anything to say
AT: Yeah, and I haven't felt that I've missed anything by not being on it, so that's something, too. If I felt that I was, then I probably would think about it again, but no, I don't think it's anything like that, so I'm happy not to be on it. And it also distances me, too, from a lot of stuff that's been beneficial. It allows me to focus on — I became an actor because I love to do this. I wasn't in this to get some notoriety. It might sound cliché, but I just wanted to work.
Graceland airs Thursdays at 10 p.m. on USA.
Source 1
2
3
4
5
6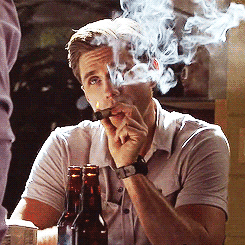 Who's ready?