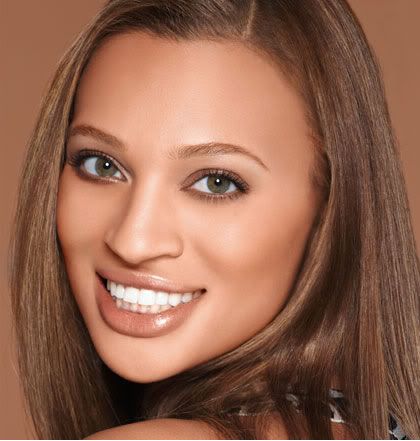 It seems Nik has gotten a job shilling acne masking makeup for L'Oreal. Which, I guess, means CoverGirl can go fuck itself.
The website is
here
. It's basically a set of cheestastic infomercials for the product. The vids are okay quality, but take 561846.45465 years to load. I have DSL and they still took million years.
Here are some screencaps of Nik from the videos: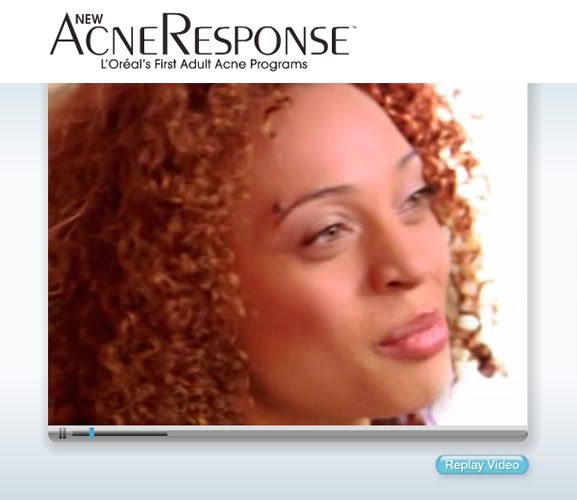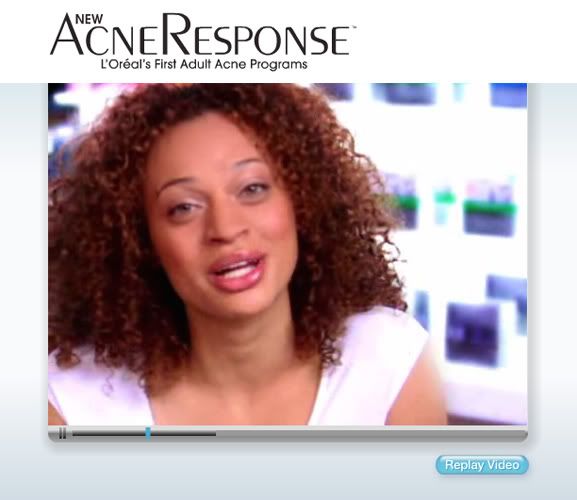 Sorry, I kept catching her in mid-sentence. Her line-reading is lollerific. I think this is where she says she works
in the mall. Okay Nik.
Okay. Someone pointed out she actually says she works
as a model
, which makes more sense. Her enunciation is bad =(
Not sure if you can tell by this screencap, but Nik's "acne" is completely fake, and badly faked at that. This is a
makeup infomercial
and L'Oreal's makeup artists can't even create convincing acne? It's like they took a lipliner pencil and dotted it all over her forehead--which probably hurt.
Lol. This is were Nik attempts to look "embarassed" by her bad acne. I love Nik, but she should stick to modeling, NOT acting.
Sorry about that "Loading" image. I wasn't willing to wait for the entire vid to completely finish.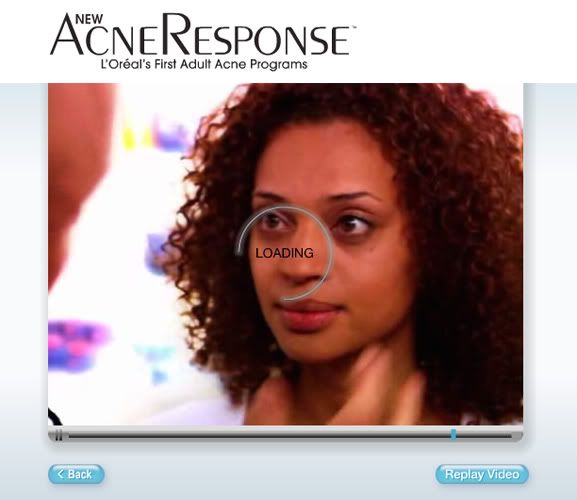 I still don't understand how she didn't win, oh yeah, people didn't want too many knee-grows winning ANTM. No way that boring white girl shoulda won. The only way Nicole could be less boring is if someone set her on fire.
edit:
It's really sad that this simple post had to become a racial debate because some people can't grasp basic sociology concepts =*(
So, about my zomgz "racist" comments about knee-grows and boring white girls--
1.) I do not hate white people...or asians(?!). I don't know why someone commented
that
. But okay.
2.) ANYONE,
please to explain
why it's 2006 and "Why is there a black history month but no white history month Reverse-racism, wah, wah, wah" arguments are still around? If you still feel this is a valid argument,
It. Is. Not.
and plz go read a book before dragging out that assinine argument. Because it's seriously nonsensical to anyone educated.
3.) IMO, the only reason Nicole won in that cycle, as opposed to Nik, is because the previous two winners were also black (or part in Naima's case) and with three black winners in a row, the show might have alienated their white viewers and lost ratings.
Ever notice how movies with majority black casts are seen by fewer white people and thus make less money? Yeah, it's like that, but only with TV.(<--valid argument on racism. Take notes. Study it. Learn from it.)
4.) Lol @ the slow people who couldn't understand "knee-grows". Haha.
Source:
http://lorealparisusa.com/skincare/products/acne/index.asp