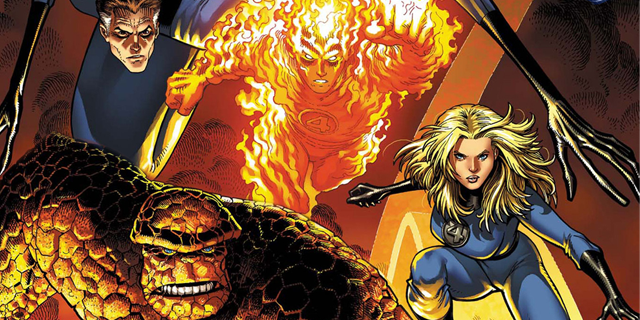 A Tweet from a Vancouver native which was backed up by OLV suggests that Fox's Fantastic Four reboot has entered pre-production for a September shoot in Canada.
We know Josh Trank will direct and Mathew Vaughn will produce, but aside from that we don't know too much else about the Fantastic Four reboot other than it's set for a March 15, 2015 release. Well now we may also know where and roughly when it will be shooting.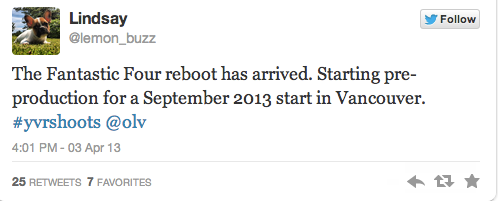 Source
CAPTAIN AMERICA: THE WINTER SOLDIER Ohio Speaking Role Auditions And Filming Spot

With alleged confirmation of shooting location in Cleveland, Ohio, a casting call for Captain America: The Winter Soldier has surfaced revealing specific, speaking roles Marvel is casting.
Moving into the month of April, production is underway for next summer's blockbuster season opener, Captain America: The Winter Soldier. Principal photography reportedly commenced this week in Los Angeles, but filming for the Marvel sequel will eventually occur in Cleveland, Ohio; where the Greater Cleveland Film Commission has provided a casting call for speaking roles.
Wednesday April 10, 2013

2:30pm – MILITARY SERGEANT
Male African American age range late 30′s-40′s
Prefer current &/or extensive military experience

3pm – MILITARY POLICE OFFICER
Male any ethnicity age range 28-40 yrs.
Experienced military or law enforcement

3:30pm – THIN GUY
Male Caucasian age range 18-22 yrs.
height 5'7″-5'9″ 34-38 chest
VERY, VERY lean frame
Meanwhile, local sources of The Daily Superhero have seemingly confirmed directors Anthony & Joe Russo will soon shoot scenes
"on the Fairview Bridge and a giant green screen will be placed on the side of the bridge so Marvel Studios can CG a background into the scene(s)."
Also, the folks at On Location Vacation have spotted one of The Winter Soldier's base camps at
"the Metro Green Line Train Yard(14500 Aviation Bl/Rosecrans) in Hawthorne, CA."
Source