Boyband to take one of the unannounced slots at the Park Stage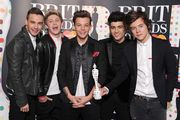 One Direction are to appear as special guests on the Park Stage at this year's Glastonbury festival, NME has been told.
A source close to the band has revealed that the former X Factor stars will be taking one of the coveted secret slots at the summer bash, which takes between June 26 and 30, 2013.
The source says: "It might seem like a strange booking at first, but One Direction are the biggest boyband on the planet and Glastonbury is the biggest festival. One way or another, this was always on the cards."
The source went on to say One Direction would be honouring previous Park Stage secret guests Radiohead, who turned in a surprise appearance at the festival in 2011, by performing a cover of the band's epic 'Paranoid Android'.
The one-off performance of the song will see
Harry Styles and
the boys reimagine the epic tune with close harmonies and a rap. "The boys have been practicing a routine based on the Thom Yorke dance," says the source. "It looks easy, but you try doing it in unison."
full glastonbury line up at the source