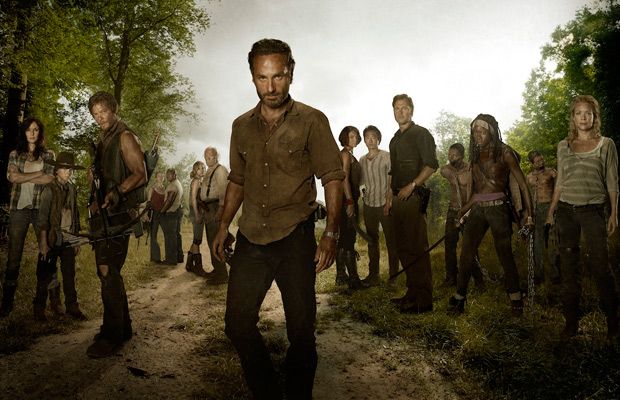 50. The Walking Dead
Network: AMC
Air Dates: October 31, 2010 - present
Stars: Andrew Lincoln, Norman Reedus, Sarah Wayne Collies, Chandler Riggs, Steven Yeun, Laurie Holden, Lauren Cohan, Scott Wilson, Dvaid Morrissey, Danai Gurira, Michael Rooker, Dallas Roberts, IronE Singleton, Melissa McBride
A television show about zombies? Any George A. Romero fanboy will tell you that, prior to AMC's The Walking Dead, such a proposition was unheard of. After all, TV producers only care about medical dramas, cop shows, and domestic sitcoms, right? Not the brave souls in the AMC offices, who continued their daring streak of green-lighting dark, cutting-edge adult dramas (Mad Men, Breaking Bad) by giving acclaimed filmmaker Frank Darabont the go-sign to adapt Robert Kirkman's beloved Image Comics title.
It's easy to see why AMC took the risk. The Walking Dead, as Kirkman lays it out, isn't about the zombies as much as its about the living characters. Led by do-gooder sheriff Rick Grimes (Andrew Lincoln), the show's band of random survivors drives the hour-long pressure cooker, quarreling with each other while trying to stay alive amidst the flesh-eater takeover.
And thanks to Glen Mazzara, who stepped in to fill Darabont's role for season 2 after AMC's behind-the-scenes drama, the series is now exactly what optimistic fans thought it could be all along: bold, fearless storytelling. With its numerous zombie kills, bountiful gore, several major characters' terminations, and a heightened sense of danger supplied by bringing deadly comic book favorites (Michonne, the Governor) into Rick Grimes' ever-threatening world,
Furthermore, it's the people's show, breaking cable ratings records and dominating social media conversations every Sunday night while never registering with Emmy voters and making many stuffed-shirt pundits resist its genre sensibilities. - Matt Barone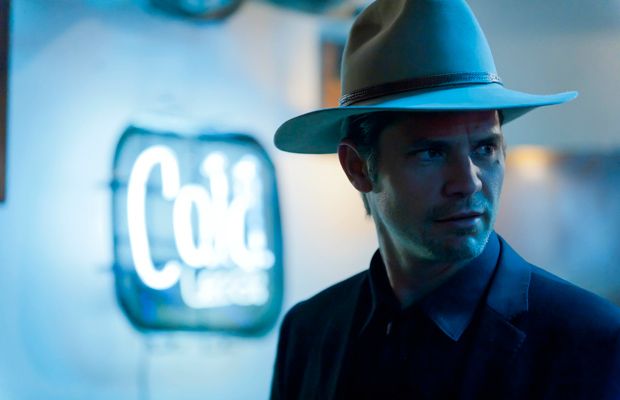 18. Justified
Network: FX
Air Dates: March 16, 2010 – present
Stars: Timothy Olyphant, Walton Goggins, Joelle Carter, Jacob Pitts, Nick Searcy, Natalie Zea, Erica Tazel, Raymond J. Barry, Damon Herriman, David Meunier, Jere Burns, Brent Sexton, William Ragsdale, Jeremy Davies, Margo Martindale, Kaitlyn Dever, Mykelti Williamson, Neal McDonough
In its 2010 premiere run, Justified proved itself to be a good show; in 2011, it became a great one. Two key factors played into the FX series' dramatic improvement, all-important alterations that largely benefited the top-notch performances from lead Timothy Olymphant (as charismatic lawman Raylan Givens) and co-star extraordinaire Walton Goggins (as soulful antagonist Boyd Crowder). The first was a central plot, something that eluded the show in the first season. The second? Casting Margo Martindale as this season's villain.
Justified's first season often fumbled its way through a procedural approach, developing its main characters while chasing down a new criminal every week. But Martindale's Mags Bennet, the queen bee of a rule-breaking family of hillbilly degenerates, supplied both Raylan and Boyd with a mutually disruptive entity. As a result, Justified found its focus, and season two handled its storyline with admirable grace, subtlety, and unpredictability.
One of these days, the privileged few who vote on Emmy nominations will wake up, acknowledge the cowboy hat, and give Timothy Olyphant a statue. Each season so far, Olyphant, as US Marshal Raylan Givens, has continued his small-screen reign of excellence. Charming, imposing, and able to crack wise better than most of his TV peers, Olyphant holds the Kentucky-set series down without falling behind his equally proficient co-stars. - Matt Barone
14. Game of Thrones
Network: HBO
Air Dates: April 17, 2011 – present
Stars: Sean Bean, Peter Dinklage, Lena Headey, Nikolaj Coster-Waldau, Michelle Fairley, Emilia Clarke, Aidan Gillen, Iain Glen, Kit Harrington, Charles Dance, Liam Cunningham, Isaac Hempstead-Wright, Richard Madden, Sophie Turner, Maisie Williams, Alfie Allen, Jack Gleeson
Someone should time how long the opening credits sequence for HBO's Game of Thrones runs—it has to be the longest on all of television. And that's because the gruesome, captivating sword-and-sorcery series, based on author George R.R. Martin's best-selling A Song of Fire and Ice book series, seems to average at least one new character introduced per episode. Somehow—perhaps through the kind of magic seen on the show—showrunners David Benioff and D.B. Weiss consistently weave a multifaceted and endlessly compelling yarn around Game of Throne's stacked cast.
During the show's debut season, breakouts like Peter Dinklage (as pint-sized shotcaller and ladies man Tyrion Lannister) and Emilia Clarke (the golden-haired dragon lady Daenerys Targaryen) received most of the attention, but season two saw a few previously limited performers step to the forefront in major ways.
Of special note were Alfie Allen, who gave the suddenly megalomaniacal Theon Greyjoy's violent quest for power a stark (no pun intended) vulnerability; Sophie Turner, the brave young actress who shares most scenes with that sniveling bastard Joffrey (Jack Glesson) and continually manages to hold her own; and Maisie Williams, the 15-year-old wonder who played little Arya's undercover survival within the Lannister family's guarded walls with a sympathetic toughness.
How Game of Thrones balances so many rich characters while delivering eye-grabbing moments of wild carnage and pricey visual effects is one of the show's many selling points. That just goes to show you the paramount importance of substance over style. - Matt Barone
10. Twin Peaks
Network: ABC
Air Dates: April 8, 1990 - June 10, 1991
Stars: Kyle MacLachlan, Madchen Amick, Dana Ashbrook, Lara Flynn Boyle, Sherilyn Fenn, Michael Ontkean, Richard Breymer, Joan Chen, Piper Laurie, Peggy Lipton, Everett McGill, James Marshall, Jack Nance, Warren Frost, Harry Goaz, Michael Horse, Russ Tamblyn, Ray Wise
It's not exactly "going out on a limb" to declare that network TV will never air another show quite like Twin Peaks. Much like how cinemas don't regularly screen films comparable to Blue Velvet or Mulholland Drive. The common denominator here, of course, is David Lynch, the unclassifiable filmmaker whose wonderfully odd sensibilities own stock in horror, drama, romance, comedy, and brain-scrambling WTF-ness.
All of those elements, and plenty more, were the high points of Twin Peaks, the anything but routine procedural soap, co-created by Lynch and Mark Frost, that left viewers scratching their temples through its two-season existence. When they weren't scratching, though, viewers were applauding the show's uncanny knack for producing shivers and awkward laughs in equal measure.
The plot of Twin Peaks, or whatever semblance of coherent narrative there was, traced the investigations of one Agent Dale Cooper (Kyle McLachlan), a beguiling lead character obsessed with nabbing the person who killed homecoming queen Laura Palmer; unlike AMC's The Killing, though, the whodunit side of Twin Peaks played second fiddle to the show's beautifully random scenes. - Matt Barone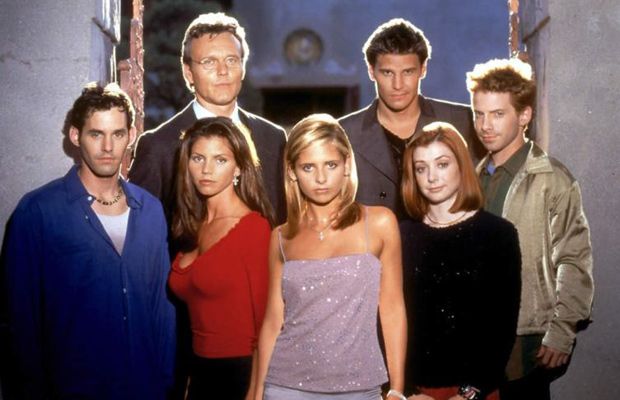 9. Buffy the Vampire Slayer
Network: The WB, UPN
Air Dates: March 10, 1997 - May 20, 2003
Stars: Sarah Michelle Gellar, Nicholas Brendon, Anthony Stewart Head, Alyson Hannigan, David Boreanaz, Charisma Carpenter, James Marsters, Juliet Landau, Eliza Dushku, Seth Green, Marc Blucas, Emma Caulfield, Michelle Trachtenberg, Amber Benson
Buffy The Vampire Slayer seemingly had it all: monsters, comedy, interesting characters, and talented actors. So what did the Joss Whedon-controlled show lack? The amount of viewers necessary to extend its current reputation beyond cult status. Buffy's loyal viewers, as well as the critics wise enough to hop on board, know they had something special, though, and aware True Blood fans hopefully realize that Sookie Stackhouse's universe is an inferior substitute for Buffy's creature-packed world.
Whedon and company kept the ghouls front and center throughout Buffy's seven seasons, yet no hour was as nightmarishly scary as "Hush", the show's crown jewel of horror. In the Whedon-directed episode (which he also co-wrote), a pack of suit-wearing, Joker-crossed-with-skeleton-looking ghouls known as "The Gentlemen" come to town and steal people's voices, resulting in an episode that's predominantly without dialogue. Brave formal decisions like this one separated Buffy from the rest of the pack. - Matt Barone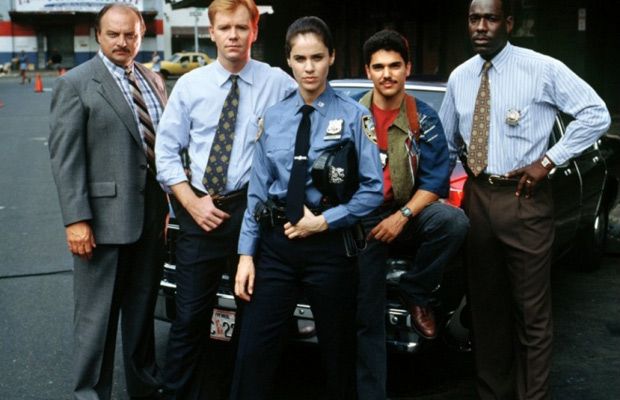 8. NYPD Blue
Network: ABC
Air Dates: September 21, 1993 – March 1, 2005
Stars: Dennis Franz, David Caruso, Jimmy Smits, Rich Schroder, Kim Delaney, Mark-Paul Gosselaar, Henry Simmons, Gordon Clapp, Bill Brochtup, James McDaniel, Nicholas Turturro, Esai Morales, Sharon Lawrence, Amy Brenneman
When all else fails during pilot season, and networks can't scrounge up any unique programming, there will always be the police procedural format. Year in and year out, channels both basic and cable premiere new shows steeped in the world of crime-solving, typically with crooked cops, flawed heroes, and a dead body or two per episode. And the sad fact is that every one of these programs is trying to be even half as great as NYPD Blue.
Co-created by Steven Bochco and David Milch, ABC's seminal police drama never skirted over the harsh realities associated with protecting and serving. The violence was raw, the characters were both likable and damaged (and sometimes naked), and fan favorites weren't immune to death. NYPD Blue thrived on the kind of naturally powerful storytelling that later procedurals have so desperately forced into clichéd submission. - Matt Barone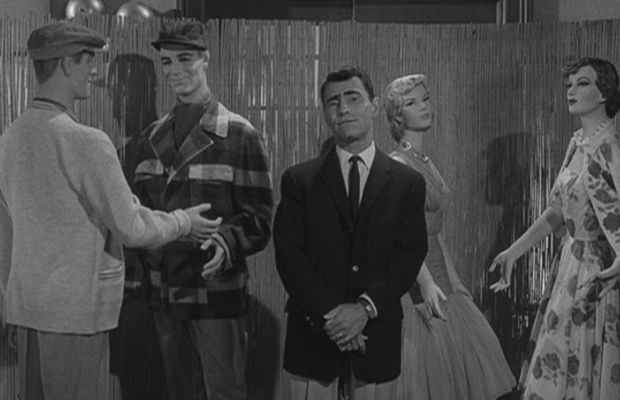 7. The Twilight Zone
Network: CBS
Air Dates: October 2, 1959 - June 19, 1964
Stars: Various
How many times have you heard someone, when in a bizarre situation, say, "It feels like I'm in the The Twilight Zone"? There's one man to thank for that ongoing pop culture reference point: Rod Serling, the game-changer responsible for several award-winning TV scripts, but most notably known for creating the groundbreaking anthology series The Twilight Zone.
Given a look today, the Zone's greatest episodes still hold up as television's best examples of thought-provoking and unsettling storytelling. Serling and his writing team (led by Richard Matheson and Charles Beaumont), probed societal issues and everyman fears with a genre-specific eye, inserting aliens, time travel, horror, and sometimes dark comedy into the everyday world as mirrors for viewers to confront harsh realities. The show was incredibly ahead of its time.
And it was, more often than not, scary as hell. Try driving on an open road alone at night after watching "The Hitchhiker", or not shivering in the presence of mannequins once you've seen "After Hours". We still get paranoid while flying on airplanes ("Nightmare At 20,000 Feet"), reading cookbooks ("To Serve Man"), and quarreling with neighbors ("The Monsters Are Due On Maple Street").
Television producers have tried time and time again to match what Serling did back in the early '60s, but to no avail. What's most scary about The Twilight Zone is how brilliant it remains today. - Matt Barone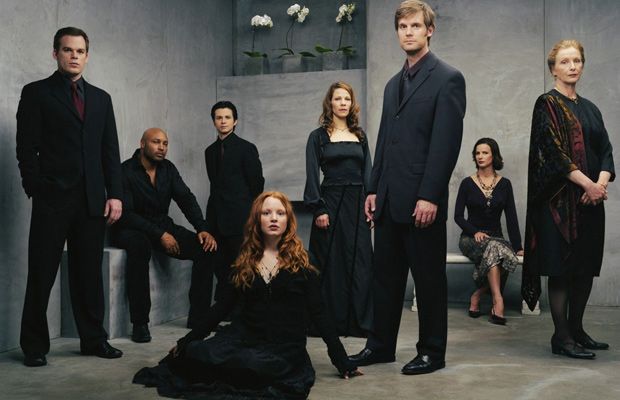 6. Six Feet Under
Network: HBO
Air Dates: June 3, 2001 – August 21, 2005
Stars: Peter Krause, Michael C. Hall, Frances Conroy, Lauren Ambrose, James Cromwell, Freddy Rodriguez, Rachel Griffiths, Justina Machado, Jeremy Sisto, Mathew St. Patrick, Joanna Cassidy, Tim Maculan, Patricia Clarkson, Lili Taylor
Death is the great equalizer, but it's also what separates Six Feet Under from other dramas. Centered on the survivors of a funeral director who dies accidentally in the pilot and leaves the Fisher family funeral home to his sons, the multi-layered series, created by American Beauty writer Alan Ball, explored familial conflicts as well as personal, religious, and philosophical perspectives on mortality.
Death was never distant, as each episode opened with someone's expiration, bringing a new body and more questions into the lives of the grieving family members, who continued to converse with imagined versions of their deceased patriarch, hoping to sort out the great mystery of life.
Profoundly moving and resonant for anyone who will die someday—which, if you haven't realized yet, means you—Six Feet Under is a must-watch before you kick the bucket. - Justin Monroe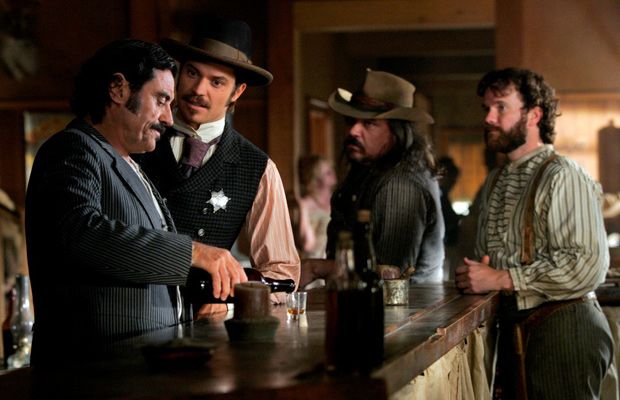 5. Deadwood
Network: HBO
Air Dates: March 21, 2004 – August 27, 2006
Stars: Timothy Olymphant, Ian McShane, Molly Parker, John Hawkes, Jim Beaver, Brad Dourif, Paula Malcolmson, William Sanderson, Kim Dickens, Robin Weigert, Dayton Calle, W. Earl Brown, Powers Boothe, Keith Carradine
HBO's ferocious and poetic Deadwood, a historical drama spanning two years in the history of a frontier town in the Dakotas, had the richest use of language American telvision has ever experienced. The beautiful words put in the mouths of the lowlifes, prostitutes, and lawmen by David Milch and his team of writers attracted much attention for the show's liberal use of the words "fuck" and "cocksucker," but the deserve just as much scrutiny for their stunning power.
"If I bleat when I speak it's because I just got fuckin' fleeced." That's saloon owner Al Swearengen (played with fierce intelligence by Ian McShane) speaking coarse and quotable in damn near iambic pentameter. Swearengen, like all of the show's components, has a basis in historical fact—this is one well researched beast you're dealing with. There was a real Deadwood. Wild Bill Hickok was killed there. The Gem saloon really stood on that bloody, muddy ground.
But don't get stuck on the realness. The Deadwood created by the writers and actors involved with the HBO masterpiece is wholly theirs, a wonderful fiction where pimps deliver soliloquies whilst getting head, and profanity takes on a poetic dimension Shakespeare would've approved of. - Ross Scarano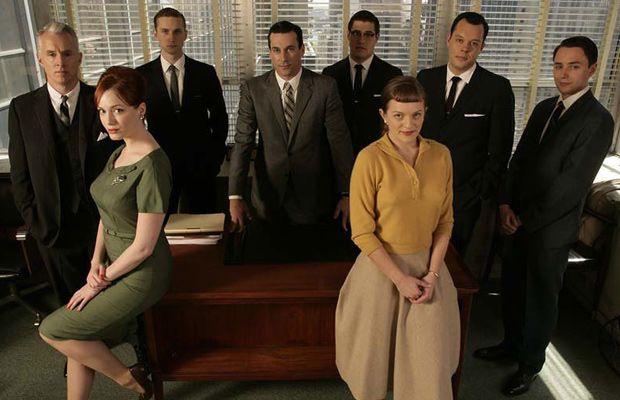 4. Mad Men
Network: AMC
Air Dates: July 19, 2007 – present
Stars: Jon Hamm, Elisabeth Moss, John Slattery, Vincent Kartheiser, January Jones, Christina Hendricks, Bryan Batt, Jared Harris, Kiernan Shipka, Jessica Pare, Michael Gladis, Aaron Staton, Rich Sommer, Christopher Stanley, Jay R. Ferguson
How many hours have we spent with Don Draper by now?
As TV becomes more cinematic (and thus richer) with regards to camera movement and editing, as it begins to play with form in the exciting ways, the medium will continue to stand distinct from film because of duration. You don't even get two hours with Charles Foster Kane in Citizen Kane. On the eve of the Mad Men's sixth season, we've spent roughly 50 hours with Don Draper (Jon Hamm). And given the pace of AMC's long, hard gaze into the ad industry of the '60s, those hours feel especially packed.
Testifying to the power of duration, Mad Men's unfurling arcs have asked viewers to evolve their feelings in ways that are only possible with time—lots of time. If you'd told me circa season one that I would feel something other than revulsion at the dawn of season six for Pete Campbell, the WASPy ad exec with the punchable face, I wouldn't have believed you. But as in life, relationships change and grow. My relationship with Pete (and to hell with you if you think that's a strange thing to say) is entirely different now. This is a beautiful and powerful thing, art that asks you to change. It should not be underestimated.
When it's over, Matthew Weiner's Mad Men may very well be remembered as the greatest show to emerge from TV's golden age. Exploring the complicated tangle of the personal and the political at an ad agency during one of America's most turbulent decades has provided viewers with enough indelible images and fascinating characters to populate entire novels. And the show only gets better as it incorporates more of the formal innovations of cinema into its machinery.
It's not right that I have to invoke other art forms to express the genius of Mad Men. It's lazy, for one thing. But it's also a reflection of the adolescence television is experiencing. The medium is still finding out what it can do. We're lucky, all of us, to be alive to watch. - Ross Scarano
3. Breaking Bad
Network: AMC
Air Dates: January 20, 2008 – present
Stars: Bryan Cranston, Aaron Paul, Anna Gunn, Dean Norris, RJ Mitte, Giancarlo Esposito, Jonathan Banks
It's hard to fathom that there are still people out there who've never seen AMC's Breaking Bad; at this point, creator Vince Gilligan's bleak and unpredictable drama should be required viewing for anyone who owns a DVR machine.
As sickly chemistry teacher turned crystal meth cook Walter White (Bryan Cranston) and his unstable partner (Aaron Paul) descend further into the drug world's abyss, Breaking Bad continually outdoes itself, pushing TV's boundaries with shocking violence, complicated storytelling, and fearless performances. As it approaches its finale, we'll see if it can become that thing that's eluded TV lovers for so long: the perfect show. - Matt Barone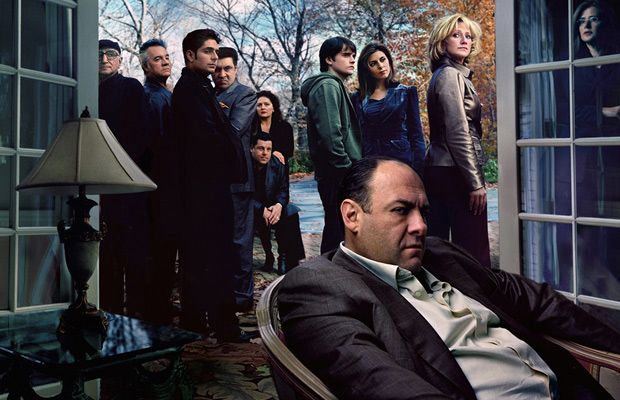 2. The Sopranos
Network: HBO
Air Dates: January 10, 1999 – June 10, 2007
Stars: James Gandolfini, Edie Falco, Lorraine Bracco, Michael Imperioli, Dominic Chianese, Robert Iler, Jamie-Lynn Sigler, Drea de Matteo, Tony Sirico, Steven Van Zandt, Vincent Pastore, David Proval, Aida Turturro, Nancy Marchand, Steven R. Schirripa, Federico Castelluccio, John Ventimiglia, Vincent Curatola, Steve Buscemi, Max Casella, Joe Pantoliano, Joseph R. Gannascoli
As with any intimate relationship, the connection that exists between viewer and television series can be a complicated one. Like any loved one, the television characters we come to know best have the ability to trigger a range of emotions—glee, despair, surprise, fear, anger—allowing us to love them and hate them in equal parts.
In the history of television, few shows have engaged viewers as passionately as David Chase's The Sopranos, the story of a New Jersey mob boss with mommy issues. (OK, so it's a bit more complicated.) Steeped in nihilism and based in the psychotherapy process, the show—which ran for six seasons on HBO between 1999 and 2007—has been cited by many critics as one of the greatest series in the history of television. And with very good reason.
The Sopranos set the standard for excellence on HBO, and captured the attention of the nation. Has any recent TV finale been discussed more than the end of this series? No. And we'll continue to discuss it. We'll only continue to analyze the mob epic that was so much more. - Jennifer Wood
1. The Wire
Network: HBO
Air Dates: June 2, 2002 – March 9, 2008
Stars: Dominic West, Idris Elba, Wood Harris, Michael K. Williams, Wendell Pierce, Lance Reddick, Andre Royo, Aidan Gillen, Amy Ryan, John Doman, Frankie Faison, Larry Gillard, Jr., Deirdre Lovejoy, Sonja Sohn, Clarke Peters, Jamie Hector, Tristan Wilds, Isiah Whitlock, Jr.
What more can be said? That The Wire is the most important television series of the 21st century is practically textbook truth. Fueled by incredible anger and empathy, David Simon's panorama of Baltimore cast the war on drugs as the futile tragedy so many Americans have known it to be, while also shining light on the unending games all institutions play to keep the oppressed oppressed, and the stats squeaky clean.
The Wire began, in its first season, by chronicling the Barksdale drug operation and the struggle of the police assigned to bring it down. From that center, the other stories radiated outward like the spokes of a wheel. The second season brought the docks to the forefront. The race for mayor of Baltimore entered with the third season. The fourth focused on the nightmare of public education. The fifth tackled the newspaper.
Listing the moving parts does nothing to explain the work of the machine. And, as should be the case with all great art, no piece of writing can take the place of the series itself.
The Wire wasn't perfect. The newspaper arc and serial killer debacle of the fifth season remain missteps. Still, when the show was great—and the first four seasons are peerless—it was moving in a way that had you reaching for a Bible, for the Communist Manifesto, for some massive text that offers guidance in tough times.
Art should help you become a better human, and dammit if The Wire didn't do just that. - Ross Scarano
full list at the source.