12:36 pm - 02/18/2013
Leo starts a new wildlife initiative + a friend suggests possible legal action against scuttlebutt
Today, actor and World Wildlife Fund (WWF) Board Member Leonardo DiCaprio helped launch WWF's "Hands Off My Parts" initiative.
The initiative represents a week-long effort tied to WWF's Stop Wildlife Crime campaign to raise awareness and mobilize support to end the illegal trade of wildlife.
Wildlife crime has reached levels never seen before in WWF's 50-year history. Rhinos, tigers, and elephants are being killed at alarming rates for their skins, bones, tusks, horns and other body parts.
Tens of thousands of elephants are being poached every year for their ivory. Thailand is home to the biggest unregulated ivory market in the world. Exploiting a legal loophole that permits the sale of ivory from Thailand's domesticated elephants, criminals are getting away with selling massive amounts of illegally poached African ivory alongside legal ivory in the country.
In addition to raising awareness of this global crisis, the Hands Off My Parts initiative highlights what people can do to help, including spreading the word and signing a global petition calling on Thai Prime Minister Yingluck Shinawatra to ban all ivory trade in Thailand.
In support of this effort, DiCaprio sent a personal email to WWF supporters, celebrities and other influencers encouraging them to join the wildlife crime campaign and sign the petition.
"Illegal wildlife trade is the most urgent threat facing species like tigers, rhinos and elephants. These animals are being killed every day to feed an escalating demand for their body parts," said Leonardo DiCaprio. "Whole populations are at risk of being wiped out if we don't take immediate action to shut down this illicit trade. As a key step, I am joining WWF and others calling on Thailand's government to show leadership on elephant conservation by shutting down its ivory market before the country hosts a meeting of 177 nations on wildlife trade in March 2013."
"With knowledge comes the imperative to act," said Carter Roberts, president & CEO of WWF. "This story needs to be told. We're grateful to Leonardo DiCaprio and others for being the voice for animals who cannot speak for themselves."
Other prominent voices joining this initiative include: Emily VanCamp, Josh Bowman, Stacy Keibler, Alyssa Milano, Ian Somerhalder, and Ethan Suplee.
"Hands Off My Parts" is the latest initiative in WWF's global campaign to raise awareness about illicit wildlife trade as a serious crime with far-reaching implications for species and communities around the world. To learn more and what you can do to help, please visit worldwildlife.org/wildlifecrime or
http://www.handsoffmyparts.org
.
UPDATE
to "Just One Mansion and Some Bunny Ears Away from Being Hugh Hefner" that can be found
here
:
He allegedly said he's nailing several women right now...
Leonardo DiCaprio has been allegedly caught bragging about sleeping with several women at the moment. StarCrush reports that DiCaprio was overheard at a dinner with his friend and fellow actor Kevin Connolly, as well as twelve women, talking about how awesome it is to be him.
The eavesdropper reports, "Leo talked about the fact that he is sleeping with 'multiple women' right now. He was totally open about it. Kevin looked at Leo and told him, 'I want to be you.'"
The source continues, "Leo replied, 'Everyone does.' He was acting very nice, but is very arrogant."
DiCaprio reportedly paid the entire bill and then went clubbing with everyone at the table before bringing all the women back to his Trump hotel room for an afterparty.
Perez Hilton reports, however, that according to a friend of Leo's,
"Leo and Kevin never said those things nor did either spend time upstairs at the Trump Soho hotel. Legal action against those responsible is being pursued as we speak. [They] can't just make up things because [they] feel like it. This story isn't over and the guilty parties will be exposed."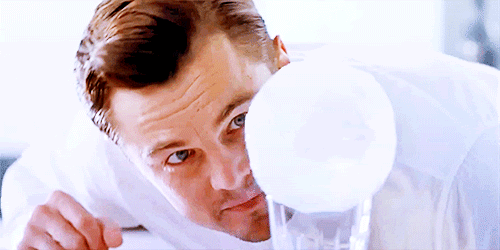 Perfect modelizing person: saving animals and suing naysayers at the same damn time. The day he ceases to amaze me is the day I die RIP
source |
1
&
2