12:03 pm - 02/17/2013
The Stars (Are Out Tonight) - David Bowie's Next Single
David Bowie is seemingly set to release a brand new track titled 'The Stars (Are Out Tonight)' later this month.
The singer, who will release his first new album in 10 years in March, posted a message on his official Facebook page at midnight today (February 17). The post did not include any concrete release details, but instead simply listed the date '02.26.13' and the title of the song along with a new picture, which you can see at the top of the page.
Bowie shocked fans and the media alike on January 8 of this year – his 66th birthday – when he broke his decade-long musical silence by unveiling a brand new track and accompanying video, 'Where Are We Now?', and announced that a new album, titled 'The Next Day', would follow in March.
The album has been produced by Bowie's longtime collaborator Tony Visconti and will be released in the UK and most countries worldwide on March 11. Australia will get the record three days earlier on March 8, while American fans will have to wait until March 12.
Source
Trivia - the cover image is of a sculpture of artist Egon Schiele by Al Farrow. The sculpture can be seen at the artist's website here.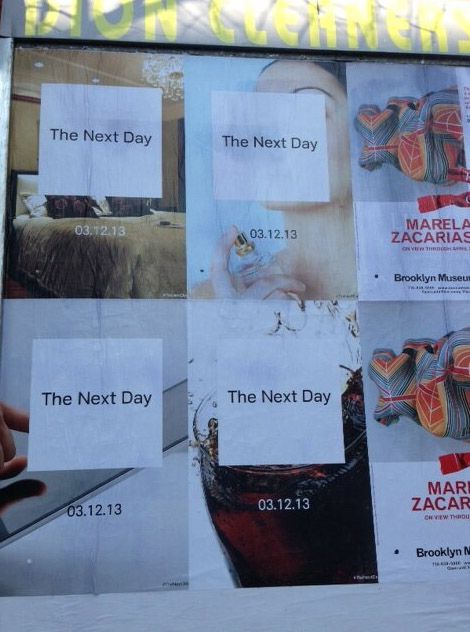 Source
I have a suggestion to make to all you Bowie fans out there – what do you think of the idea of a ground roots marketing campaign for The Next Day? Bowie's record company have taken the white square concept used on the album cover and made it go further, putting 'The Next Day' square over seemingly ordinary images in order to subvert them - this is demonstrated above.

I was thinking it might be fun – and potentially helpful to the promotion of the album – if we try to promote that concept through livejournal, tumblr, facebook & twitter etc. etc. If you'd like to get involved, there are several ways you could put this into action-

1.) Superimpose 'The Next Day' white square and release date of the album over your existing profile photo.
2.) Suggest that your followers/friends do likewise.
3.) Use #thenextday hash-tag on twitter whenever possible.

There are obviously a number of different release dates for the album (dependent on country) so I'd recommend using the date where the album will be released in your territory.

If used on facebook I imagine this will baffle any non-Bowie fan contacts, but that's kind of the point. The 'official' uses of this concept don't even feature Bowie's name, presumably to make the posters more intriguing to people who have no idea what they're referring to.