Empire Magazine: The Hobbit Interviews -- Graham McTavish On Dwalin
'I'm the scary biker of the group'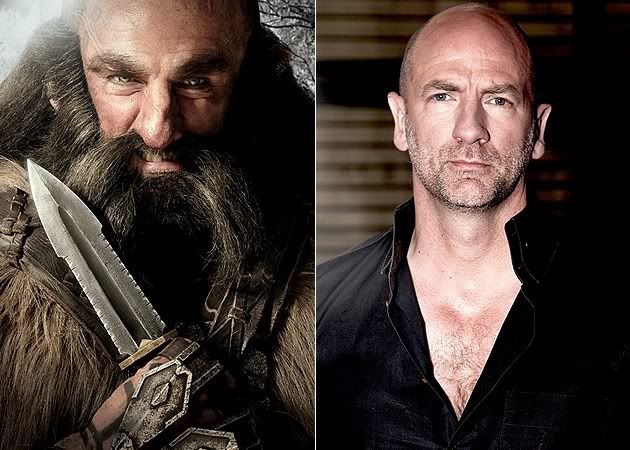 Putting the 'war' into 'dwarf' is Dwalin, Graham McTavish's belligerent rabble-rouser and sidekick to Thorin Oakenshield on the quest for regain Erebor. If Thorin's company was anything like Alan Sugar's in The Apprentice, Dwalin would be the one to mix the studied ferocity of Margaret and the cool-headed detachment of Nick. This is our analogy, not his. McTavish prefers Charles Bronson. The Dirty Dozen it is, then.
Tell us about Dwalin...
I'm the scary biker of the group. I was actually hoping to call my pony 'Harley'. Dwalin is the sort of the tough warrior, Thorin's trusted right-hand man, his lieutenant who would follow Thorin to the gates of hell and pretty much does, I guess. The interesting thing as we go along is we discover we all have slightly different agendas. My attitude to all of them, personally, varies. There are some that I would trust with my life and others I wouldn't trust as far as I could throw them. We're kind of like the Dirty Baker's Dozen.
So which one does that make you?
"The dwarves are like a little group of Special Forces that can run around wherever they want."
I'm thinking Charles Bronson. He was always one of my favourites. That's how I see myself in the group: Dwalin's good at fighting and has a very big hammer.
Did you have to do extra training?
Yeah, I started doing a lot of physical training about three or four months before I came out here: five days a week, including a hard day of absolutely puke-inducing horror, it was just terrible, but it got me very fit. It's not necessarily about being muscular, it's about endurance.
Do the tattoos have a meaning?
Ah yes, the tattoos. Well, I asked for all sorts of different ones because it's like an illustrated history, but "if you can read this I must be punching you in the face" is one of them.
Have you had to learn Dwarvish?
We know a bit of Dwarvish. I won't embarrass myself by doing it here but, yes, we do have a few little choice dwarf lines, mainly abuse.
As in Dwarvish swear words?
Those ones won't be subtitled.
How's the singing?
'Misty Mountains' is a beautiful song — a beautiful lament — and there is a much more boisterous drinking song in Bag End, which was an incredibly complicated sequence, but it should look incredible. So yes, lots of singing.
Do you think small?
No, and that's why it's very important to create that martial sense of a group, because the danger is when you mention dwarves you imagine Snow White and all that kind of malarkey, lots of people sort of waddling around. But these guys are very, very fierce. They're like a little group of Special Forces that can run around wherever they want.
source
This man and his glorious Twitter presence. He can rock a mohawk and leather or a suit and waistcoat with equal ease...
Edited to add: grahammctavish.com!