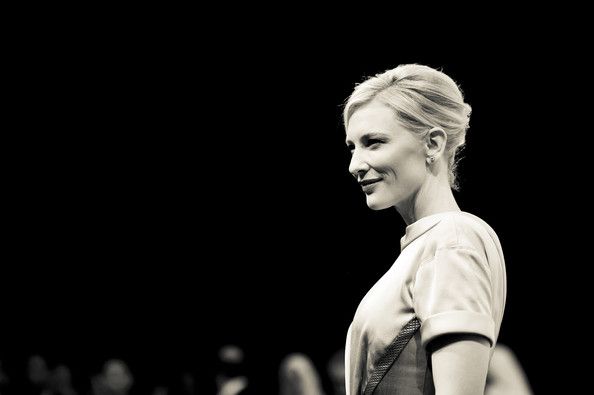 Cate Blanchett
is stunning in a
Rodarte
gown as she arrives at day one of the
2012 Dubai International Film Festival
held at the Madinat Jumeriah Complex on Sunday (December 9) in the United Arab Emirates.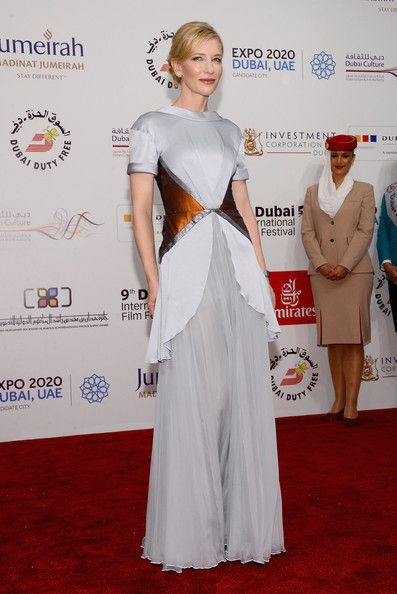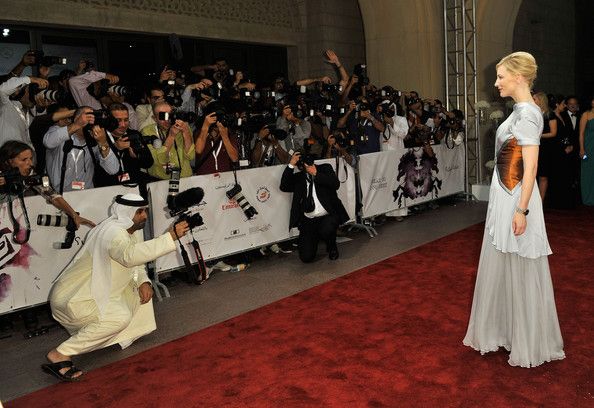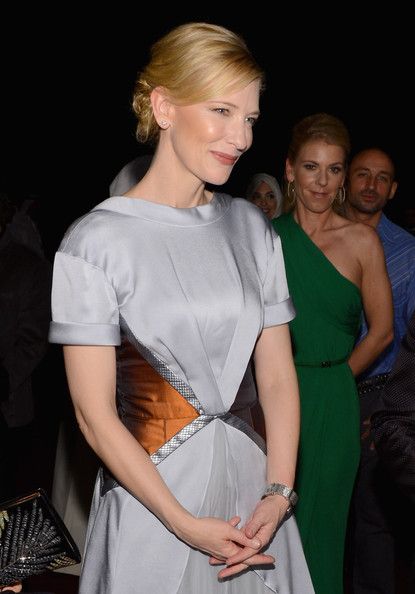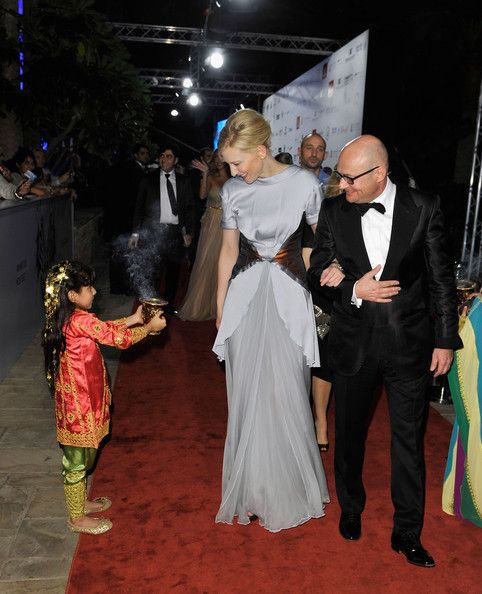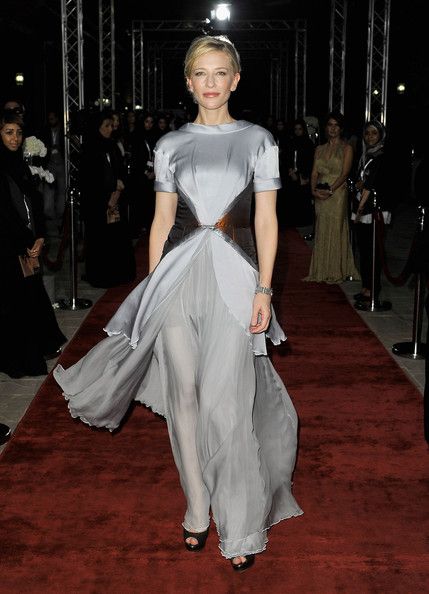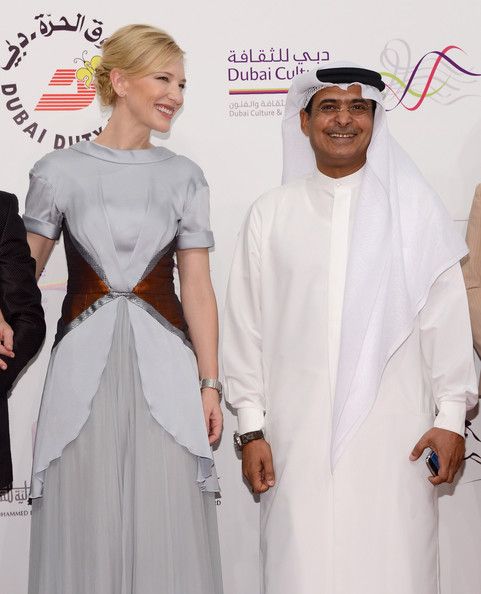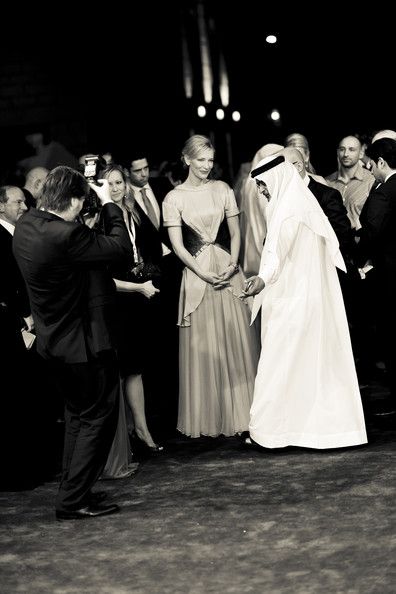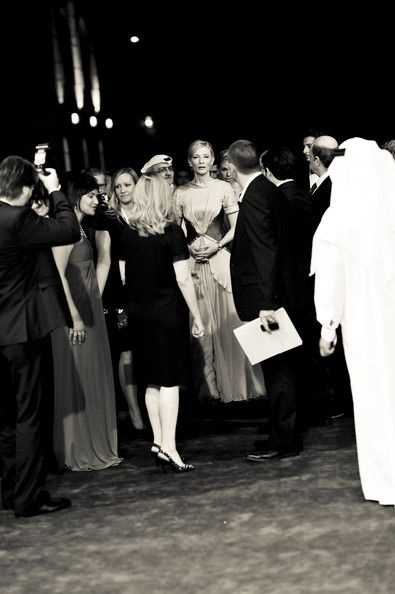 Cate Blanchett On Her Red Carpet Disasters
WHILE many stars might dread seeing their name appear on a worst-dressed list, Cate Blanchett treats the questionable accolade as a "badge of honour". The Vogue cover girl says that she doesn't concern herself too much with what other people think.
"If you're worried about that stuff, you can tell. I mean, I've had some doozies. They don't always work," she told The Huffington Post of her red carpet choices. "But who are you dressing for? You can't always dress for US Magazine. [Being named worst-dressed] I think is a badge of honour."
Despite her claims, the Oscar-winning actress is a regular fixture in Vogue.co.uk's best dressed compilations, thanks to her varying love of designers - from Givenchy and Fendi to Preen and Antonio Berardi. But, she says, it's all too easy to get it wrong.
"I don't want to drop a designer, but it's usually because there's too much hair and make-up competing with the outfit. Or you've seen something fabulous, and it is fabulous, but it doesn't quite work on you," she said. "The other thing is you can fall in love with something on a shoot, and it might work on a still shot, but not in real life."
So with a wardrobe bursting full of beautiful gowns, and three sons at home, what will become of her extensive couture collection?
"Suddenly my friend's daughters are becoming my best friends. I have so many 12-year-old girlfriends," she said. "I don't know, maybe my sons will be gay."
Cate Blanchett May Star as Evil Stepmother
in Disney's CINDERELLA Picture Directed by Mark Romanek
Blanchett would be the first to be cast in the live-action film. It is being directed by Mark Romanek for the studio based on a script by Chris Weitz.
The film is being produced by Simon Kinberg, who is best-known for the "X-Men" series.

The feature was first set up at Disney in May 2010 based on a pitch by Aline Brosh McKenna ("Devil Wear Prada."), who wrote the initial draft.

Disney set the project up in the wake of its success with "Alice in Wonderland," an adaptation of the Lewis C. Carroll book that starred Johnny Depp.

Disney representatives could not be reached for comment.

Blanchett can next be seen on screen in "The Hobbit: An Unexpected Journey" on December 14. She was recently confirmed for George Clooney's upcoming film "The Monuments Men." She will also be seen in "The Hobbit: The Desolation of Smaug" and "The Hobbit: There and Back Again."

Cinderella has been adapted for the big screen dozens of times. In Andy Tennant's 1998 version "Ever After: A Cinderella Story," Angelica Houston played the evil stepmother. In the TV movie "Cinderella" in 1997, the role was played by Bernadette Peters. Sigourney Weaver voiced the character in "Happily N'Ever After" in 2006. Disney's 1950 version featured Eleanor Audley in the voice role of Lady Tremaine, the wicked stepmother.
1
,
2
,
3
,
4