9:28 pm - 11/01/2012
Arcade Fire at Work on New LP, Aiming for Late 2013 + Win Butler Writes Pro-Obama Essay
Drummer Jeremy Gara: "We're in the studio full-time doing what we do."
By Jenn Pelly on October 25, 2012 at 01:17 p.m.
Photo by Anton Corbijn
Today, Arcade Fire's drummer Jeremy Gara
gave an interview
to Ottawa radio station CKCU 93.1, where he was a DJ in the 1990s, as Arcade Fire Tube notes. Gara said Arcade Fire are currently in the studio working full-time on their follow-up to The Suburbs, which should be out by the end of next year.
The band had to leave their old studio, a church, because the roof collapsed, but they have a new space that's coming together as they work. Gara said Owen Pallett has already recorded there.
Gara described their current process:
We are just working like we always have. We took a couple months off and we've been writing songs. Now we're in the studio pretty much full-time just doing what we do. And we kind of shut the door. We haven't really gone out and done anything in over a year now. We haven't done photos or interviews or anything. We're just working on music and growing beards and living at home a lot and going out to dinner together.
But he added that they're not working within a timeframe:
We're not that far into a record, but we've been working for a few months now. We are under no pressure from record labels or management or whatever to do anything on any sort of schedule. We're just working. We have no deadlines. It's kind of coming along.
Gara also predicted that METZ will win the Polaris Prize next year.
He also noted that, for some members of the band, the idea of raising a family is becoming a priority. And he said the band has been brainstorming ways of making arena shows more interesting, drawing bits of inspiration from Coldplay and Springsteen. "We don't hand-off that work," he said. "We want to stay engaged."

Source
Jay-Z, Bruce Springsteen to Perform at Obama Rally, Arcade Fire's Win Butler Writes Pro-Obama Essay
Butler: "I want four more sweet years of Canadians liking Americans"
By Jenn Pelly on November 1, 2012 at 07:50 p.m.
With the Presidential election only days away, artists are continuing to voice support for President Barack Obama.
On Monday, both Jay-Z and Bruce Springsteen will perform at Obama's rally in Columbus, Ohio, as The Washington Post reports. Springsteen will also play at Obama's final rally in Des Moines, Iowa; Michelle Obama will join onstage.
In related news, Arcade Fire's Win Butler today voiced support for the President in
an essay for Dave Eggers and Jordan Kurland's 90 Days, 90 Reasons project
. (Ben Gibbard and Superchunk's Mac McCaughan have also contributed.)
"I want four more sweet years of Canadians liking Americans," wrote Butler, who lives in Canada but is an American citizen.
Butler emphasized the value of Obama's ability to communicate effectively with foreign nations:
The Republicans will try to convince America that President Obama being a good communicator is somehow a bad thing. In fact, this kind of personal charisma is perhaps the most direct way a president can pursue America's interests abroad. The most compelling recent example of President Obama's abilities as a communicator came in his recent address to the United Nations. This speech was broadcast all over Canada and the world, and it detailed America's vision for human rights, democratic change in the Middle East, and its priority to change the global status of women. I felt so proud that our president understands that there are global moral imperatives that unite us all.
Watch President Barack Obama's message from Jay-Z's recent Made in America festival:
Yay, I'm excited. Since some members want to have little nuggets this might be the last album for awhile.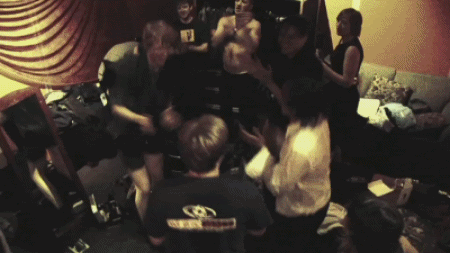 Source