"Fragrance is feral," she says, rubbing her chest provocatively. "It's sexual, it's about your skin."
a fortnight after this interview, news broke that she'd been two-timing R-Patz with her dashing director on Snow White and the Huntsman, Rupert Sanders. Having met her, the affair isn't surprising in the slightest; Stewart seems to have a highly developed rebellious streak.
Considering the amount of waiting around and general celeb reverence that has been involved in getting my Dictaphone in front of her, I'm pretty surprised Stewart is talking about being sexual at all. If that wasn't enough, she says "fuck" and "cunt" all the time, too.
For the record, both agree that fearlessness is the key to cool. "It's about being on the edge of something – about not taking the easy route," says Stewart, the girl who found international mega-fame as a teenager. "To be cool is not to be crippled by yourself," she adds, lest anyone dare assume that her brisk confidence isn't the genuine article.
The fact that she had no idea about the house's heritage (Cristobal Balenciaga was Spain's answer to Christian Dior) was rather unexpected but, in the context of its futuristic place in today's fashion world, hardly surprising.
The actress is all too aware that she is on show, and the "on-show" Stewart can be brash and provocative. I mean, if I was the new face of Balenciaga and had the pick of the latest collection to wear, I wouldn't have chosen a neoprene vest and grubby-looking jeans for the interview. But that's just me.
Q&A with Nicolas and Kristen
NG: Who do you admire?
KS: I'm going to keep it personal. I'm not kissing your ass, but you, Walter Salles and Sean Penn – he has done remarkable things on and off screen.
NG: What makes you happy?
KS: I'm a miserable cunt! I'm not sure if I'm most happy when I'm comfortable and content or when I'm pushing myself to the limits. There are such different versions of happy. And I really appreciate both.
NG: If you weren't an actress, what would you be?
KS: I'd probably go back to school, read a lot and figure out what I should do.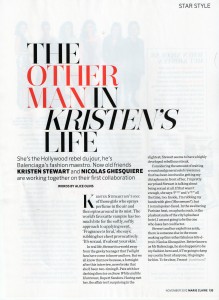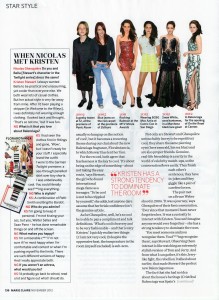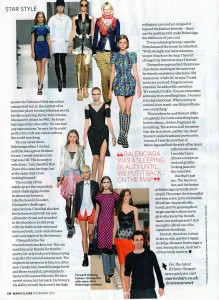 src
and my keyboard