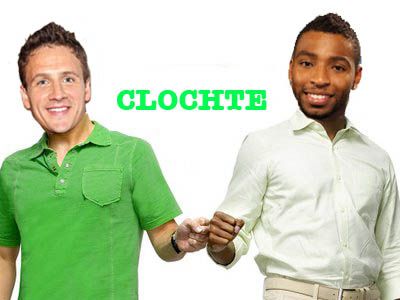 Interview: Olympic Gold Medalist Cullen Jones Talks Fighting Childhood Obesity, the 2012 Games, and Rick Ross
In addition to being back to school month, September is also Childhood Obesity Awareness month. According to the CDC approximately 35.7% of American adults and 17% of American children are obese. Those who are obese are at a higher risk for conditions such as heart disease, stroke, type 2 diabetes and various forms of cancer.
At this year's US Open, the USTA's Youth Tennis program teamed up with the White House's Partnership for a Healthier America to promote fitness among the nation's youth. The tennis exhibition included Olympian medalists Dara Torres and Cullen Jones, actress Christine Taylor, and The Biggest Loser trainer Bob Harper. We caught up with Olympic gold medalist swimmer Cullen Jones to talk about his partnership with the USTA to fight obesity, his performance at this year's Olympics, and who's currently on his playlist.
Interview by Ralph Warner (@SoloWarnerBro)
How does it feel to be back home after winning three medals including one gold at the Olympics?
It feels amazing to be back home in New York, it feels amazing to be back home on US soil in general. I've just been living it up, trying to celebrate. I'm also getting recognized on the street now so that's been nice. [Laughs.]
How did you become connected with the USTA?
In 2008 I participated in Arthur Ashe Kids' Day so it felt right to come back and do this again. I'm getting flashbacks from 2008 playing at Kids' Day. I work with an initiative called Make a Splash and it's really just about getting kids water safe and that lines up so well with the battle against childhood obesity. Swimming is an amazing sport and we're trying to get as many kids healthy and active. It works out very well that we have a common goal.
Do you play tennis in your spare time?
You know, I may have to start picking it up because these kids are killing me out here. [Laughs.]
Who's your favorite pro player to watch?
Definitely Serena Williams. Andy Roddick, obviously, unfortunately he's retiring though.
Speaking of retirement, how many more Olympic games do you have left in you?
I think I have one solid good one left in me. Rio sounds great. It's a big commitment for four years but we've got big meets every year and world championships too, so I just take it one day at a time but also one year at a time.
What was your most memorable moment from the 2012 Games?
Walking out by myself. It was my first individual event. Having thousands of people screaming at you is definitely something that you can't really prepare for. It was amazing.
Who's on your playlist right now?
I actually just got the Rick Ross CD and I'm a fan of it. So that's in heavy rotation right now. Before that it was Watch the Throne, I'm a big Jay-Z fan. I was listening to "No Church in the Wild" before I swam.
Hmm...maybe that track gave you some some luck. Are you superstitious?
Not so much. I have my habits right before I race but not too much. I don't have to wear the same suite every time I go to practice.
Is there anything else you want to say about the USTA's Youth Tennis program and its importance?
This is amazing, they're opening up new courts and we just want to get kids out here. They said there's seven hours that kids are in front of a screen whether it be TV, video games, whatever. And I know I love video games but being active is very, very important. So getting kids in tennis is awesome. My mom plays and she got me into it when I was younger so this is a great, great cause and I'm happy to be associated with it.
Ryan Lochte Talks About His Fashion Line, Dwyane Wade, and Amar'e Stoudemire
By Karizza Sanchez
Ryan Lochte has been making his rounds at various parties and New York Fashion Week shows. Yesterday, he was spotted at the Rebecca Minkoff show. Of course, tons of television crews, reporters, and photographers swarmed the Olympic swimmer.
Styleite caught up with Lochte and asked him a few questions about his fashion line, Dwyane Wade's style, and whether he agreed that Amar'e Stoudemire was the first athlete to venture into fashion.
On his upcoming fashion line:
"Right now, it's in the making. I'm working with a new design team, and hopefully, it will be up and running within a year."
On Dwyane Wade:
"Just seeing him and how he dresses up and how he presents himself on-court and off the court, he's a really stylish guy."
On Amar'e Stoudemire:
"That's amazing. It's really rare to see especially an athlete to go out of their realm and into something totally new. And he started it. And Dwyane Wade, me, and probably others want to get in that."
Best bromance EVER!!! You know that's right!!!
Source
Source 2
TYFYT ONTD <3 <3