idk if I want this. The show is already showing signs of age. The movie sounds fab tho! After seeing the "Kath and Kimderella" premiere, I'm psyched to see Patsy and Eddy walk the red carpet and hit the big screen! Jennfer Saunders became a grandma for the first time today, btw!
Joanna Lumley has said that Absolutely Fabulous could 'go on and on'.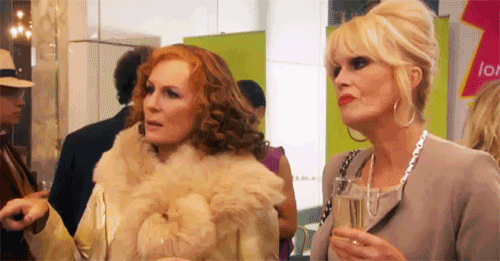 "We've already flashed to a time when Patsy's drooling and propped up in a wheelchair with a drip attached to a vodka bottle,"
she explained.
"Her and Eddy were about 102... No matter how badly Jennifer and I decay, we could carry on playing the characters forever [and] June Whitfield [Eddy's mother] seems to be getting younger all the time."The 66-year-old actress also confessed that she shares some traits with her flamboyant, chain-smoking character. "I only have maybe five a day,"
she said.
"But playing Patsy has put me in a cage that makes me look like I smoke like an old wizard. "I drink a fraction of what she does but I'm a bit like her. I don't have her vicious language but I adore her."
Lumley revealed that she has also managed to accumulate wardrobes full of clothes and accessories while playing Patsy over the past two decades, some of which she plans to auction off later this year.
"I'd often buy Patsy's clothes from the BBC at half price because I loved them so much,"
she said.
The script is expected to be written this Autumn.
Jennifer Saunders wants Kate Moss for the Ab Fab movie
Kate Moss could be set to make her movie debut.The British supermodel made a cameo appearance in an 'Absolutely Fabulous' special charity episode for Sport Relief and show creator Jennifer Saunders enjoyed working with her so much, she now wants her to appear in the forthcoming spin-off film.
She told Closer magazine:
"Kate got on so well with the team, we'd love to work with her again.

"I'm currently writing the movie, so watch this space."
Plot of the film revealed by Jennifer Saunders:
The film will open with Edina and Patsy waking up in the middle of the ocean on an oligarch's yacht following a party that everyone else has long since departed.
"Eddy and Patsy are looking for what they imagine glamorous life should be. They're constantly searching for that perfect place to sit or that perfect pair of sunglasses. It's Shangri-La and it just might be round the next corner. In the meantime, they decide to take Saffy's (Julia Sawalha) daughter off her - she calls her Jane, I call her Lola - but then they lose her."
It's
fabulous
,
sweetie
!