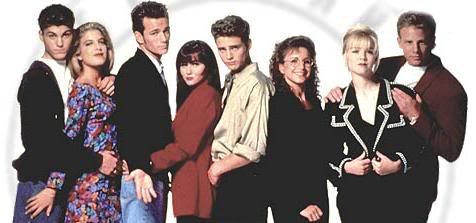 It looks like Beverly Hills 90210 (
FINALLY!!
) is coming out on DVD!
The 22-episode set is scheduled to be released in the UK (region 2) on Sept. 4.
It remains TBD when a region 1 (U.S.) release will be, but I've seen some sites say it will be sometime this year. No artwork has been released yet.
Wee!!!
Beverly Hills 90210: Season 1 (
play.com
)
our price: £47.99 Delivered
availability: Due for release on 04/09/2006
RRP: £59.99 You save: £12.00 (20%)
Review: Brandon Walsh (Jason Priestley) and his sister Brenda (Shannen Doherty) survive the first day of school at West Beverly High but will they endure the drama that awaits?
The complete first season of the teen favourite which followed the Walsh family as they relocated from Minnesota to the richer pastures of West Beverly Hills.
Episodes comprise:
1. Class Of Beverly Hills
2. The Green Room
3. Every Dream Has Its Price (Tag)
4. The First Time
5. One On One
6. High Education
7. Perfect Mom
8. The 17 Year Itch
9. The Gentle Art Of Listening
10. Isn't It Romantic
11. B.Y.O.B
12. One Man And A Baby
13. Slumber Party
14. East Side Story
15. A Fling In Palm Springs
16. Fame Is Where You Find It
17. Stand (Up) And Deliver
18. It's Only A Test
19. April Is The Cutest Month
20. Spring Training
21. Spring Dance
22. Home Again
Technical Details:
Actors: Jason Priestley ; Shannen Doherty ; James Eckhouse ; Carol Potter ; Jennie Garth ; Ian Ziering ; Luke Perry ; Gabrielle Carteris ; Brian Austin Green ; Tori Spelling
Year: 1990
Screen: Fullscreen 4:3
Languages: English
Region: Region 2 - Will only play on European Region 2 or multi-region DVD players.
Melrose Place & Beverly Hills 90210
(
davidsdvd.com
)
After years of waiting, it finally looks like two of mega-producer Aaron Spelling's biggest '90s series are headed to DVD. While searching on Paramount Home Entertainment press website, we stumbled onto separate placeholders for
Beverly Hills 90210: Season 1
and
Beverly Hills 90210: Season 7
(yes, 7) [I think this is the last college season?], as well as
Melrose Place: Season 1
and
Melrose Place: Season 2
. While we can reasonably speculate that the box sets will be out before the year's end, no official street date or packaging artwork is available yet ...
Source 1
.
Source 2
.