10:01 pm - 08/01/2012
Kristen's Shocking Betrayal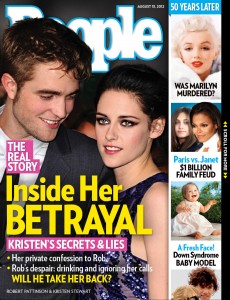 • He's "heartbroken and angry," says a close source, and has been "drowning his sorrows" since the indiscretion exploded into worldwide news.
• Ross-who tweeted "wow" just as the news emerged--hasn't seen Sanders since. "Her sole focus is on protecting the kids," says a source.)
• He huddled with friends at the L.A. lounge the Churchill before asking to crash at the retreat owned by Witherspoon, whose "bawdy" and "raucous" sense of humor he has praised; she has called him "just the nicest guy."
• Pattinson spent a few nights drinking, leaning on friends including his manager Nick Frenkel. For days the actor ignored a barrage of tearful texts and calls from his pleading girlfriend, says a source, and ordered Stewart to move her things out of his home.
• "It only became a flirtation recently, and she was lured into a brief situation that she never wanted."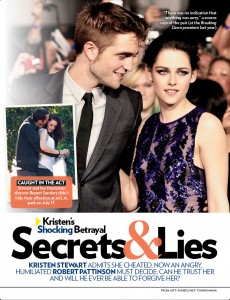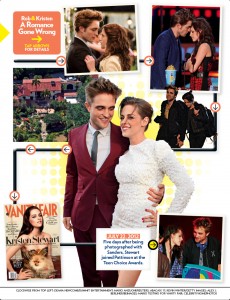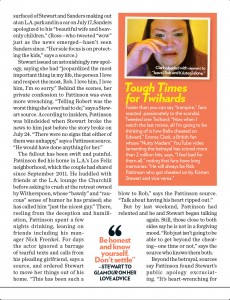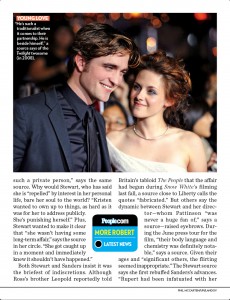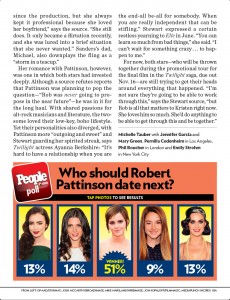 In an exclusive statement to EW, Summit's president of worldwide marketing,
Nancy Kirkpatrick
, says: "While it is studio policy not to comment on the personal lives of actors, Summit is moving full steam ahead."
source: digital copy of People Magazine + EW