9:43 pm - 01/02/2012
Tokio Hotel Twins' BTK APP: Highlights of The Latest Updates
ABOUT BTK APP FOR ANDROID AND iTUNES
The link to BTK Twins Personal messenger:
http://bit.ly/s2HEBh
Release date:
December 19th, 2011
Description:
Personal Messenger App for Bill and Tom Kaulitz of Tokio Hotel. Find out the latest information on the Twins directly from them. Take a look behind the scenes and get as close as possible. Exclusive Audio, Videos, Photos and Text postings not available anywhere else. Don't wait for inaccurate reports or bad Paparazzi shots. For the first time ever Bill and Tom share their private lives with you!
You will have access to post messages for 30 days. If you wish to continue to post and view exclusive updated content you will have to enter into a subscription agreement. The cost per month is $0.99 per month.
Why does the BTK app isn't available in iTunes yet?
Because iTunes needs time to verify app after being submitted. The BTK support team says that they will have more information soon.
Some of the daily updates so far:
Tom: Because you waited so long, I have a second one for you! But guess what? Bill Had 2 more really crazy costumes. Will you see the next one soon!
Let me introduce to you: 'Commander' Bill.
Bill: Tom enjoying a cigg in the sun.
Bill: A hint from my second Halloween. Hey, Aliens. Here's a little hint of my second Halloween costume.
Bill: Who's ready for Christmas? My dog ​​is ready for Christmas What about you?
Tom got more piercing.
Tom: Bill getting pierced.
Who wants to see how Bill gets pierced? I bet not too many ;) But if I see at least 50 positive comments I´ll post the video!!!"
Bill: "... hahahah.. look at that Tom!!!! everybody wants to see it!"
Tom: "...ok ok...you guys won. Here is my little brother getting his 10th piercing. Enjoy :-) !!!!!!"
Bill:Christmas presents.
...Tom and me had a busy day getting all our christmas presents. puuuuhhhh...now off to the studio:-)
Bill: "...we celebrated halloween big time this year. Had a great time as a devil... but actually I have no clue what Tom's costume is about...hahaha...".
Tom's comment on Bill's Hallooween photo: The scary thing is it's not a mask... It's just Bill without make-up ;-)
Bill: "Look what I've found! ...an old pic of my little girl :-)".
Tom: Doggie Presents. ...me and my dog! He chose his christmas presents on his own!"
Bill: "Our first trial this year...
They are not perfect but take a look at our first trial baking cookies this year :-)"
Bill: "uuuuuuuppppppssss!!!
..well I guess tom had too many cookies today:-) ...hahahahah..."
Tom: "hahaha... Bill too!!!"
Bill: "You guys were right!!!! ... it´s a twin tattoo!!!!!!"
Tom: "Bill was first! ...watch Bill getting his twin tattoo!"
Bill: Tom in the tattoo studio right before he got his tattoo done. Can you see how nervous he is...ahahaha...
Bill @Sonia no letters:-)
Tom @Estrella Marina: no nervous laugh! I was relaxed... Bill made me laugh; )
Bill @Tom: ...hahaha... you know that's not true!!!
Bill: Tom freaked out :-)
Bill: Merry Christmas!!!!
Dear aliens,
We wish you all a wonder christmas with the ones you love around you, happiness, health and may all your wishes come true! Thank you so much for all your support. We love you guys.
Bill+Tom
PS: How do you like our christmas tree???
Bill: "Yummy burrata... just had lunch...hmm... :-)"
Fan: "@Bill, that looks so delicious! :) Did @Tom have the same thing?"
Bill: "@Heather: ... Tom and me always order exactly the same :-)"
Fan: "@Bill Ogh it seems really delicious! How is your Christmas going? Did you have lots of presents? Please answer me ♥"
Bill: "@Chiara: It´s been really good. We had a wonderful christmas with a lot of good veggie food:-)"
Fan: "mmmh.. yummy :Q was it good? :Q"
Bill: "@Giorni: It was the best!!! I love it."
Fan: "@Bill: this is exactly what i tking of ice right?? Will you give me just a spoon ;)"
Bill: "@Andrea: It is cheese... looks like ice cream though"
Fan: "What is your favorite dessert??"
Tom: "@Sarah Garcia: I love pasta! .. for dessert I always go for waffles with plums... ;-)"
Fan: "@Bill! In February I´m going to Berlin! Can you suggest me some German food, please?"
Tom: "@Katja: Yeah we like "Apfelschorle" too... You can get it in france too: apple juice + sparkling water = Apfelschorle ;-)"
Tom : Who wants to see...a pic of Bill's 3rd Halloween costume?
Tom : Ok guys!Got you...! ...which of the 3 costumes do you like the most?
Tom: "Mother Nature! Bill & me took a walk..."
Fan: "That looks like my favorite kind of weather. Is it by the ocean somewhere?"
Bill: "@Trina: Yes it is!"
Fan: "Wow, this place looks so quiet! Is it in LA? :-)"
Bill: "@Katia: Yeah it´s in LA! We just found the place! It´s beautiful there!"
Bill: "You guys asked for it! ...so the is one of the photos I took during our walk..."
Fan: "It´s beautiful.. @Bill is place in LA?"
Bill: "@camila: Yes, it´s in LA!"
Fan: "@Bill. What a lovely view of the ocean! Hope it wasn´t too breezy! :-)"
Bill: "@WinterSong: No it was perfect! The weather was really nice!"
Fan: "ohh @Bill that look beautiful :-) the nature make me fell free and alive :) @bill what is your favorite season of the year?!??"
Bill: "SUMMER!!!!!"
Fan: "I love cold weather!!! @Bill , you like it or you prefer Sun? (:"
Bill: "@Clare: It wasn´t cold though! Had a beautiful day!!!"
Tom: "Bill is so crazy... he performs stunts wherever he goes!!! ;-)"
Bill: "Toms twin tattoo!!! Enjoy it guys!"
Fan: "that is so cute... I´ll make me a tattoo with my twin and say copy and paste hahaha ok, no But it would be funny hahaha"
Tom: "@Danielaa: hahaha... Are you really a twin?"
Fan: "@Tom are you planning next tattoo in the future? or you wont do it again..."
Tom: "@Klaudius: Maybe!"
Fan: "@Tom: you can confess. Did you scream?"
Tom: "@Tissem: No... But Bill was...;)"
Tom: How was your party?
P.S. What astrology says about the twins' characters:
HERE
. Some extracts:
shy but can talk alot when comfortable, love to work, perfectionist, analytical, intelligent, reserved, critical, helpful, conscientious.
You may avoid the spotlight, and if you do find yourself in a public role, you tend to hide your true self behind that role!
You have good physical vitality. Although competitive, you are not naturally combative. You may enjoy sports or games that are competitive, but not violent.
You avoid labeling people and are most offended when others attempt to label or stereotype you.
There is an unmistakably dreamy, inspired, and sensitive side to you. A marked appreciation for music and the arts is present.
You are humanitarian and may have a special connection with animals.
He needs to be dominated. (oh wow)
He likes to be with older people.
Be careful of any haste that could prove dangerous. Drives a car too fast.
Profession requiring lots of change and movement. If this isn't the case, then lots of job changes. Likes to move, travel, write.
Sincere and life-long friendships. The family comes first, however.
A few problems with authority or someone in charge.
HAPPY NEW YEAR, ONTD!
Bye 11.30.2008 femmie Bill... welcome 2012 beardy & muscley Bill...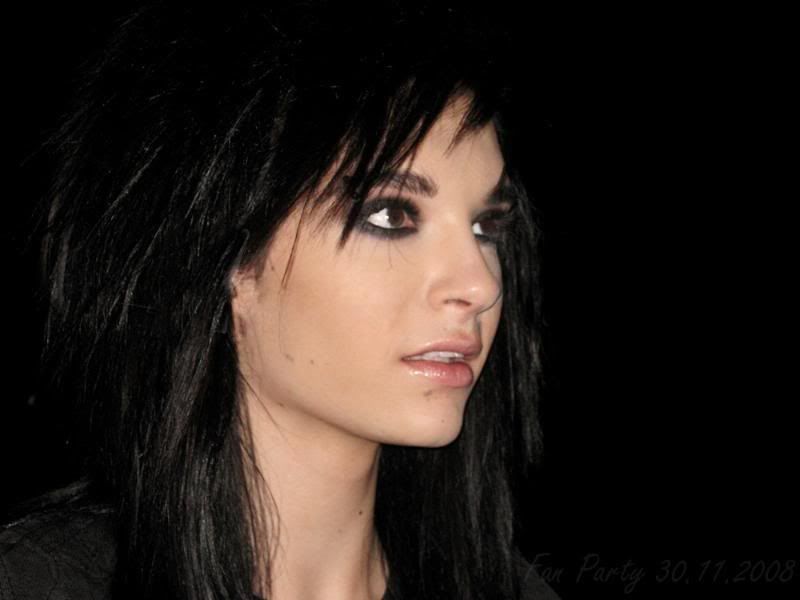 T_T
Source:
HERE
&
HERE