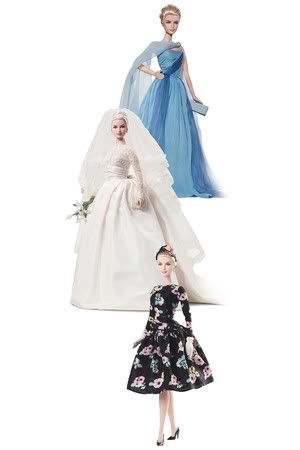 As if Princess Charlene didn't have big enough shoes to fill, Mattel has gone and immortalized her legendary mother-in-law as a Barbie.
As part of its Barbie Collector series, Mattel is lionizing the Hollywood leading lady-turned-princess with three collectible dolls. The "To Catch a Thief" Barbie, now on sale for $34.95, features the famous sky-blue gown that Kelly's character wore in the Alfred Hitchcock film to woo Cary Grant. The doll is styled with an upswept chignon, wearing a sky-blue gown with a fitted bodice and gathered skirt, and accessorized with a coordinating chiffon scarf and clutch.
Grace Kelly The Bride Doll, already available online for $175, features Kelly's famous long-sleeve white gown from her wedding to Prince Rainier of Monaco, complete with a delicate headpiece and lace veil, pearl earrings, bouquet of white flowers and a small prayer book in hand (as Kelly did when she exchanged vows with Prince Rainier in 1956).
For a more casual Grace, Grace Kelly The Romance doll will make its debut in October wearing the black floral-print dress, nipped in at the (very teeny) waist and topped off with a matching headpiece, white gloves and a string of pearls — an ensemble that replicates what the Philadelphia native was wearing when she met the prince at the Cannes Film Festival in 1955. That collectible will also have a second outfit — a white blouse, navy skirt and coat, a wide-brimmed hat, long gloves and a floral bouquet — essentially the same look Kelly sported when she arrived in the principality for her nuptials.
A percentage of sales of each doll, which retail from $35 to $175, will benefit the Princess Grace Foundation-USA, which helps up-and-coming artists in theater, dance and film through scholarships, apprenticeships and fellowships.
The To Catch a Thief Doll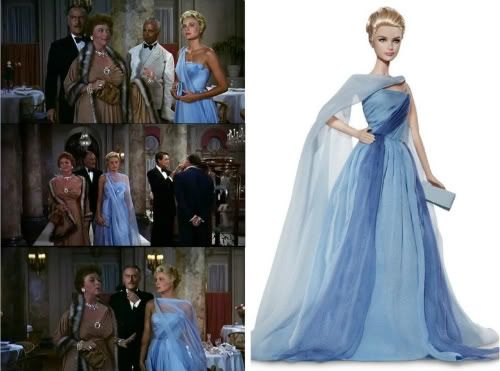 From the thrilling tale of romance and intrigue, To Catch A Thief Barbie doll captures the glamour and elegance of the beautiful Grace Kelly. Sculpted in the star's likeness, she wears an elaborately ruched one-shoulder gown in shades of blue chiffon, a flowing scarf and a coordinating clutch purse. Her blonde hair is styled in a chic upswept chignon, just like her character in the movie. This stylish doll is quite a catch, indeed!
Use of the name and likeness of Grace Kelly by permission of the Princess Grace Foundation-USA, a non-profit organization that continues Princess Grace of Monaco's commitment to supporting emerging artists. www.pgfusa.org.
For ages 6 and over.
The Bride Doll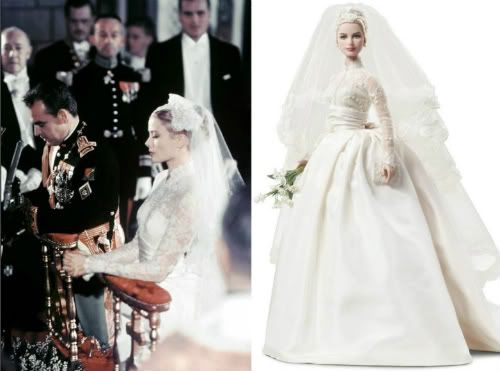 The first new character in Silkstone® since 2010's "Mad Men" series, this stunning Silkstone® Grace Kelly Bride evokes an era of sophistication and style. American actress Grace Kelly married Prince Rainier of Monaco in a gorgeous gown that has been faithfully recreated to capture every exquisite detail. The dress features a fitted torso with a sweet row of pearly buttons down the front, while the lengthy train incorporates a lovely lacy insert. The long tulle veil is trimmed in lace, and this beautiful bride carries a small ivory prayer book in one hand and a Lily of the Valley "bouquet" in the other. Her face paint is suitably subdued for the occasion, with simple pearl earrings adding a sophisticated final touch.
Fashion designed especially for the Silkstone® Barbie® doll body. Not for use with other Barbie® dolls.
For the adult collector.
The Romance Doll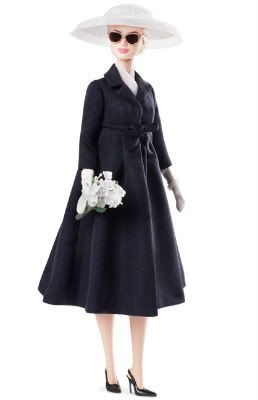 When American actress Grace Kelly arrived in Monaco to marry her prince, she was the embodiment of 50's elegance and class. The exquisite Grace Kelly The Romance doll recreates her exact outfit in amazing detail. She wears the fabulous floral print dress Miss Kelly wore when she first met her future husband at the 1955 Cannes Film Festival. From an "easy to sew" pattern the actress modeled for McCall magazine, the dress features long sleeves and a tight bodice that flares out into a full skirt, and is styled with a coordinating headpiece and navy pumps.
She also comes with a deep navy blue coat and matching dress. Her golden blonde hair is pulled back and can be neatly tucked under a white, wide-brimmed hat and matching scarf, while sunglasses shade her lovely blue eyes. A simple strand of pearls encircles her glove-covered wrist, and she has a delicate bouquet of white violets.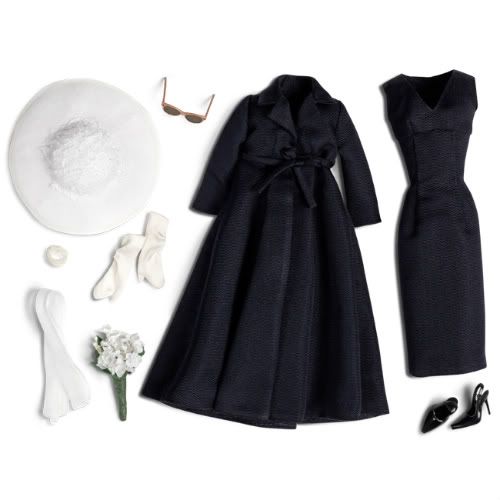 Fashion designed especially for the Silkstone® Barbie® doll body. Not for use with other Barbie® dolls.
For the adult collector.
Funny - Grace hated that floral dress. It was a last minute backup!
Sources:
1
|
2
|
3
|
4
|
5