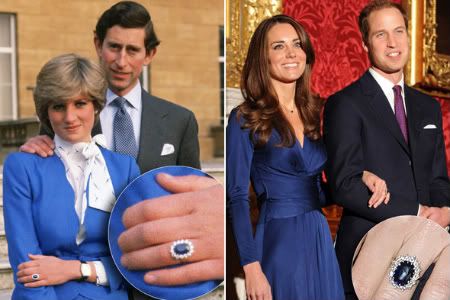 By now, we're all familiar with Kate Middleton's engagement bling - a sapphire surrounded by 14 diamonds, first worn by Diana back in 1981. But what do you know about other royals' pre-nuptial jewels?
Take a look at a few of our favorite (and most envy-inducing) royal engagement rings.
Princess Grace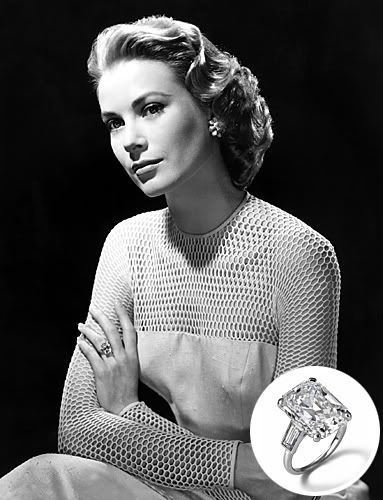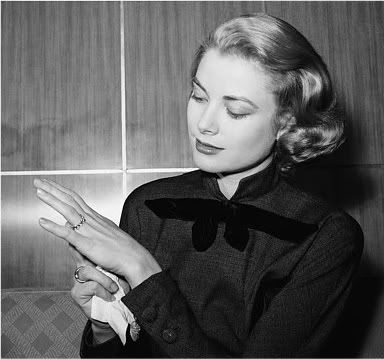 Prince Rainier III of Monaco originally proposed to Grace Kelly with a Cartier eternity band of rubies and diamonds. Rumor has it that when he saw other leading ladies in Hollywood were flashing bigger rings, he quickly ordered this 10.5-carat emerald-cut diamond flanked by two baguettes, also from Cartier.
~*~
Queen Elizabeth II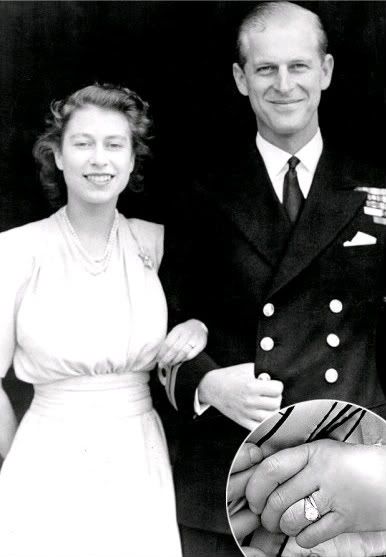 The future Queen Elizabeth II of England received a square-cut diamond engagement ring with diamond side stones set in platinum from Lt. Philip Mountbatten, the future Prince Philip, Duke of Edinburgh. The diamonds for Queen Elizabeth's engagement ring have a special history: they came from a tiara belonging to Philip's mother, Princess Andrew of Greece.
~*~
Princess Margaret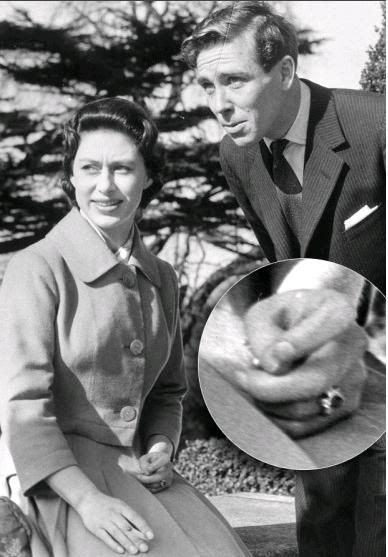 Queen Elizabeth's sister received a ruby engagement ring that was designed by her future husband – it was created to look like a rosebud (a ruby surrounded by diamonds) to honor the princess' middle name, Rose.
~*~
Princess Diana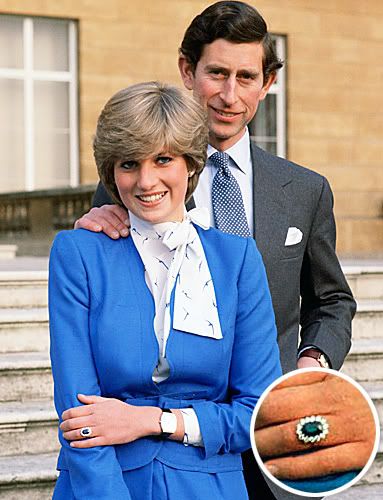 Lucky Princess Diana, she got to choose her own ring from a selection presented by Garrard Jewelers when Prince Charles proposed. There are a few different theories on why Diana selected the 18-carat oval sapphire surrounded by 14 diamonds: the color matched her eyes, the Queen may have actually selected it, or as Diana was later quoted as saying, "It was the biggest."
~*~
The Duchess of Windsor (aka Wallis Simpson)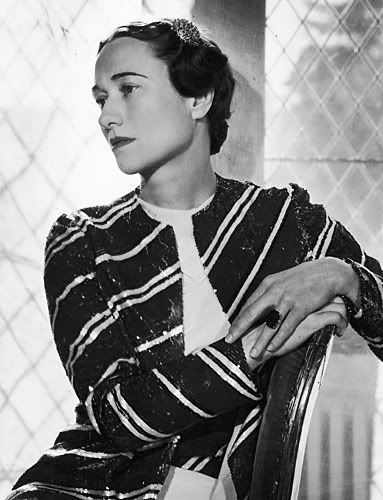 Fitting to the epic love story of Wallis Simpson, the Duchess of Windsor, and Edward VIII, who abdicated his throne for her, the 19.77 carat emerald engagement ring bore a personal inscription. It read: "We are ours now 27 X 36." That's shorthand for the day Edward proposed, October 27, 1936.
~*~
The Duchess of York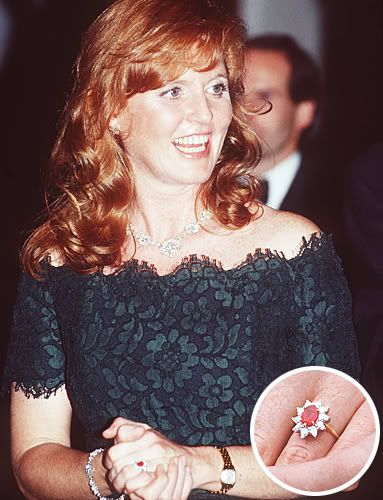 After Prince Andrew proposed to Sarah Ferguson with a ruby from Garrard Jewelers, it set off demand for ruby engagement rings in England. It is said he chose the unusual color because it matched his betrothed's fiery red hair.
~*~
Marie Chantal Miller, Crown Princess of Greece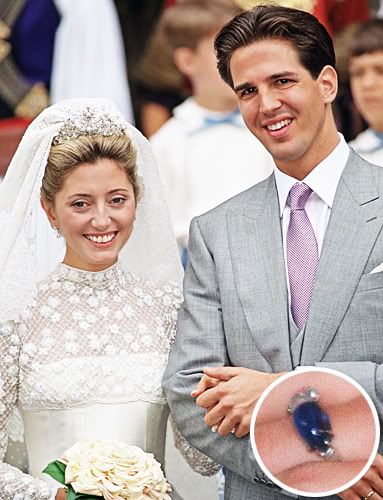 When Crown Prince Pavlos of Greece proposed to Marie-Chantal Miller, reportedly on a ski lift in Switzerland, it was with this ring featuring a family heirloom sapphire and a heart-cut diamond that was his personal touch. The cabochon cut sapphire and heart-shaped diamond engagement ring was the perfect choice for the creative princess, who works as a clothing designer for children, and was given to her by her prince in 1995.
~*~
Sophie, Countess of Wessex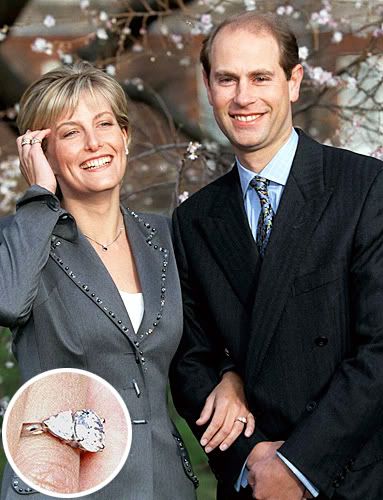 Following in family tradition, Prince Edward also proposed with a ring from the British royal jeweler Garrard. He presented his bride Sophie Rhys-Jones with a two carat oval diamond, flanked by two smaller heart-shaped gems—the ring is worth an estimated $150,000!
~*~
Kate Middleton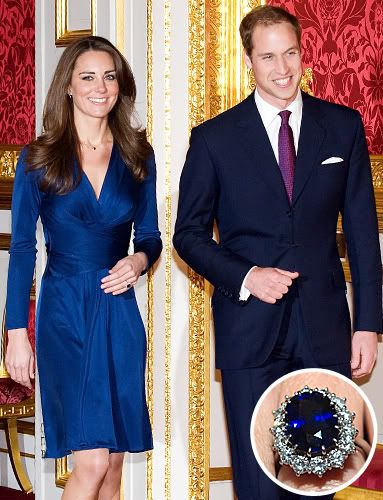 As a sweetly romantic and commemorative gesture, Prince William presented Kate Middleton with his mother's Garrard Jewelers sapphire ring while vacationing in Kenya in October 2010. The groom said he wanted his mother to be part of this special time in his life and therefore chose to give his bride this ring.
~*~
Charlene Wittstock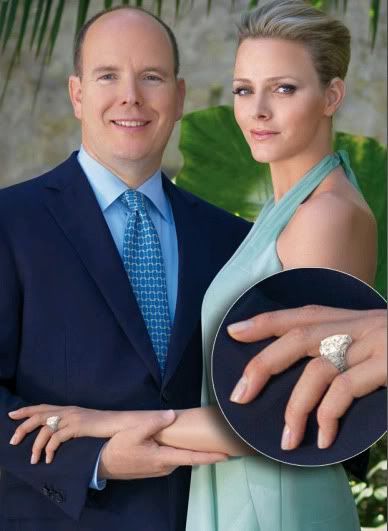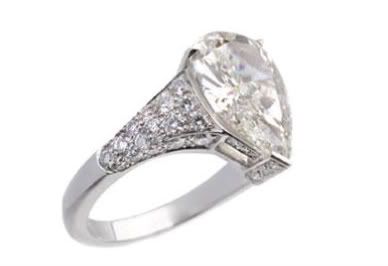 It's much prettier in a close-up, imo. It looks huge and clunky in the official engagement photo.
Prince Albert gave the former South African swimming champion a pear-shaped engagement ring of about 3 carats embellished with round diamond brilliants and set in a unique gray gold. Created by Parisian jeweler Maison Repossi, it's a royal choice.
~*~
Crown Princess Victoria
Upon the Swedish Crown Princess' engagement to her longtime boyfriend (Daniel proposed on one knee in the grounds of Drottningholm Palace), the couple kept quiet about the ring. It was later revealed that it's a classic engagement ring with a brilliant cut diamond of two to three carats, most likely purchased from the jeweler WA Bolin in Stockholm.
~*~
Duchess of Cornwall (aka Camilla Parker Bowels)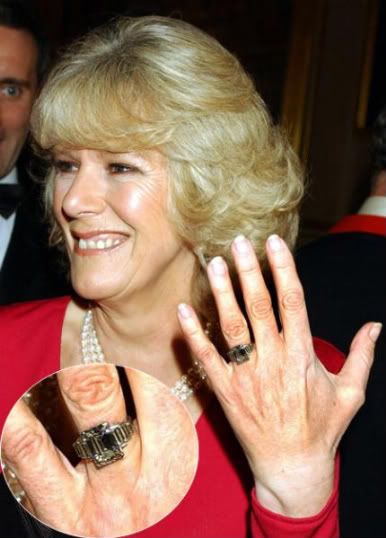 A ring of great historic value, Camilla's heirloom engagement ring was left to Charles by his grandmother, Queen Elizabeth (a gift from her mother-in-law upon the birth of Queen Elizabeth II). An art deco design, the platinum ring is comprised of an emerald-cut diamond flanked by three diamond baguettes on both sides.
~*~
Crown Princess Mary of Denmark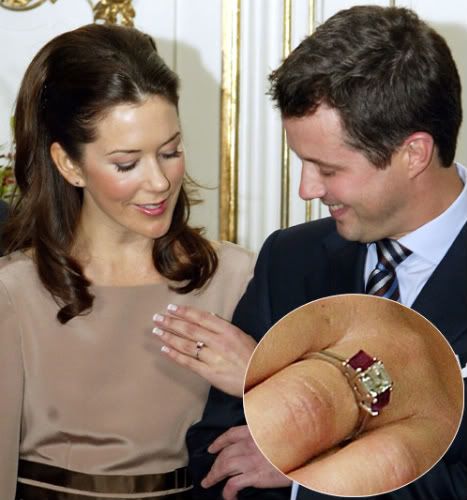 In 2003, Denmark's handsome young prince Frederik proposed to his Australian love Mary Donaldson three years after their first meeting. And fittingly for his striking bride-to-be, the crown prince presented her with an eye-catching engagement ring – an emerald cut diamond nestled between two emerald cut ruby baguettes.
~*~
Princess Marie of Denmark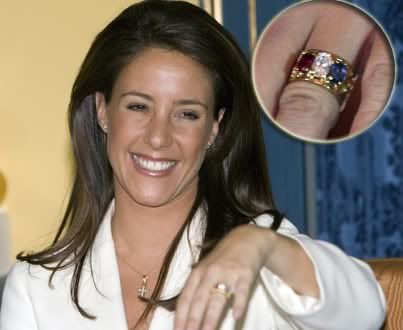 Four years on and there was another beautiful brunette embarking on life as a Danish princess. Frederik's romantic younger brother, Prince Joachim, asked his French girlfriend Marie Cavallier to marry him with a truly thoughtful token of his love. The ruby, diamond and sapphire tricolour ring was chosen by the groom to reflect the colours of Princess Marie's homeland's flag in a nod to her heritage.
~*~
Princess Maxima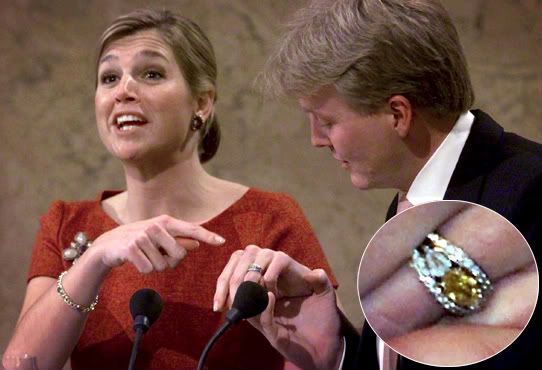 On March 30, 2001, the engagement of Argentinian beauty Maxima Zorreguieta Cerruti and Prince Willem-Alexander, Prince of Orange was happily announced. As a sign of his commitment, the handsome royal chose an impressive platinum-set engagement ring for Princess Maxima, the central stone of which is a unique oval orange diamond flanked by two emerald-cut diamonds set in bands that were themselves encrusted with sparkling gems.
~*~
Autumn Kelly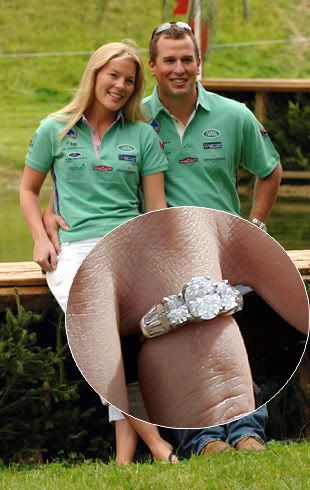 Canadian beauty Autumn Kelly debuted the beautiful ring given to her by Princess Anne's son Peter Phillips at an equestrian event in August 2007. All eyes were on the Queen's grandson and his 29-year-old fiancée, and royal watchers were rewarded with the first sight of the three stone white gold ring. Featuring an oval shaped diamond at its centre, it is reportedly worth £80,000.
~*~
Princess Letizia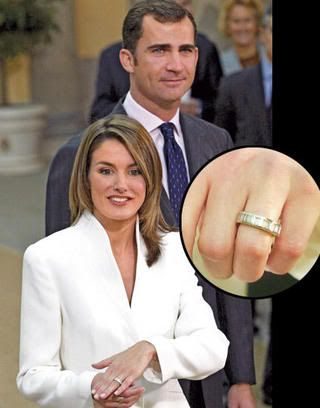 The only son of King Juan Carlos and Queen Sofia of Spain, Felipe, Prince of Asturias, asked for the hand of former journalist Letizia Ortiz Rocasolano in 2003 with a 16 baguette diamond ring with a white gold trim. Felipe also presented his bride-to-be with a family heirloom jewel as a gift, while Princess Letizia marked the occasion by giving him white gold and sapphire cufflinks and a classic book.
Sources:
1
|
2
|
3
|
4
Can't say I'm really fond of any of them, to be quite honest. A lot of them are really gaudy or downright ugly.