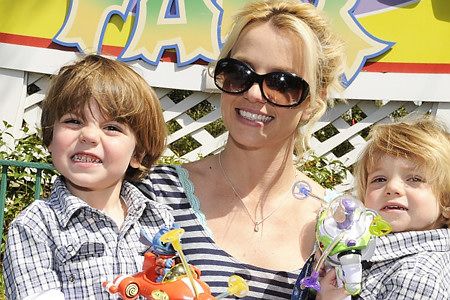 BRITNEY SPEARS is poised to regain custody of her two young sons three years after her hair-shaving public meltdown.
The pop princess says she is taking the boys on the road with her on the two-month North American leg of her Femme Fatale comeback tour from June.
She has finally reached an amicable deal with ex-husband Kevin Federline.

He won custody of Sean Preston, now five, and four-year-old Jayden after Britney's bizarre behaviour in 2008.
She twice ended up in psychiatric wards and shaved off all her hair in view of the paparazzi after splitting from Federline, 33.
She told a US magazine last week that her sons will be on the tour bus with her and agent boyfriend Jason Trawick, 39.
Britney, 29, said: "Jason is just amazing with the boys. My priorities have changed and I do everything for the boys.
They remind me what life is all about. They're my biggest fans. I make up songs and sing to them. They like to watch me dance too; in fact, they join in."
A source said Federline now has "no qualms" about sharing custody. The deal just needs to be approved by a judge.
Friends say Britney will marry Travick soon. This could end the legal control which her father Jamie has had over her financial affairs since 2008.
source