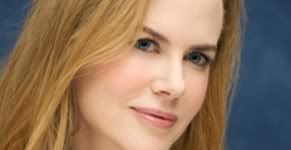 At 43, despite almost 20 years under a glaring spotlight, Nicole Kidman has remained something of an enigma. She has had a varied career, from talented, adventurous young actress, to arguably the biggest female movie star/celebrity in Hollywood, what with her marriage to Tom Cruise and being named repeatedly one of People Magazines Most Beautiful People in the World.
On Saturday, she received the SBIFF Cinema Vanguard Award at a balcony-only Arlington, in a relaxed and revealing interview moderated by Roger Durling. Reflecting the audience, Ms. Kidman was casually elegant, a white dress adorning her statuesque, 5'11" physique.
As the retrospective began, it quickly became clear that her primary identity is as an actress. Indeed, celebrity did not enter the discussion at any point. Moreover, a running theme throughout the evening was her need to explore, understand and portray the psychological forces that drive human behavior. It was an echoing of Julianne Moore's statement in an SBIFF tribute last year, that "behavior is beautiful".
An immediate focus was her extraordinarily varied career choices. Her highlight reel was uniquely broad, covering domestic drama, horror, action, historical drama, political thriller, musical, quirky character study, black comedy, and conceptual biography.
As a frame for those choices, she noted that her background was avant-garde theater and philosophy, and that she is attracted to "films that pose philosophical questions". In defining the criteria by which she selects roles, she said she "needs to be able to delve into the psychology of a character, and it needs to be a labyrinth".
Ms. Kidman also highlighted her attraction to projects based on the director. She called directors "modern day philosophers", and playfully noted that she finds obsessive compulsiveness attractive in a director, if not in a husband. Similar to other actresses, she spoke of the need to serve the director's vision. What makes her different is that, as a producer, she now has the power, in some cases, to select the directors she serves, as she did with John Cameron Mitchell, an unlikely choice to direct Rabbit Hole.
In that film, she delivered a searing and emotionally nuanced performance, and received an Oscar nomination as Best Actress. When asked about her choice to play such a harrowing role at a time when her personal life seems relatively content, she said "this is what people are going through" - conveying an artistic obligation to portray the grief of a mother mourning the death of her son, despite the discomfort playing such a role might cause. She also simply but eloquently noted, "grief relates to love - the deeper the grief, the greater the love".
Ms. Kidman went on to passionately describe her reverence for the process of acting. A video of Christian Bale having an on set meltdown was released on You Tube. About that incident, she said that the "video should never have been released. What happens on a set is sacred." And that freedom from immediate scrutiny was necessary to "keep art dangerous".
As the evening unfolded, she discussed her roles in The Hours (she was incredibly depressed at the time, and her mood is reflected in her performance), Birth (she tried to back out, not wanting to play a mother who kills her children (?), but found a perspective that made it work), Moulin Rouge (Baz Luhrman sold her on the idea, long before there was a film) and Eyes Wide Shut ("Tom worked for 400 days on that film, not wanting to let Stanley down").
While there were no overtly dramatic moments, the evening revealed a refreshing thoughtfulness and normalcy about Nicole Kidman and, ultimately, her profound love of acting.
- By Mahil Senathirajah
Source
The Cinema Vanguard Award was created in recognition of an actor who has forged his/her own path - taking artistic risks and making a significant and unique contribution to film. The award has previously been awarded to Christoph Waltz, Vera Farmiga, Stanley Tucci, Peter Sarsgaard, Kristin Scott Thomas and Ryan Gosling.

"Honoring Nicole Kidman is so exciting for us here at SBIFF," comments Roger Durling. "Her work is immensely diverse and with this year's heart-wrenching and brilliant performance in 'Rabbit Hole' – a project she helped develop as well – it is exactly who we should be celebrating with the 2011 Cinema Vanguard Award." - SBIFF.org
♥ ♥ ♥