1:59 am - 12/01/2010
Crazy is as crazy does.
The Quaid Conspiracy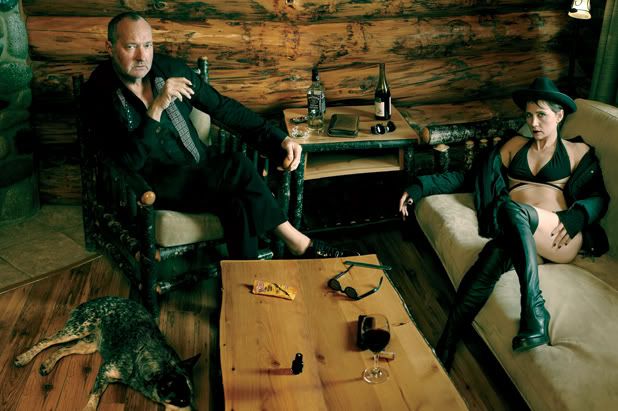 They're spending nights in their car, on the run from the same shadowy cabal—"the Hollywood Star Whackers"—who may have killed Heath Ledger, possibly sabotaged Jeremy Piven, and could now be targeting Lindsay Lohan. No, this is not the plot of Oscar nominee and Golden Globe winner Randy Quaid's latest movie. It is what he and his wife, Evi, swear is really happening to them. With the Quaids in Canada, the author probes their nightmare reality, which has alienated friends and family, and turned the couple into outlaws.
Evi Quaid called from a pay phone in Vancouver to say that she and her husband, Randy, the actor, had tried to drive to Siberia, but they "couldn't figure out how to get there." She said, "We're running for our lives."
She wanted me to meet them the next day in Vancouver's Chinatown—which couldn't be arranged any other way, as
the Quaids don't use cell phones anymore, because, Evi said, "they're tracking us.""They" were "the Hollywood Star Whackers" the couple had been talking about in television interviews ever since they arrived in Canada in October, seeking asylum. The "Whackers," they said, were the same people who may have "killed" David Carradine and Heath Ledger, possibly set up Robert Blake, and could now be targeting Britney Spears and Lindsay Lohan.
"Are either of you mentally unstable, schizophrenic, or on drugs?," Andrea Canning asked on Good Morning America. "Do you think we are?" demanded Evi. "No!" said Randy.
I found the Quaids sitting in their car outside a Chinese tearoom on a block glowing with red and yellow neon lights. Nobody was around. It was night.
Their car, a black Prius, was crammed with stuff—clothes, coats, shoes, papers, a pillow, blankets, and an excitable Australian cattle dog named Doji
, who was hoarse from barking while he was in the pound when his owners were being detained by Canadian immigration.
The car smelled of fast food and dog pee and Randy's cigars.
I asked the Quaids if they were living in their car. "Only on nights when we're too terrified to leave our stuff or don't feel secure," Evi said. "We used to have a Mercedes. This whole ordeal has forced us to become incredibly green."
"Priuses are deceptively roomy," drawled Randy, who's originally from Houston. "We're tall people, and the legroom is important."
Randy Quaid, who is 60, was nominated for an Oscar for The Last Detail (1973), won a Golden Globe for his performance as Lyndon Johnson in LBJ: The Early Years (1987), and has appeared in more than 70 other films, including Independence Day (1996) and Brokeback Mountain (2005). He has worked with countless legends of the film industry (Jack Nicholson, Marlon Brando, Milos Forman, Hal Ashby), meanwhile earning a reputation as a great actor. He is probably best known, however, for his over-the-top role as "Cousin Eddie," Chevy Chase's schlemiel cousin-in-law in the Vacation comedies—something which irks him.
When I came upon him, Quaid—who is six feet four with a pudding face and large, flat green eyes—was wearing Buddy Holly glasses, a blue shirt, an Armani blazer, and a purple tie; he looked slimmer than in years past and surprisingly stylish for a man on the run.
"I call it 'the Failure-to-Appear Diet,'
" he said, joking about his and his wife's not showing up for a string of court dates in Santa Barbara.
The Quaids were arrested in September of 2009 for defrauding an innkeeper, conspiracy, and burglary after skipping out on a $10,000 bill at Santa Barbara's San Ysidro Ranch hotel; in September of 2010 they were arrested again, for residential burglary and entering a noncommercial building without consent, after squatting in a house in Montecito, California, which they had formerly owned. There was a warrant out for Evi's arrest on the second set of charges. (The first case was resolved, with the charges against Randy dropped and Evi getting three years probation and 240 hours of community service after they settled their hotel bill.)
Evi had also been charged with resisting arrest at the Montecito house.
"They hog-tied me!"
she told me.
Evi, 47,
a former Hollywood "It girl"
who once modeled nude for Helmut Newton and put up a show in a gallery in L.A. consisting of giant photographs of her pierced vagina, was dressed in a black YSL blazer, vest, pants, and combat boots—fugitive chic. She was wearing a bejeweled Prada belt that looked expensive. She was verging on emaciated, tense and jittery.
"We haven't eaten at a table in a restaurant like this in 18 months," Randy said as we settled into a corner of the brightly lit tearoom, which was otherwise empty. Both Quaids were glancing nervously around.
"They're hunting us," Evi said. "It's really happening. They've got us in a spiral. 'Don't let up on 'em. Drive 'em off the road. Starve 'em to death.' " She was slapping her hands together for emphasis. " 'Pull their money out of their bank accounts.' "
"I guess I'm worth more to 'em dead than alive," Randy said mildly.
Evil Mayberry
People started noticing there was something seriously amiss with the Quaids about three years ago, when Randy left the Broadway-bound musical Lone Star Love and was then banned for life from the Actors' Equity Association, the stage union, for physically and verbally abusing his fellow performers.
Then came the arrests and the couple's bizarre appearances at various court dates: They wore pink handcuffs. Evi carried Randy's Golden Globe and had a "valid credit card" affixed to her forehead.
By the time they arrived in Canada, calling themselves "refugees" and claiming they were targets of an assassination plot, the Quaids had gone viral.
I asked them when they believed their troubles began. They said it was in Marfa, Texas, the rural artists' community where Giant was shot. They said they had traveled there in the summer of 2009 to "look at ranches and stuff" and erect a
"Randy Quaid museum."
(They'd been fixing up a building in the middle of town—reportedly without the proper permits.)
Already, Evi said,
"something really weird had started happening with Randy's mail. His royalty and residual checks weren't coming. We were really, truly panicked."
Adding to their unrest was the recent demise of the actor
David Carradine
, a friend of Randy's whose death from apparent auto-erotic asphyxiation in Thailand the Quaids believed to be suspicious.
"They"—the aforementioned Hollywood Star Whackers—"decide, O.K., if we knock off David, then what we can do is simply collect the insurance covering his participation in the television show he was working on overseas,"
Evi said. "It's almost moronic, it's so simple."
She said she also suspected Jeremy Piven's falling ill from mercury poisoning was another sign of a dastardly plot by the Broadway producers of Speed-the-Plow to collect insurance money. "It was an orchestrated hit," she said. "They could have put mescaline in his water bottle." Jeffrey Richards, one of the producers of the play, declined to comment.
(LOFUCKINGL)
While the Quaids were in Marfa, Evi, always a colorful personality, became embroiled in a local battle between the police and sheriff's departments. At a town-council meeting, "she's getting in the mayor's face," said Randy, grinning affectionately. He calls Evi "a character." The Quaids were on the side of the Marfa cops, which made it all the more awkward when a deputy sheriff came out to arrest them after being informed that they were wanted by the Santa Barbara police for defrauding an innkeeper. It was now September.
"It was evil Mayberry,"
said Randy.
The Quaids maintain it was all part of an insidious plan. "It's a conspiracy with the police in Santa Barbara," Evi insisted,
claiming the San Ysidro Ranch (where she and Randy were married in 1989) had tricked them into switching to a more expensive room when they stayed there in June of 2009, after which the hotel repeatedly put through charges of $73,000 on their Chase credit card
, she said, rendering it incapable of processing payment.
She said she never received the bill for their $10,000 stay, as
she believed Randy's mail was actually being rerouted into a phony probate file set up by the Hollywood Star Whackers in the name of "Ronda L. Quaid"
—but more on that later.
A spokesman for the San Ysidro Ranch denied all of the Quaids' claims, saying, "We attempted to contact them for payment many times, via phone and mail. We contacted the police in coordination with a collections agency."
Rod Forney, the Santa Barbara detective who handled the warrant for the couple's arrest, said he had first tried to settle the problem on the phone with Evi, but she "hung up on me. She was very rude."
"Forney was heavily involved in the Michael Jackson setup,"
Evi alleged—this was something she'd determined after seeing the detective's picture on Google Images, where there is a shot of him going in to testify at Jackson's 2005 trial for child-molestation, in which he was called as a witness for the prosecution.
Forney called the allegation "ridiculous," saying,
"I was never near Michael Jackson, ever. I wasn't even the one assigned to the case. I [just] helped serve the search warrant on Michael Jackson's private investigator."
"You have to keep in mind that David [Carradine] had just died," Evi said, "and Robert Blake—the whole thing was fake. I believe he was set up. And I was really convinced and still am that there were people trying to kill us, really kill us." She told me that one day when she was visiting a ranch outside Marfa and talking on her cell phone she had heard a voice say, "If you kill her, there's a lot of money in it."
"Someone cut into her phone,"
offered Randy.
A source with the Santa Barbara P.D. explained that the real reason they had gone after the Quaids so aggressively was that their investigation had turned up other instances where the couple had run out on hotel bills in California. They reportedly had unpaid charges at the Bel-Air in Beverly Hills ($17,000), the Biltmore in Montecito ($500), and San Francisco's Nob Hill Hotel ($55,243). "This isn't just a hotel trying to screw these guys," the source said. "This is a behavior. It's a pattern."
INSANITY FAIR
WHAT. THE. FUCK.