Nicki Minaj is a recording artist whose latest album received a positive review from the New York Times.
Nicki Minaj On Amber Rose's Advances: "That's A Good Thing When A Bad Bitch Likes You"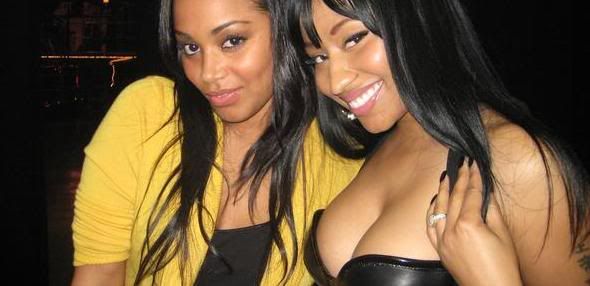 Niki Minaj is the busty one on the right
Amber Rose is the bad bitch on the left
In this SOHH Exclusive Young Money rapper
Nicki Minaj talks about
toning down her explicit lyrics while
fielding sexual advances from Kanye West's bisexual gal pal Amber Rose.
Nicki Minaj told SOHH that she was surprised that Amber hit on her in a public forum. "I was very shocked. It was funny. She said it to me when we met in person so I was like, 'Whoa she's dead serious 'cause she put it on Twitter.' I was just laughing like everybody else probably. I had to take it in a little bit... pause. She's a dope girl. She's real funny. She just took an interest to me. I guess that's a good thing when a bad bitch likes you, you know?"
After meeting Minaj on the set of fellow YM rapper Drake's video shoot for Best I Ever Had,
Amber Rose took to Twitter to express her appreciation
for the rapper:
"YOOOO!!!!! @nickiminaj is f**kin stunning in person I couldn't stop staring at her!!!! I would sooooo DO her. F**k it I can't even lie!!!!
" (Twitter)
Though Nicki initially hit the underground scene with sexually explicit lyrics and suggestive photos she has recently made a concentrated effort to tone it down: "
I just have a lot of younger fans now and I didn't anticipate that when I came out. When the younger people started really following me I just wanted to be more responsible with what I said and did because I don't want young girls out here thinking that it's cool to be stupid or to be a hoe
," she said. "That's not what I promote. I promote being a business savvy girly girl that likes to be witty and have fun and at the same time just balance a career. I want them to take that from Nicki Minaj and nothing else. So, I definitely did change it up on purpose. I've never been a raunchy overtly sexual person so I think that was just one facet of my personality that I showed early on but that's never been the entire person that I am." (SOHH)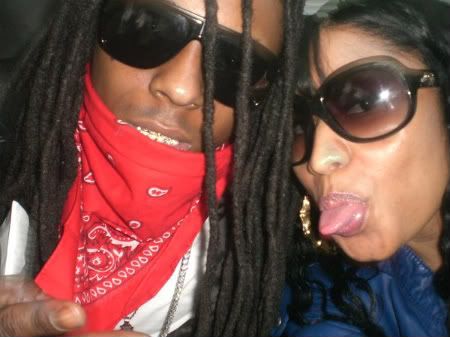 Nicki Minaj is affiliated with Young Money, which is headed by Weezy, they are also BFFs
This summer, Nicki will hit the road with OJ Da Juiceman and Gucci Mane to promote her newest mixtape, Beam Me Up Scotty. The New York Times reviewed BMUS: "Since making a splash recreating Lil' Kim's infamous bikini-squat pose for the cover of her 2008 mixtape Sucka Free, Minaj - a 24-year-old, multiracial (she is of African, Trinidadian and Indo-Asian descent) Queens-born rapper - has assumed the roles of Marilyn Monroe, Chaka Khan, Mickey Mouse and even Harry Potter's pal Hermione. Now Minaj, a protege of the rap impresario Lil' Wayne, is drawing attention for her searing new summer album, Beam Me Up Scotty.
Female M.C.'s have traditionally had their choice of two routes up the charts: showboat their brutal expertise in all things streets and sheets (Foxy Brown, Remy Ma, Trina) or affect an unthreatening and palatable pop persona (Missy Elliott, Queen Latifah, Lil' Mama). Minaj has hybridized a course all her own
, blending keen pop culture whimsy with lyrical power trips fit for the boardroom, a sporadic and unexplained London accent and flourishes of gale-force girlishness that make Mariah Carey look like Miranda from "Sex and the City." Plus
she's got a great ear for hits
— in addition to her original material, she's re-recorded verses over many of the year's best tracks as if they were her own.
Minaj, now the world is ready for you, and the wonders you can do.
Check out Nicki Minaj's website and selections from her new mixtape "Beam Me Up Scotty" at myspace.com/nickiminaj."
Source
This post was brought to you by the enduring love that is Kamber: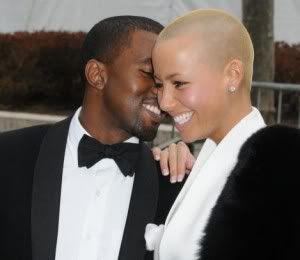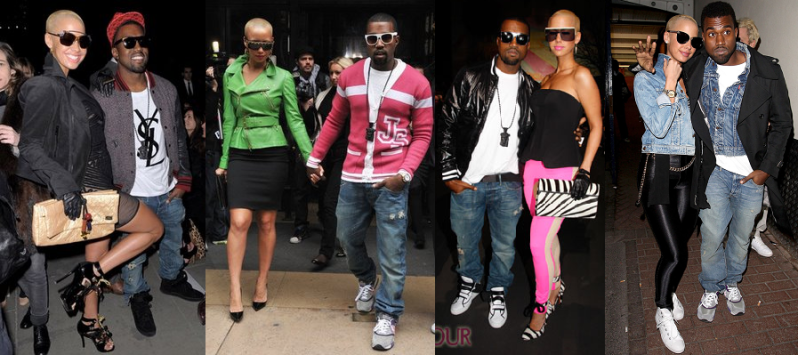 TYFYT
I actually listened to Nicki Minaj's mixtape, Beam Me Up Scotty. I went in expecting the worst but was pleasantly surprised.