here's something you don't see every day: a post COMMENDING a celebrity. nicole kidman read about this 6-year-old cancer patient in the newspaper, and without any request from the kid, she went and visited him in the hospital. then she took him to the movies. can you say aww?
Have the latest reports about celebrity bad behavior -- the cheaters, the rehabbers, the Tara Reids -- left you feeling a little more cynical than usual when it comes to the rich and famous? Take heart. Your faith may be about to get a bit of a boost, courtesy of Nicole Kidman.
Last week in New York, the Oscar winner twice visited with a cancer-stricken 6-year-old Australian boy named Dylan Hartung after reading about his condition in the paper.
"She said she was on her way to work and just happened to have the New York Post in front of her," Dylan's mom relates to -- big surprise -- the New York Post. "She said, 'I want to meet this kid.'"
The tough little guy, who has already undergone 11 rounds of chemotherapy, is battling a rare form of cancer called neuroblastoma and is currently receiving treatment at Memorial Sloan-Kettering Cancer Center in Manhattan.
On Wednesday, the Aussie actress, accompanied by daughter Bella, paid the tyke a bedside visit and ended up chatting about his favorite films, reports Australia's Herald Sun.
"Nicole asked him what movies he liked, and he said 'War of the Worlds,'" Mrs. Hartung tells the paper. "I was worried that Dylan had put his foot in it, but Nicole told him, 'Tom Cruise is Bella's dad.' Dylan was really impressed."
Dylan, however, admitted to Kidman that he would be even more impressed with a visit from another Oscar winner.
"He told Nicole that he had two wishes: to beat cancer and meet Angelina Jolie," explains his mother, who says the youngster calls the "Mr. and Mrs. Smith" siren the "ultimate chicky babe."
Now that is one smart kid.
Kidman, who was originally set to star opposite Brad Pitt in the hit married-assassins flick, agreed that Angie is "beautiful" and told him she'd see about arranging a meeting.
Before leaving, she promised Dylan she'd take him to the movies. True to her word, she did just that three days later.
Need definitive proof of Nicole's niceness? She accompanied Dylan to the schlock-fest that is "The Dukes of Hazzard" -- and sat through it with him.
But wait, there's more. Mrs. Hartung's writes on her Web site that the star also gave Dylan posters and hats from "War of the Worlds" signed by her ex-hubby, and introduced him to her son, Connor.
Dylan, in turn, presented Kidman with an autographed picture ("To Nicole, Love from Dylan") taken during their first meeting.
"I still can't get over how wonderful and down-to-earth Nicole is," enthuses Mrs. Hartung. "She ... kept thanking us for letting her meet Dylan."
Nicole's spokeswoman tells the Post that the actress enjoyed her time with Dylan, whose treatment is being subsidized by donations. "He is making progress, but still has a long way to go," added the rep.
source: msn.com
now on to the pictures...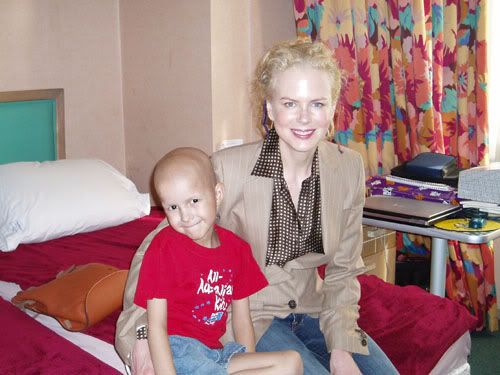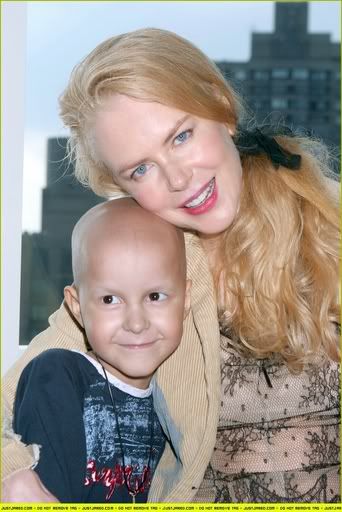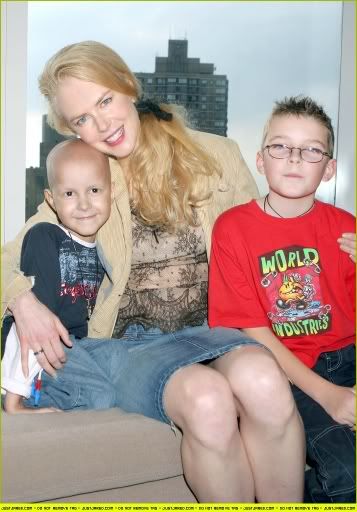 source: justjared
i always thought nicole kidman was a cold frigid bitch, but i guess i was wrong! :O
EDIT: i forgot to add dylan's website -
http://www2.caringbridge.org/me/dylanhartung
i'm pretty sure it isn't a big publicity stunt because the pictures were posted by his mother, but who knows. it's rare these days that someone does something like that just out of kindness, so it's normal to question it.