In celebration of the greatest movie of all time I have compiled an ~update~ on the stars of this omgamazing movie.
Omri Katz - Max Dennison

After Hocus Pocus, Omri made appearances throughout the 90s and early 2000s in shows like
Dallas
,
Freaks and Geeks
, and
General Hospital
. He now lives in Israel and is taking a break from acting.
Most recent video of him from October 12, 2008, it's an interview from Fansource Weekend? (if you don't want your childhood ruined don't watch)-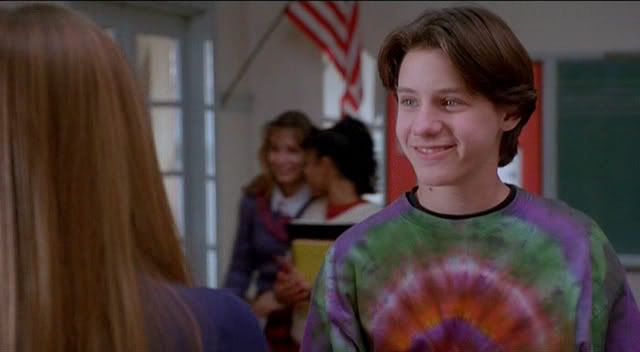 Then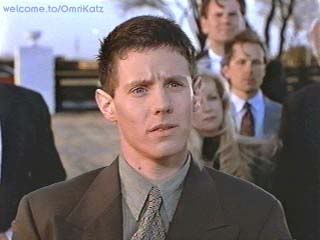 Now
Thora Birch - Dani

After
Hocus Pocus,
Birch graduated into adolescent territory with her turn as a younger Melanie Griffith in
Now and Then
. She followed that up with a top-billed role in the snowy adventure
Alaska,
then took a three year hiatus from acting. She resurfaced in 1999, first in the made-for-TV
Night Ride Home
and then, more visibly, in
American Beauty.
Still reeling from her sudden celebrity status, Birch plucked a handful of diverse projects from the deluge of post-'Beauty' scripts. In 2001 she signed up to play a teen hipster caught up in a post-high school identity crisis in
Ghost World
. Style-conscious and sophisticated beyond her years, Birch lives on her family's East L.A. ranch (where she recently finished high school through a computer-based correspondence course). She still hopes to try her hand at directing someday, but for now she's content to continue blossoming in front of the camera. See her next in
Cavegirl
a remake of the 2002 British TV series.
Then
Now
Vinessa Shaw - Allison

After
Hocus Pocus,
she went on to make appearances in shows like
Murder, She Wrote
and
New York Undercover
. SHE WAS ALSO IN
L.A WITHOUT A MAP
WITH MY BB DAVID TENNANT AND OMG IF U HAVEN'T SEEN THAT PIECE OF DELICIOUS FUCKERY PLEAZE SEE IT NOW
HERE
. Most recently she was in
The Hills Have Eyes
and
3:10 to Yuma
. You can catch her next in
Stag Night.
As of February 2008, she is engaged to behind-the-scenes artist Christopher Gifford.
Then
Now
Sean Murray - Thackery Binx
Since Hocus Pocus, Sean has been seen on a myriad of different TV shows, including
Touched By An Angel
,
Boston Public
, and
JAG
. Most notably he plays Timothy McGee on
NCIS
. Today Sean resides in Sherman, California with his wife Carrie and daughter Caitlyn. O btw he is not Chad Michael Murray's big bro.
Then
Now
Amanda Shepard - Emily Binx

After Hocus Pcus she faded into obscurity and made it impossible for
telegram_
to find anything on her.
Larry Bagby - Ice

Look my fingers are starting to hurt after HP he was in a shitload of things including Walk the Line and right now he's on The Young and the Restless and most importantly he got kinda cute. Oh, and he's also a musician now playing country music.
Then
Now
Tobias Jelineck - Jay
:| Faded into obscurity.
Now
Doug Jones - Billy Butcherson
OK, so THIS motherfucker is basically a legend in the movie game. He is known for his work under prosthetics, you have probably seen him in countless commercials and music videos, as well as in tv shows and movies like Buffy The Vampire Slayer, The Time Machine, Lady in the Water, Pan's Labyrinth (he played both the Faun and the creepy ass Pale Man), Fantastic 4: Rise of the Silver Surfer (tha surfer), and Hellboy (Abe Sapien). Doug has always performed as "himself" in movies like Adaptation. He has four movies lined up, including
Silver Surfer
which is omgexciting. It's funny because, although you probably won't recognize him by his face, he's probably one of if not the most succesful Hocus Pocusers (not including SGP, and Bette, who I didn't include because whatever we know what happened to them bitchez).
Then
Now
Quote from Doug:
"For the last 20 years of my life, I've been wearing something unrecognizable. I've been acting for 20 years now and I've been under the radar. I was completely under the radar until Hellboy came along.
And I did notable roles before, Billy Butcherson in Hocus Pocus which became like a Halloween classic over here on the Disney Channel,
and I had smaller parts in lots of films like Batman Returns, Mystery Men, Adaptation, Three Kings, and they were even things with my own face in them. But I was basically actor of the day and I didn't get much recognition, and guest-starring on TV shows that come and go and commercials that come and go. But Hellboy was the one that had real staying power, in terms of its notoriety and the size of the role I had. I guess I became a speck on the radar then, but now it's Pan's Labyrinth and Silver Surfer. Finishing Fantastic Four and Pan's Labyrinth coming out with these Golden Globes and Oscar nominations has been a press frenzy for me. I've never been thrust in the public eye this much with me, Doug Jones, as name recognition which is happening now, which is new for me. It's very exciting but still it's nice to go to 7-11 and still be me. Nobody has to know, right?"
And finally, some
Hocus Pocus Trivia
~~
When Bette Midler takes the stage at the town Halloween Party, she says "Hello Salem, my name is Winifred. What's yours?". This is a take-off of the famous line, "Hello world, my name is Rose, what's yours?" that is spoken by Mama Rose in the musical "Gypsy". Midler played Mama Rose in the television version, Gypsy (1993) (TV), the same year this film was released.


The role of Max Dennison was originally offered to Leonardo DiCaprio, but was given to Omri Katz when DiCaprio turned it down to appear in What's Eating Gilbert Grape (1993).


The ballad hit "Almost Unreal" by Swedish pop duo Roxette was originally meant to be included in the movie's soundtrack, but it was dropped and used in Super Mario Bros. (1993) instead.


Charles Rocket acquired a certain notoriety for swearing on live television during the final moments of the 21 February 1981 episode of "Saturday Night Live" (1975). There's an in-joke in connection to this, where he says to Max, "Watch your language!".


Omri Katz was unwell at the time of his first audition, and was initially rejected for the role of Max.


There were seven statues made of Bette Midler for the scene in which she bursts in the sunlight toward the end of the movie. One of the statues, along with Winnie's spell book, is housed at the Planet Hollywood restaurant in Orlando, Florida.


Rosie O'Donnell was originally offered the role of Mary Sanderson, but it was ultimately given to Kathy Najimy. O'Donnell claims on her blog that she turned down the offer to work with the Divine Miss M because she didn't want to be a "scary witch".


After having locked the Sanderson sisters in the school kiln, the three kids celebrate as they walk to the park. The house shown directly behind Max and Thackery while they talk is, ironically, the residential edifice used as Thora Birch's home in 1999's American Beauty (1999).


During the final fight in the cemetery, the background music imitates Miss Gulch's (the Wicked Witch) theme from The Wizard of Oz (1939).


The film grossed $39,514,713. Although it became more popular over the years; not only is it a cult favorite but it also can be viewed regularly on television during the month of October.


Brother and sister Garry Marshall and Penny Marshall play husband and wife. He's the one dressed as Satan.


Several scenes appear in the original trailer that are not included in any theatrical, VHS, or DVD version of the film. They include the kids attempting to push the witches into a pool, the witches being surrounded by trick-or-treaters holding out their hands, and Mary snacking in a grocery store only to be dragged out by Winifred.
source
source
source
source
Just watched this shit the other day AND IT WAS EVERYTHING I REMEMBERED AND MORE.Can you imagine the fuckery that would have gone down if ONTD was around when this movie came out? This, coupled with Johnny Depp Fuckery, the original 90210, and omg Titanic in 97 would have been EPIC.
edit - WHY AREN'T THERE ANY HOCUS POCUS MACROS BEING GENERATED FROM THIS POST? ONTD, U DISSAPOINT ME.