Edward Norton has signed on to the Breil Milano men's ad campaigns until 2010.
BLING MAN:
Italian watch and jewelry firm Binda Group clearly doesn't want time to whisk by when it comes to a front man: it has signed Edward Norton for its Breil Milano men's ad campaigns until 2010. The actor was photographed in Los Angeles by Jean-Baptiste Mondino and the ads will debut worldwide next month. Binda, which owns Breil Milano and the Wyler Genève business, is also the licensee for brands including Dolce & Gabbana's D&G watches and costume jewels, Moschino Cheap & Chic watches and costume jewels and Ducati watches. Norton joins fellow thespian Charlize Theron, whose contract was reconfirmed earlier this year until 2011, and who was also photographed by Mondino for the brand's women's campaign. Over the past year, Binda has been repositioning Breil Milano in the high-end range of the market through the use of more precious materials. Breil also launched its first handbags in June. The company will officially inaugurate its first flagship in New York's SoHo district next month during New York Fashion Week. —
Luisa Zargani
TORONTO, ON - SEPTEMBER 07:
Writer/director Tim Blake Nelson and actor Edward Norton attend the "Leaves Of Grass" breakfast with Edward Norton and Tim Blake Nelson during the 2008 Toronto International Film Festival on September 7, 2008 in Toronto, Canada.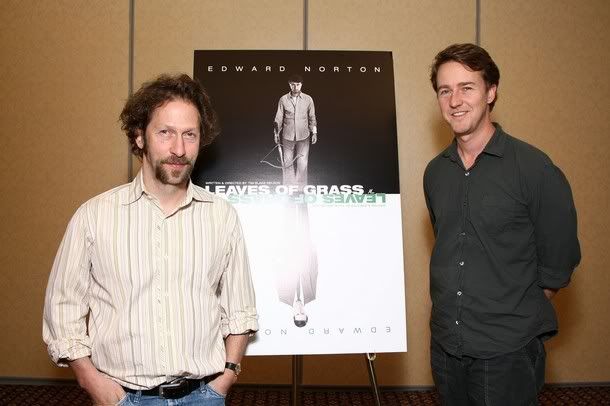 The rest of the article is
here
.
Sources:
One
Two
Three
Four
Fixed. I apologize, bbs. Imageshack cannot brain. It has the dumb.