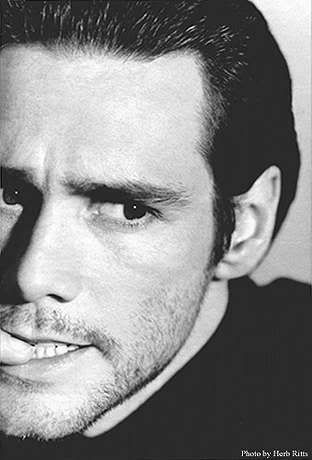 Maybe Jim Carrey's been watching re-runs of girlfriend Jenny McCarthy's appearances on "Singled Out" and finally reached the conclusion that television is where it's at? Whatever the case, the actor has decided to make his mark on the small screen- although this particular mark will be made off-camera.
The actor is trading in his acting hat, for that of producer and co-creator, for an upcoming show on HBO. We can't help but think that having Jim Carrey on-board and not making use of those wacky expressions he's capable of making is an incredible waste…
The show to which Jim Carey will be lending his creative talents is said to be somewhat of a tribute show to the Comedy Store in LA, during the 1970's and 80's. The Comedy Store was owned at the time by Mitzi Shore, mother of comedian Pauly Shore.
Among the comedians whose careers were jump-started by performing at The Comedy Store, is Jim Carrey himself. Also on board the project is comedienne, Lisa Lampanelli. Lampanelli is known for being a regular guest on Howard Stern's show as well as for her frequent appearances on Comedy Central's roasts, in which celebrities give scathing, joke-filled speeches at the expense of a chosen celebrity victim- er- honored guest.
Kario Salem will be writing the teleplay. Salem has previously lent his talents to the folks over at HBO. He wrote the Emmy-winning movies for the network, "The Rat Pack", and "Don King: Only In America."
According to Variety, "[The] trio are in the midst of hammering out the premise and overall story. The central character is a Mitzi Shore type, a woman who unexpectedly becomes the owner of a comedy club and is forced to play a maternal role in the dysfunctional lives of the club's clutch of resident comics."
Source