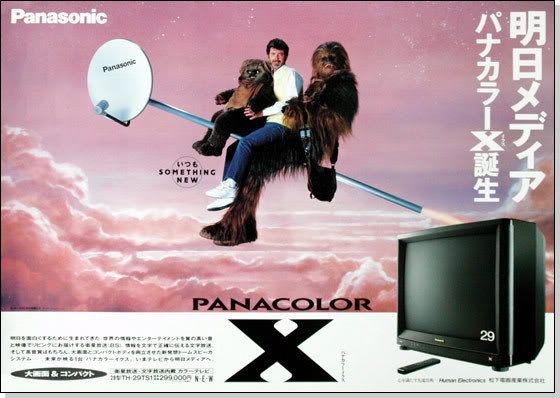 10. Space Cowboys
The Panasonic Star Wars campaign of the late '80s and early '90s was virtually unknown to fans living outside Japan until recent books and articles shed light into this elusive corner of Star Wars advertising.
From a campaign spanning dozens of different poster images, the one that probably gets the most giggles is this one -- yep, that's Wicket, Chewie, and the Maker himself riding an old-school satellite dish like a Nimbus 2000, all against a sunset background rivaling Bespin's best. Like the poster says, this is certainly "something new".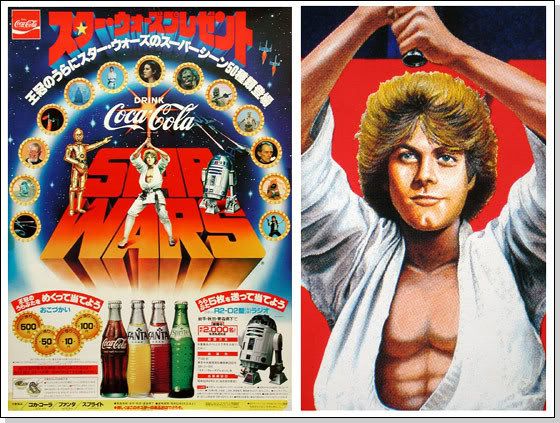 9. Have a Coke and a Blow-Dry
Now, while the colorful design and dense composition of this 1978 poster touting a Star Wars Coke promotion automatically makes this poster a stand-out, it's the hairdo that Luke is sporting that really, uh, blows our mind.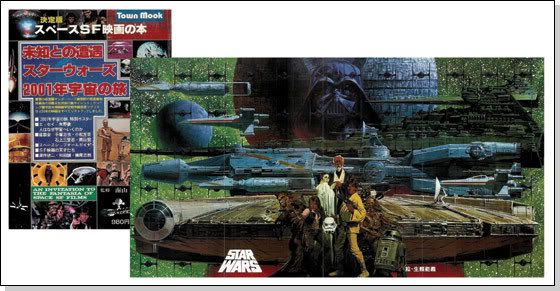 8. How Green Was My Galaxy?
We recently highlighted the poster artwork of Japan's Noriyoshi Ohrai, who back in 1978 had already broken the Star Wars "blue space" tradition and opted for a green one instead. The strong horizontals offered by the film's space-faring hardware coupled with the film's central characters is still a striking composition, and one that remains fresh 30 years on.
Originally, this poster was only available as a pull-out insert in an obscure Japanese "Town Mook" magazine/book -- a German poster house reprinted and enlarged the artwork years later.
7. Blade Stunner
We're not sure if it's the austere composition or the cool use of old-school wireframe graphics that gets our geek on for this 1993 George Lucas Exhibit poster, but the bold saber-like shaft that cuts the artwork diagonally instantly reads "Star Wars" to our eye, even from across a busy street (which was probably the point). An elegant poster for a more civilized age.
6. Tour Poster
This rare Star Tours poster from Japan is an assault on the senses -- it delivers brilliant color, motion, balance, and thrills in a single blow. With allegedly only a couple hundred printed, collectors rarely get a chance to pick one of these up.
5. Hear It, I Can
Another from the '80s Panasonic campaign, this pensive-looking Yoda with floating ear buds advertised one of the company's portable personal stereos of the day. Twenty years on, it appears he could just as easily tout iPods from billboards on-high.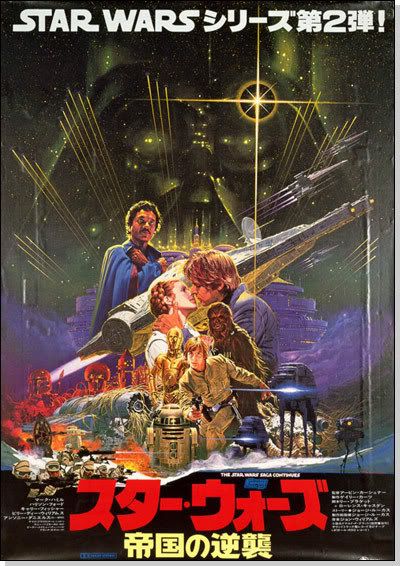 4. Lando Comes Out On Top
There's no getting around artist Noriyoshi Ohrai when discussing Japanese Star Wars posters. This is the second of three we've chosen for this list, once again exhibiting the artist's talent for pairing humans with hardware and using an unexpected, fresh color palette.
This artwork proved so popular that it was used by several countries outside of Japan for The Empire Strikes Back, including a rare Spanish-language one-sheet printed in the US.
3. "How Do I Send a Clear Transmission?"
This large transit poster from Japan exhibits a rare example of a Star Wars character used in an Earth-setting -- a privilege rarely granted to advertisers. In this one from AU Cellular, Vader receives his first text message: "Meet U @ Drk Side. Yur Palpi".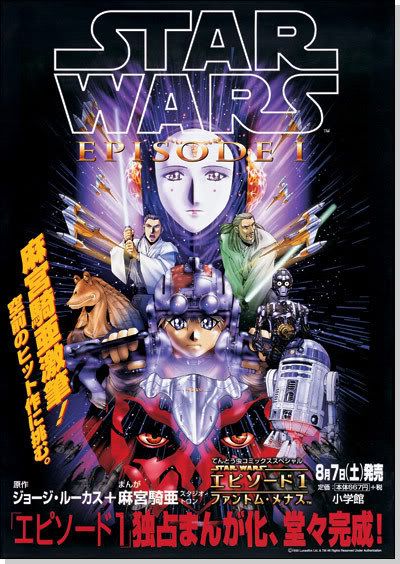 2. Phantom Manga
In addition to a great looking illustration, we've chosen this poster for its distinct Japanese look. Advertising the manga series for Episode I, the depiction of Padmé, Anakin and the others translate beautifully in this style, coupled with bold text we're sure must be quite compelling (the exclamation points sell it!).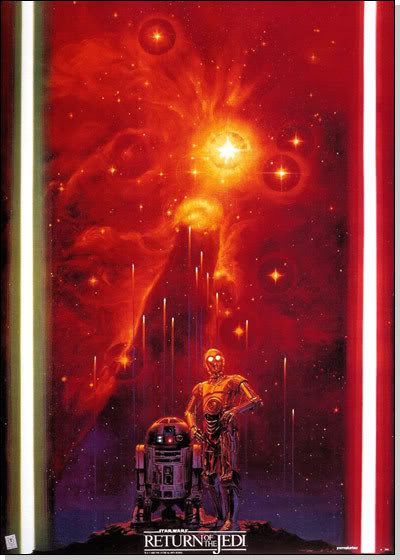 1. Fire in the Sky
Our third entry from the distinguished portfolio of Noriyoshi Ohrai, we've found occasion to gush about this poster many times in the past, most recently in an article about the artist.
The two stalwarts of the Star Wars saga, R2-D2 and C-3PO, staged before a fiery Cone Nebula and flanked by vertical lightsaber blades, remains a timeless image that maintains a top spot on many a collector's want-lists. Available in only the largest Japanese theaters back in 1983, this poster remains one of the most sought-after of all Star Wars posters.
source
also you can download a free copy of
Star Wars:Legacy of The Force:Betrayal
here. the offer expires at May 13,2008.