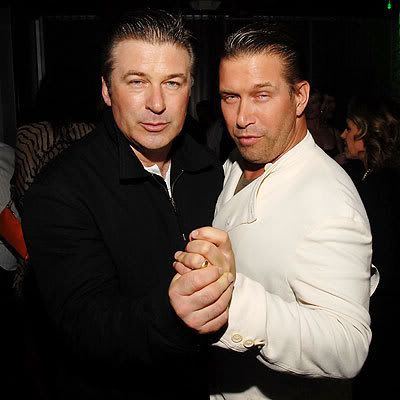 You've got to feel for Alec Baldwin. He's had a rough couple of years, what with his Who's Afraid of Virginia Wolf style separation and divorce from Kim Basinger, the humiliating public disclosure of an angry phone call to his daughter, and now the insane ramblings of his younger, lesser brother Stephen.
As you may remember, Stephen was a D-list actor who was known for his partying ways and the tendency of his films to go "straight to video". Then something miraculous happened. He "found God", and now he's a D-list actor known for his proselytizing ways and the tendency of his films to go "straight to Sci_Fi-Channel". Stephen made news recently when he called into the Howard Stern show voicing his support for Mike Huckabee and voicing his displeasure with the idea of gay marriage:
"I don't believe that gay marriage is in line with God's Word, which is found in the Bible. So, what I think doesn't matter; what I believe is what's in the Bible and the Bible says that gay marriage is not acceptable."
Via GOOD AS YOU comes Alec's response to his brother's eye-rolling statement, from the next issue of Tthe Advocate:
"Well, in the modern political world, people like that -- whether or not I'm related to them -- only help us raise money. They want to ban gay marriage because those people are incapable of having a biological family -- that's their only argument. You can ban gay marriage, but if you're going to make it fair, then you have to ban marriage for everybody else who won't produce children. But they just single out groups of people that they hate."
Everyone always says that his little brother William is the "Hot Baldwin", but the fact that Alec makes statements like that, coupled with the fact that every year that passes pushes Alec further into "papa bear" territory, makes me beg to differ.