i think someone did one of these last summer but we need a new one for those who werent here last summer or missed that post and since i have mono and cant do anything i figured id make it.
DISCLAIMER -
i am not saying i think all these people have had nose jobs (because i don't), i just compiled what i found on other websites/google so u can go bitch at them
Salma Hayek
Tori Spelling
Ashlee Simpson (i liked it before tbh)
Fergie (i cant really tell if she just grew into her face or what)
Sharon Stone
Tom Cruise
Angelina Jolie (veneers too? y/y?)
Halle Barry
Britney Spears (looks like she just grew into her face)
Beyonce (her plastic surgeon did such a good job or she just grew into her face becasue it's a small but natural looking change)
Marilyn Monroe (hot either way)
Winona Ryder (sooo much better after)
Nicole Kidman
Ozzy (WTF how were his nostrils so big before????)
Shia Labeouf
Kate Moss (definitely a nose job..she couldnt have grown into her face THAT much)
Kate Hudson
here's a better after picture-
Katie Holmes (if tom and katie have both had nose jobs suri will prob need one too. maybe xenu can magically change her nose)
Kate Winslet
ScarJo (she wouldnt have a career with that huge honker)
Jessica Alba (it kind of looks more pinched in the 2nd pic)
Jennifer Aniston
Christina Aguilera
Lance Bass
Blake Lively
Jessica Biel
Kate Bosworth (perfect nose)
Vince Vaughn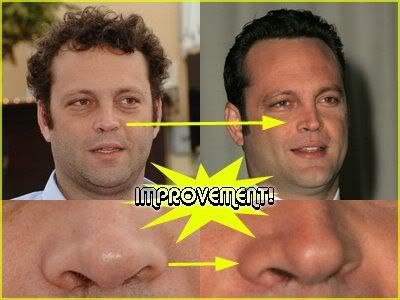 Benjamin Bratt (just the tip is smaller it seems like)
Vanessa Hudgens (her nose is still kind of big but it was BIGGER in her naked pics. maybe she just grew into her face)
after -
Ashley Tisdale
Megan Fox
Naomi Campbell
Cameron Diaz
Hilary Duff
here's a better after pic since that one is stretched
Gisele Bundchen
Victoria Beckham (just looks a little less wide)
Daryl Hannah
Paris Hilton (idk why she'd rather have a beak nose)
Nicky Hilton
Calista Flockhart
Avril Lavigne
Lindsay Lohan
Jennifer Lopez
Peter Andre
Heidi Montag (so much cuter before nose job and boobs)
Mandy Moore
MKA
Gweyneth Platrow
Sarah Jessica Parker
Freddie Prinze Jr
Kelly Rowland
Ryan Seacrest
Jessica Simpson
Gwen Stefani
Catherine Zeta Jones (looked so much better before)
and finally...
our girl Tyra
sources-
1
2
3
4
5

so ONTD -
have any of you had plastic surgery? POST PICS!!
who do you think has the perfect nose??
future nose job predictions? i say miley cyrus...she has a pig nose. and vanessa hudgens im sure will be slimming her nose down too

oh and ps dont bitch at me with "THEY DIDNT GET A NOSEJOB UR SO DUMB!!!!! comments because im just reposting what i found on other sites tyvm