12:25 pm - 01/18/2008
Preview of some behind-the-scenes info on HBP!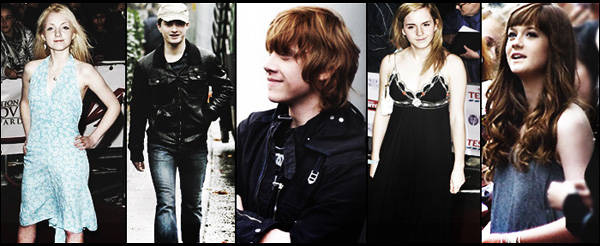 The Half Blood Prince buzz is starting along with the new year.
Blog Girl's Daily Dish
had the awesome pleasure of visiting the Half Blood Prince set and sitting down with many of the films stars including Dan, Rupert, Emma, Bonnie and Jessie.
--
Dan LOVES how romantic this sixth movie in the series is!
"A kissing scene was filmed on our third day of shooting," Dan tells me.
He also gave me what REALLY GOES ON behind the scenes of the Harry Potter movies, like what the cast does for fun (I found out Emma Watson beat all the boys at table tennis), and what other characters the actors would want to play (Rupert Grint told me it'd be fun to be a bad guy like Draco Malfoy).
There are HUNDREDS of SECRETS that only I can deliver to you straight from the set visit today. I saw all the sets from the previous movies - including the Great Hall and the Gryffindor Boys' Dormitory -
as well as brand new sets built just for this movie, including Ron's bedroom (part of the super cool and unique Weasley house set)
to what the Inferi creatures are gonna look like (wait till you see the cave scenes with Harry and Dumbledore)!
I've also got mega interviews with Daniel, Rupert, Emma, Bonnie Wright (who plays Ginny Weasley), and newcomer Jessie Cave (the lucky gal who plays Lavender Brown, Ron's sort of girlfriend in this movie).
--
We'll get more info when the interviews are published.
Source