source: me!
unfortunately i wasn't able to get a sign cause i'm a dumbass and forgot to make one, but lots of pics!
so, my best friend and i decided months ago that we wanted to go see them on tour, so we bought tickets the day after my birthday. we scored some really awesome seats for cheap-o, and then we had to wait four months. but it was so worth it. i didn't really know what to expect from the tour, but it far surpassed anything that i had imagined. the show ended up being two-and-a-half hours, which was longer than i expected. the alternates for the show were
shauna, jesus, hok, and anya.
they used shauna alot because lacey hurt her kneee or whatever, but it worked out better that way cause lacey pretty much sucked in the numbers she did dance in. there was lots of higlights and trivia in the show to make it interesting, but the best part was after, when they autographed my program/took pictures: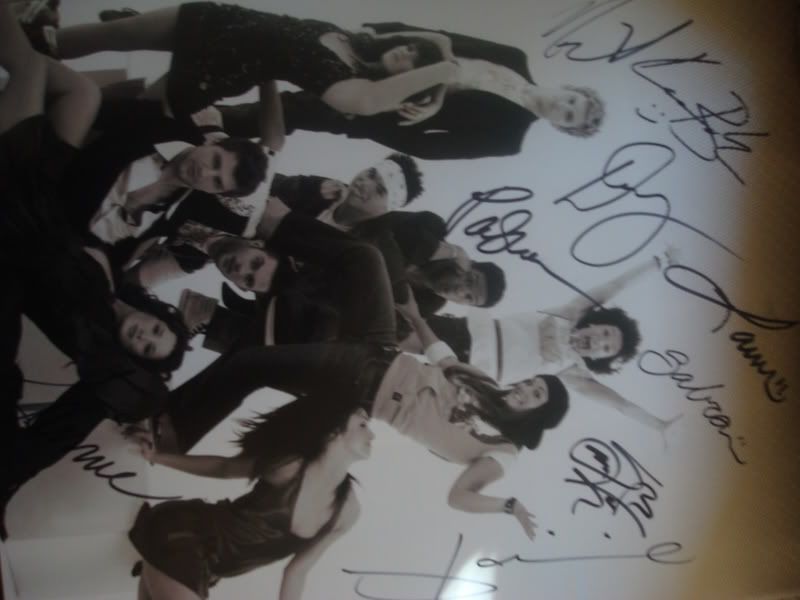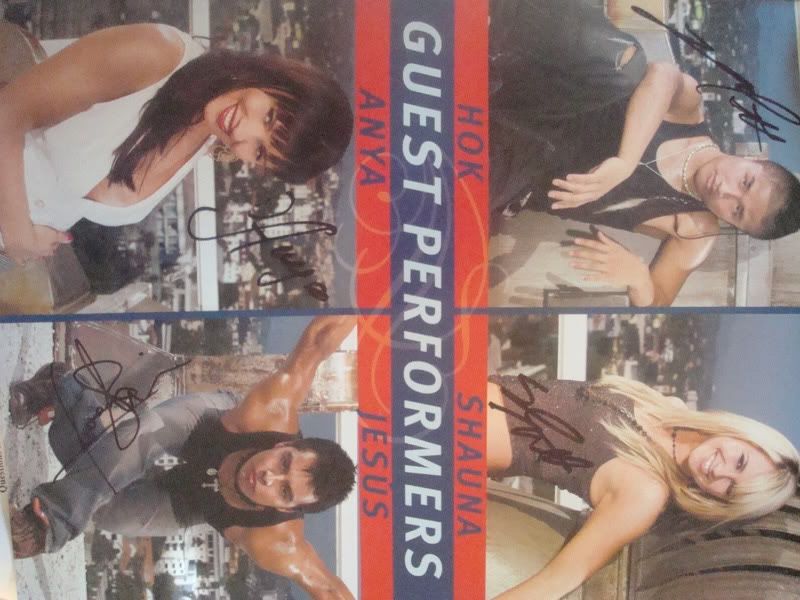 Let's start with
NEIL: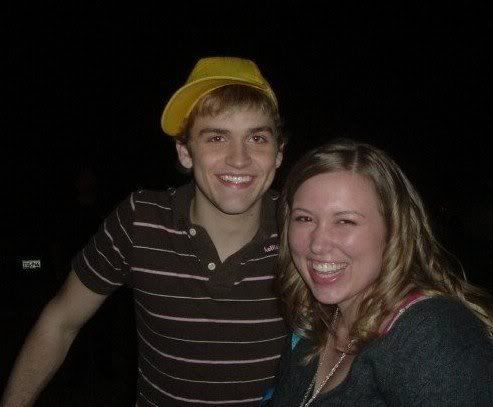 he makes lots of awesome faces: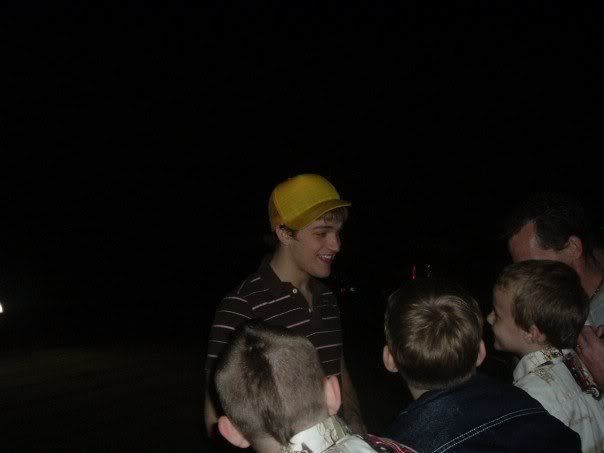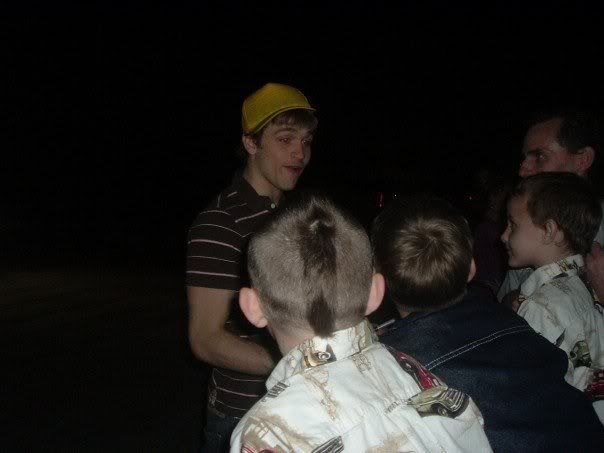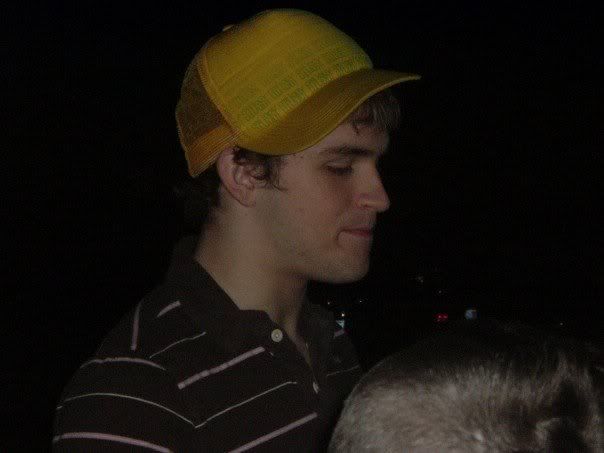 highlights include:
- he was pretty sweet, and much cuter in real life, if that's even possible
- i asked him what his funniest joke was, and he said,
"none of them, apparently."
hahah it was cute.
-when we tried to take a picture with my camera, it had died unexpectedly, and while we were posing, he kept saying,
"is it on the video feature? that happens alot. maybe he has it set on video."
hahah it was so cute, and he was gracious enough to wait for my friend to use his camera to take a picture of us instead.
-he was really nice and talked on the phone two seperate times for a group of shrieking fan girls a little down the line from us.
next, we have
DANNY:

i won't post the pic i have of the two of us for both our sakes, as my friend messed up on the zoom, and we look like ebony and ivory with a mild case of down syndrome :\ but here's a single shot...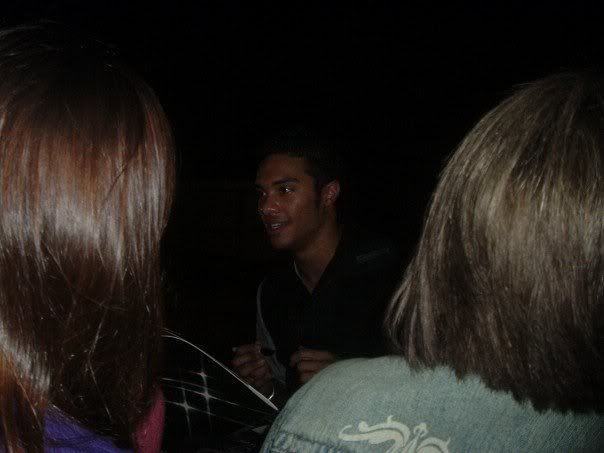 highlights include:
-he pretty much looked like that all the time
-he wasn't the nicest, but he was okay
-he tried really hard to be masculine. he loved saying,
"maaaaaaaan"
and
"dawg"


here we have perhaps my favorite of the boys after meeting them,
PASHA! :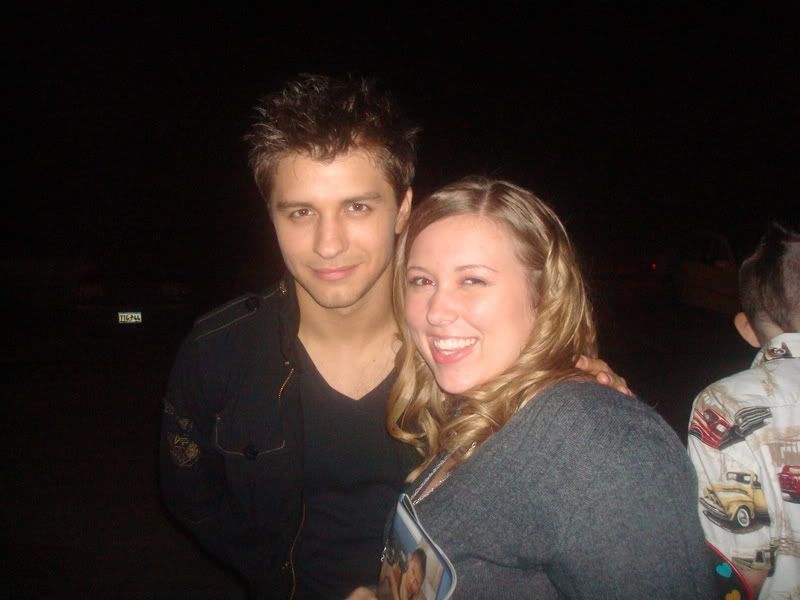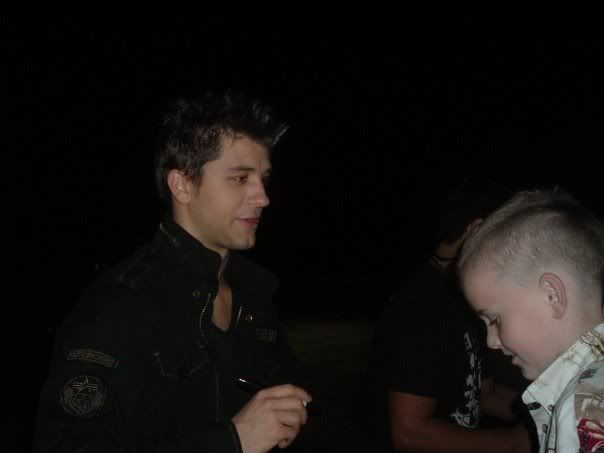 highlights include:
-he was the most polite peson i think i have ever meet in my whole life. as soon as he came up to us he said,
"hi guys, how are you?"
we responded with the average answer, told him we were great and that we loved the show, blahblahblah and he was all,
"that's great! thank you so much for coming, i'm glad you enjoyed the show."

-he doesn't smile in any pictures, but when you ask for one, he says,
"SURE!"
like an enthused little boy.
-he put his arm around me. that's all i really cared about.
then, there was
JESUS:


this man was adorable. i don't have any pics with him, but i have these...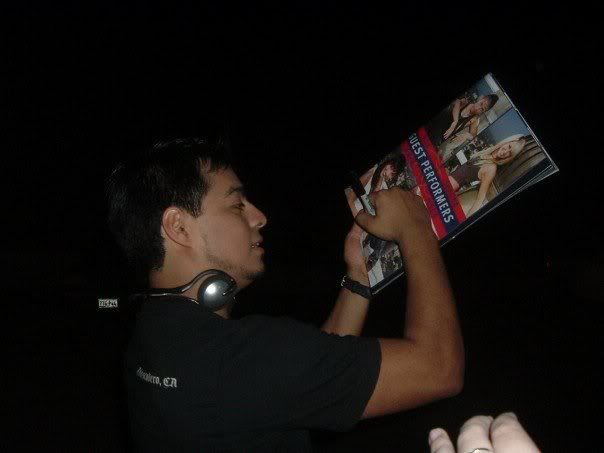 signing my program...
and i had to put this one because it was so cute: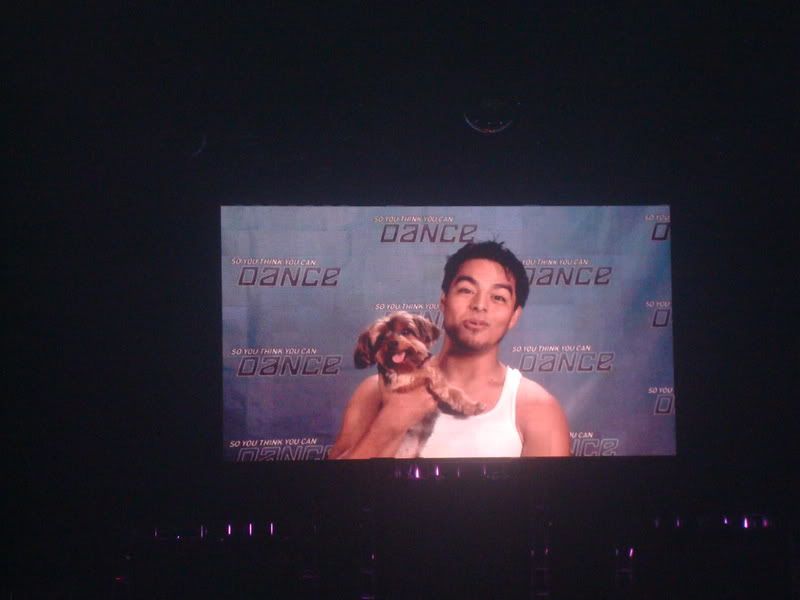 him and his puppy!
highlights include:
-he was nicest after pasha. i told him i loved the vagabond dance he does with sara, and that it was my favorite. haha and then for some lame reason i said shhhhh. and he said,
"don't worry, i won't tell anybody."
he then proceeded to wink and give a huge smile.
-i also told him i didn't realize they put a second set of papers out on stage for them at the beginning, and how i thought they were just really good at finding the papers each and everytime. he laughed and said that they had trouble enough finding them to begin with, so it was good the second set was placed out for them.
-he laughed alot and was really gracious
next, we have the much cuter in real life
KAMERON:


i only have single shots i'm afraid...
this was taken right as we were talking about his hair...
highlights include:
-he was very approachable.
-i told him i missed the red stars in his hair, and he said that he thought about putting them back in. then he said,
"it sucks, i haven't been able to touch my hair since we left L.A. i was thinking about shaving it actually."
on the inside, i screamed NO.
-he took over jimmy's part in the wiz number with shauna, and our reaction was a.) why is this dance featured? and b.) why kameron for this part of all people? it wasn't the greatest.
and from across the pond, we have
HOK! :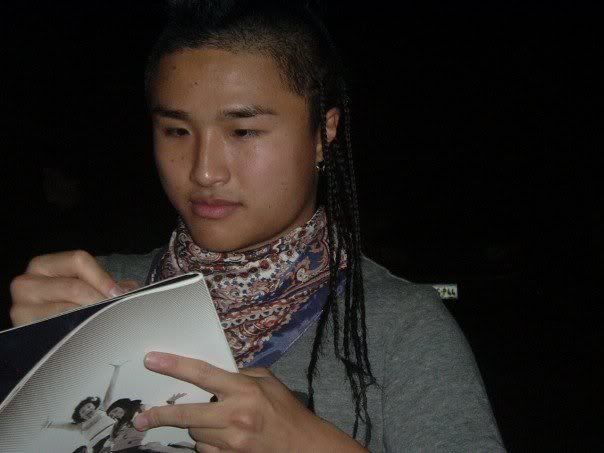 highlights include:
-his accent was flippin amazing.
-i told him that i loved the new number they put in the show where he got to break with sara and dom, and he said,
"thanks, that's always nice to hear."
my friend also told him that we saw some of his artwork on myspace and that he's an amazing artist. at this, his whole face lit up, and he said,
"really? that's awesome! thank you!"
i think he even blushed a bit!
-we were going to ask if he and lacey were really dating, but we forgot :x
and then there was
DOMINQUE: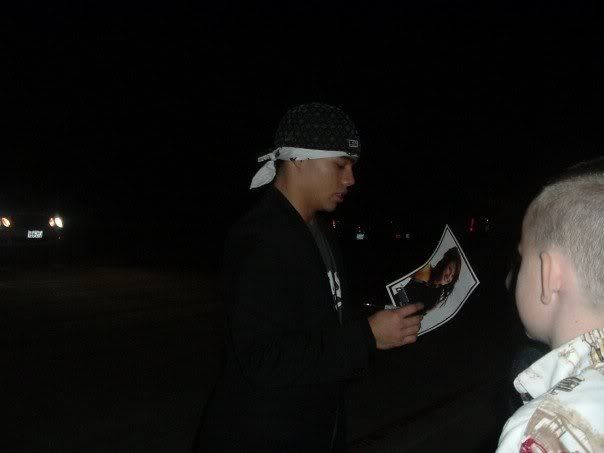 highlights include:
-we totally matched; haha it was awesome.
-when my friend took our picture, he didn't realize my camera was off. while he went to work turning it on and what not, dom had his arm around me, and he drummed his fingers on my shoulder and squeezed it a few times. i nearly died.
-i told him that if he ever broke his back and couldn't dance for some reason, he could make alot of money being a john leguizamo impersonator, and he said,
"what, in a wheelchair?"
LOL.
-haha he tried to keep a straight face when the guy and his kids next to us were talking about him. he was from texarkana and had a real southern drawl and kept going on about how he was a breaker in
1982
and how he had met people from the tour last year. he told this same story to every single dancer.
next we have
SABRA: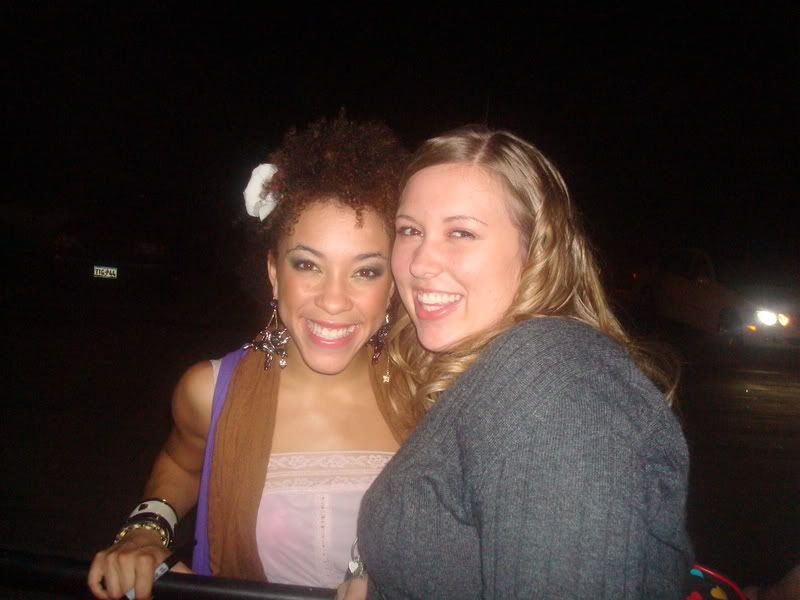 highlights include:
-she was nice enough, i guess. to be honest, we were a bit disappointed.
-i told her that i couldn't beileve she had only been dancing for four years, and she said,
"sometimes, neither can i."

-she redeemed herslef though, because after i took my picture with her, she said,
"yay! i showed my flower in this one; i forgot to show it in all the others."
and then proceeded to do a little pose for me. i dunno why she was so excited about that damn flower, but it was cute.
here's
JAMIE! :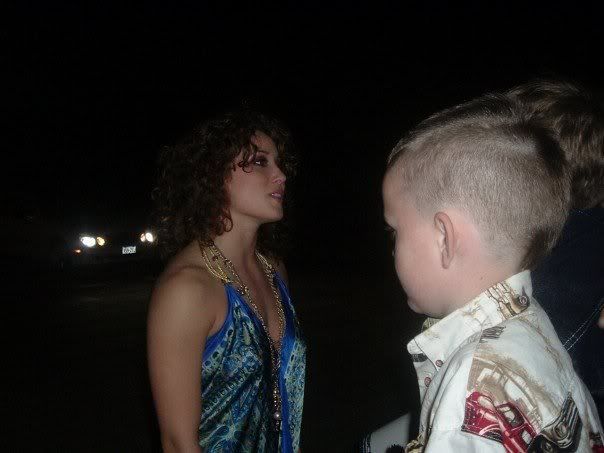 highlights include:
-she was seriously the sweetest out of all of them. and it really sucks because she had the most amazing personality, but it wasn't showcased on the show. and honestly, she may not have won, but she was the best damn dancer on that tour. and she also had the best hosting skills, everyone else was cheezy.
-she talked to us twice. thie first when she signed our programs and took pics, the second time coming back. each time they were real lengthy convos; she really took her time with each fan.
- the second time she came back, my friend shouted, "I LOVE YOU!" and she stopped dead in her tracks and said,
"aw! I love you too! hug!"
and she came back over and gave him a hug. the girl next to us was like "i love you too!" and jamie was like,
"yeah, but i could see it in his eyes."
LOL that bitch got pwned. she then proceeded to ask my friend,
"do you have a myspace?"
hahah. unfortunately, she's taken. turns out, she's dating
IVAN FROM SEASON 2!
the crazy guy next to us that said he was a breaker in 1982 and whatevs told her that his kids were learning hip-hop from him, and she was all,
"my boyfriend does hip-hop too!"
it was so cute
-she told us she was going to stay outside and talk to us because it was nice and cool outside. then she told us something about laying out in virgina beach, and caling her dad and saying,
"dad, i think i gotta leave the tour, cause i have to wear jackets outside now, and it's killing me. and then my dad was like 'uh, no jamie. SUCK IT UP.' "
her face was priceless when she told us that last part.
then there was
ANYA: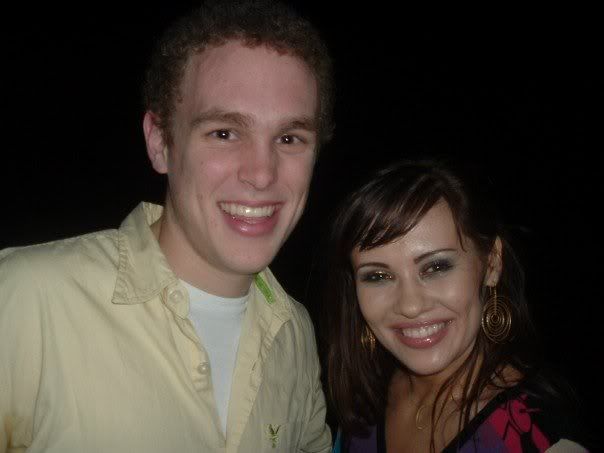 highlights include:
-she was the sweetest girl after jamie.
-she has an accent like pasha, though less pronounced.
-the first thing she said to us was
"hi guys, did you like the show?"
we of course said yes and she said,
"that's awesome. where were you guys sitting? did you have good seats?"
and i replied, "yes, we were in the middle of the lower level. it was nice to not have to look at the jumbotron to see what was going on and to actually be able to see your faces close up. and then she said,
"i know! it's so weird, every other place has been like totally blacked out when we dance, and i can't ever really see any faces. but when i came on stage tonight i was like, 'woah...this is weird. i can see people watching me. i hope my costume stays on.' "
haha she brought the LOLZ
next is
SARA: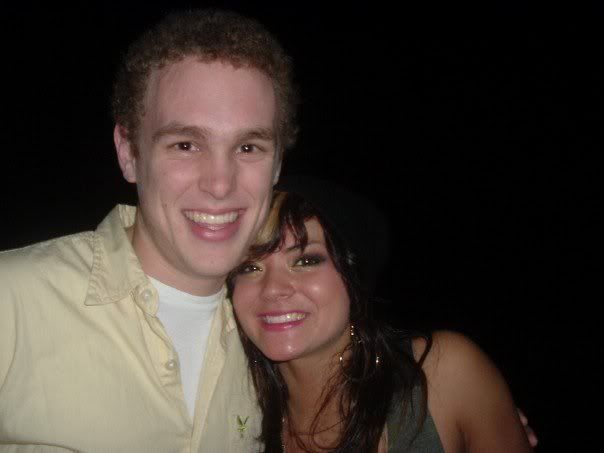 highlights include:
-she was also really sweet. i told her that i was sad that she and pasha didn't do body language, and she said,
"yeah, i get that alot :( "
but then i told her that it was ok, cause at least i got to see her do the vagabond dance with jesus, and she was all smiles and was just like,
"aw, thanks."
-as you can see, she put that not so awesome streak in her hair :\
and last but not least, we have
LAUREN:

highlights include:
-she was ok. kinda like sabra; we just expected more. but whatchu gonna do, eh? oh well.
-my friend asked her if she could sign it "MISHA" too, and she **gasped** and said,
"you know, a couple of people have asked me to do that, but i haven't sat down and figured out a way to sign it."
so instead of writing "MISHA" under lauren, she wrote it in a seperate spot in cursive, and took about a year and a half. so i proceeded to say, "yeah, it takes me forever to write in cursive too." and she was all
"yeah, it sucks."

-apparently her and lacey don't get along AT ALL. lacey was a douchenburg and wouldn't come out to sign autographs or take photos, and when the people next to us asked lauren if lacey was gonna come out, she was like
"i dunno. i haven't seen her or talked to her since the show ended."
and walked off.