The article is super long and talks about Boo from Survivor as well
because he's from here too, but he's boring, so here is the part about
Krista. It makes her look so foolish, which makes me laugh. I bolded the
fun parts.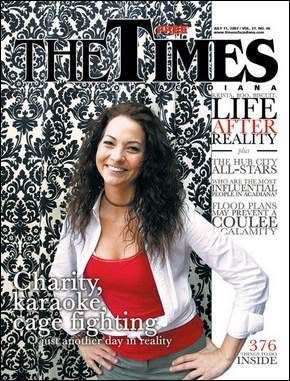 Krista Stegall, a 33-year-old originally from Opelousas, was one of the
12 housemates featured in the second installment of CBS's Big Brother
reality series. The series, currently in its eighth season (including
one all-star season), documents the lives of housemates, using hundreds
of cameras and mics to give the audience a front-row seat to the
strategies, lies and doublecrossings that go on throughout the competition.
Each week, contestants vie for the coveted head of household position,
which keeps the holder free from eviction. The winner, i.e. the last
person evicted, receives a large check signed by CBS. Big Brother 2 ran
from July 5 through Sept. 20, 2001.
Though she was evicted on day 47 of the series, Stegall's Big Brother
stardom continues to factor in to her daily life. She uses her CBS
notoriety to access events such as the Reality TV Convention and other
reality shows' parties. She also devotes large chunks of her time to various
charities.
"Reality-based TV has taken over TV," Stegall says.
"Not that I
wanted this fame. But it came.
And along with it you have to help when
you can. That's the only way you'll get something back. If you give
something good, you'll get something back."
And what, exactly, does she get back? Aside from the satisfaction of
contributing to a worthy cause, she receives comps. Stegall says as a
former reality star who works with charities, she receives transportation,
food and room funds. It helps keep her occupied, she says, and "from
going insane."
Stegall has two children, Sydney, 3, and Laken, 17. Sydney just started
school and Laken is finishing high school, but hopes to attend college
in another year.
Stegall currently has no day job. The last time
she had a day job, she says, was last July. Currently, she pays the bills
by running errands for a relative and with the child support money she
receives from her ex. In life post Big Brother 2, she has worked as a
waitress, as an on-air radio personality and for a cellular phone
company.
"Basically everything I do (now) is charity," Stegall says. "Eventually
I'm going to go back to work and go back to normal life. For now
everything is charity events."
Stegall says her children come first. She has turned down entertainment
jobs that may potentially muddy up her name. She has turned down
offers, for example, to appear in magazines she considers less than noble as
well as smaller film projects she feels will flop. Plus, there's the
issue of time.
"If I have to be away from my kids, no (I won't take the job)," she
says. "If they can come, yes. I can go on these weekend expeditions, but
for a long period of time --weeks -- I can't do it.
"If it's something that's going to pay a lot of money. If it's
something credible to that extent, then they'll pay for (my children) to come.
But if it affects them to any way it'll be detrimental, I'm not going
to do it."
Stegall did not get paid for her voyage to Nashville. She did, however,
receive sponsorship from jokersupdates.com, a Web site dedicated to
die hard reality TV fans. The site includes minute-by-minute updates for
popular reality programs, as well as discussion forums for shows like
Survivor, The Amazing Race and soap operas. Stegall brought her kids to
Nashville with her. While they didn't partake in the convention events,
they did get a chance to visit Opryland.
About a month ago, Stegall started a MySpace page titled Acadiana
Abused. The page, which is dedicated to battered women, currently has about
100 friends and has received about 6,000 page views. Stegall estimates
that 40 percent of the fans who approached her expo booth were women
with stories of abusive relationships. Each of them, she says, visited
her MySpace page.
Stegall says at the expo, she signed upward of 250
photos for $2 each. She intended to donate the proceeds to Acadiana's
Faith House, a local abused woman's shelter. Unfortunately, Stegall says,
her bags were investigated somewhere between Memphis and Lafayette.
The money allegedly was stolen. To help make up for the loss, Stegall
says she intends to auction off a large brass key bearing her name -- the
key she was given on Big Brother 2. On the show, keys are used in the
vote-casting process.
Stegall says it is her dream to open a successful bar in Acadiana.
Though she moved to Hollywood for a year (immediately after Big Brother 2
ended) and took acting lessons, she says she has no intentions of
pursing an acting career. But, she says, if the right project were to come
up, she might not be able to pass it up.
"I think life is acting," Stegall says. "If you're having a
conversation with a stranger, you don't know who that person is. You're acting out
that situation at the time. The only thing I have to worry about is my
accent. That would be the only concern that they would have.
But that's not something Stegall intends to do.
She wants to write
her autobiography. She wants to be in politics. Her ideal dream would be
to be a publicist, but being who she is, she "take(s) the attention
from whoever I'm trying to push. You can't really do both."
While on the series, Krista garnered attention for her whirlwind
engagement to Mike "Boogie" Malin (who would later go on to win $500,000 in
Big Brother 7: All Stars). Also that season, fellow housemate Justin
Sebik, with whom Stegall held a flirtatious relationship, held a knife to
her throat in a bizarre moment broadcast live on the Internet. Sebik
asked Krista if she would be "mad" if he killed her. The pair then
continued kissing as though nothing happened. In 2002, Krista threatened to
sue CBS over the event.
"Me and CBS are fine. If you think about it, my show was Big Brother 2
and I was at (the taping of) Big Brother: All-Stars. Yes, I had to do a
little scheming, but that's part of the game," Stegall says with a
grin.
Fame? Money got stolen on a one way flight? Politics? Hardy har har
Krista. Go get a real job and stop pretending to be famous because you
were on a reality show 6 years ago that you didn't even win. Why do
people like this represent my city?

source:
http://timesofacadiana.com/apps/pbcs.dll/article?AID=/20070711/NEWS0102/707110301/1051
sorry mods, forgot the source.
edit: changed the cut because too many people are unable or unwilling to use a scroll button, yet have the energy to type a comment.